Smart Ways of Tracking Employee Attendance Using AI and Other Technologies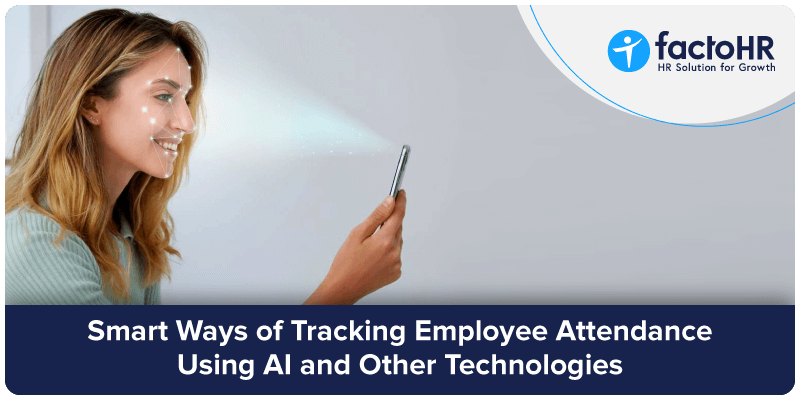 In every organisation, attendance tracking is crucial as it feeds into the payroll process and productivity metrics. The world has moved on from paper-based physical attendance records to automated capturing of precise work hours. Advanced technologies like computer vision, AI and machine learning have made it possible to record attendance in a contactless manner and if needed, continuously.
The social distancing norms during the COVID-19 pandemic coupled with evolving technologies have led several organisations to embrace automated attendance management systems to track employees attendance.

Tracking Employee Attendance Using AI and Other Technologies
Most of the automated systems that help in tracking employee attendance use a combination of technologies in the back end. Here are some of the most popular technologies used for automated tracking of attendance:
Face Recognition
This technology uses a camera to scan an employee's face and match it with their photo that is stored in a database. The scanning device can be integrated with existing systems such as payroll management software to provide accurate and real-time attendance data. Using AI-powered facial recognition technology, attendance can be automatically taken as employees walk in and out of the office. Advanced AI-based facial recognition optimises your attendance marking with "liveliness" detection. Employees can register their faces as part of the app onboarding. The system is clever enough to detect any false face like a prerecorded picture or video of the person and prevent it to use for marking attendance. It uses facial proportions and geometricity to match a registered face.
Geo-fencing
Geofencing technology uses GPS coordinates to track an employee's location and ensure they are within a certain area or "geofence" during work hours. Organisations need to create virtual boundaries around particular locations where the employees are expected to work from. The virtual boundary allows employees to punch only within it using a mobile app.
Voice Recognition
Voice and speech recognition technology uses an employee's voice to match it with the voiceprint in a database. Voice recognition technology can be used, where employees can verbally confirm their presence in the office using their mobile phones or computer.
Biometric Authentication
Biometric authentication technology uses multiple biometric authentication methods such as facial recognition, fingerprint scanning, voice recognition, iris scanning, etc., to match employees' biometric data with their ID in a database. Biometric authentication such as fingerprint scans has been a popular choice. Since COVID-19 disrupted what used to be normal, fingerprint scanners are overtaken by non-touch technologies.
Mobile Apps
Employees can use mobile apps to check in and out and mark attendance in a secured mechanism from their mobile applications. Authentication is carried out with the help of selfies and location tags.
QR Code Scanning
QR code scanning technology uses a QR code scanner to match an employee's QR code with their ID in a database. This can be done through standalone QR scanners or an employee's mobile device and can be integrated with existing attendance management systems.
Bluetooth and NFC Tracking
Bluetooth and NFC tracking technologies use Bluetooth or Near Field Communication (NFC) to track the location of employees in the workplace. Since most mobile phones come with both these technologies built-in, this can be done through employees' mobile devices.
Barcode Scanning
This is similar to QR code scanning technology which uses a barcode scanner to match an employee's barcode on the physical printed tag or one from their mobile screen with their pre-assigned ID in a database.
All of these methods can help automate the attendance tracking process and make it more efficient. AI-powered technologies offer the best method and should be chosen based on your company's specific needs and resources.

Benefits of Smart Attendance Tracking
Automation has its obvious benefits. These technologies offer a lot more than just convenience. Listed here are some key benefits:
Increased Accuracy
Automated attendance tracking systems can be highly accurate, reducing errors and ensuring that attendance records are accurate.
ITime-saving
This process can save a lot of time for HR departments and managers, allowing them to focus on other tasks.
Cost-effective
Automating attendance tracking can reduce labour costs associated with manual tracking methods.
Convenience
Employees can check-in or check-out from anywhere as long as they have access to the system, this can be done via a mobile app.
Potential Risks in Using Automated Technologies
Every new technology or method has some risks associated. Our ability to understand those risks and address them in the right way is the best approach. Building contingency plans where risks cannot be avoided is the way to go instead of shunning new technologies that are highly beneficial to the growth of the organisation.
Privacy Concerns
Despite organisations assuring that the collected data will only be used for the intended purpose, employees may still raise privacy concerns. These concerns are elevated when organisations use biometric data and facial recognition technology.
Racial Bias
AI-powered systems, including facial recognition, can perpetuate racial bias if the training data used to develop the model is not diverse enough.
Data Security
It is the top concern for many organisations which store and manage sensitive data. Stringent security measures should be put in place by database administrators to prevent unauthorised access and data breaches.
It is important to consider these potential risks when implementing an AI-powered attendance tracking system. Organisations should take steps to mitigate any such risks. Properly communicating the benefits and addressing any concerns can help increase employee acceptance and ensure the success of the system.

Conclusion
Attendance tracking using AI has many benefits and should be actively considered. Being aware of the potential risks will enable you to plan for mitigating them and addressing them in the right way if they do occur.