12 Best Time Management Tools And Applications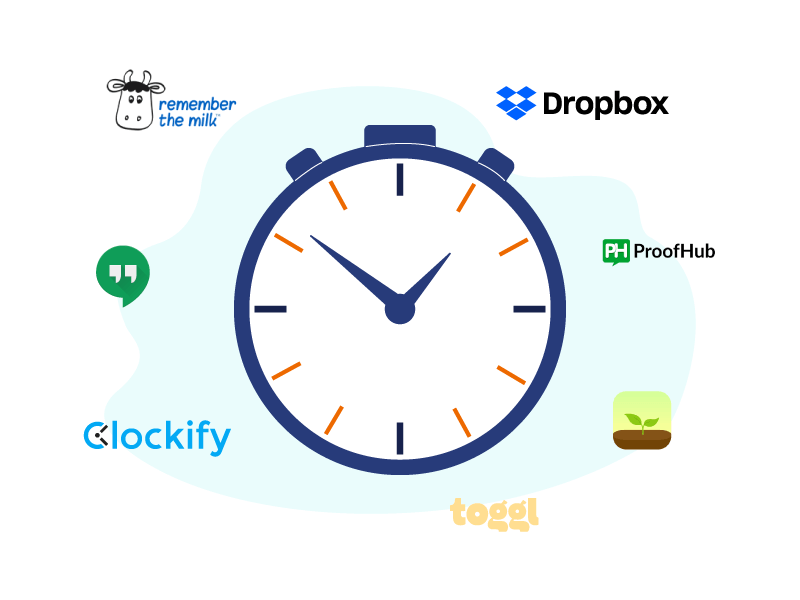 Time is a crucial resource nature has provided us with, and managing it is an art. It is important to have proper time juggling skills, especially with many distractions around us. In order to let anything grow, you have to put effort in it and give it time. The same can be said about our goals. It requires an immense amount of planning and organizing to achieve your goals. Handling your time may be complicated and challenging, but it will be a cakewalk once you learn to manage your time.
For any company, time is one of their resource and for them, it all comes down to how perfectly they utilize each minute of the day that they get. This is exactly where the company's Attendance management solution, it plays a key role in ensuring proper time management among the employees. It will help to enhance their work habits, overall work performance and to eliminate procrastination. Doing so will improve their concentration on their duties, which will ultimately lead them to focus less on distractions.
Active planning and organizing is the pathway to increasing your fruitfulness and energy towards work. Once you learn how to do so, there is no stopping you. Better and precise time schedules would lead to you taking more tasks than usual, which will lead to you functioning as productively as possible.

What Is Time Management
Time management can be referred to as the process which allows us to focus more of our time on our goals and less on the distractions around us. It is basically the art of learning how to put your time and energy into the things that matter and think less about the ones that don't. It teaches us how much time to give to each activity we have to do in a day and how to divide it equally among all of those activities.
With a good timesheet management software by your side, you can assign an exact time to each of your goals and achieve them effortlessly and with less time than before. By planning, you can also save time for your personal interests and invest it in activities you like. This provides you with a more suitable personal and professional life balance and allows you to spend your time on the things that matter to you, your family.
Best Time Management Tools
Google Hangouts
The days when the staff had to pass around letters just to communicate with their superiors and leaders are long gone. That process is now replaced by time management tools, one of which is Google Hangouts. It is a chat platform wherein team members can talk and connect through video and audio conferences from anywhere, at any time. It is also equipped with offline communication so that the work doesn't pause. Users can exchange videos, pictures, and GIFs with each other on chat and form a group with almost 150 members. It is available in Windows, Mac, iOS, Android, and iOS.
Clockify
Clockify allows its users to track the time they use doing each of the duties they have added to the application. This helps in following your daily routine and whether you were fruitful enough based on the activities carried out. It then provides tips and techniques to help finish the ones that take time a bit faster and put that extra time into the tasks that are important.
Clockify has two time management hacks. First, it provides a timer on its main page, which you have to start before beginning each task and press end only when it concludes. The second is that it lets you manually enter the time you spent on each duty. It then generates reports that help you determine how active you were. It is available on Windows, Linux, Android, and iOS.
Scoro
Scoro is a software that is specifically made for team time management. It provides us with facilities like hour tracking, work recording, team management, etc. Its top features include generating work performance reports, sales reports, monitor time spent on tasks, project administration, activity scanning, generating salary invoices based on the time each employee has finished working, etc. One added benefit of using Scoro is that it helps in combining time tracking with project management, therefore improving collaboration and making it less challenging to handle team-related activities in the organization. It is available on the web.
Remember The Milk
Remember the Milk encourages its users to finish their duties on time. It helps us remember our tasks and pushes us to mark them off the list. It lets you add activities, manage sub-activities that are part of bigger ones, and set reminders for essential duties which are to be finished a day, week, or a month later. It then reminds us a day or two before it is scheduled to happen.
This smart system knows the difference between professional duties and personal duties, and it allows us to set a separate time for both. Some of the duties that are repeated daily are automatically added to your everyday list. You are free to modify them if there are any changes in the tasks. Remember the Milk is available on the Internet for Chrome, Mac, Linux, Windows, iOS, Android, Blackberry, Apple Watch, Firefox, and Safari.

ProofHub
ProofHub is a powerful time management tool that eliminates the need for all other types of tools used by an organization. It is used by giants like NASA, Netflix, Nike, Pinterest, and many more. It efficiently manages to run all of a business' tools under itself, so there is no need to use individual ones. Its features include team and single task management, online collaboration for honest feedback and idea-sharing, quickly viewing project content using its various features, etc. It is available on the web and also via a mobile application for Android and iOS.
Toggl
Toggl helps its users with time analysis, giving them a clear idea about how many hours they have to spend exactly on which activity to finish it on or before time. Its uncomplicated design and analysis process leads us to achieve practical time juggling skills. It also comes with team-based project management features for superiors and the staff to work on assignments together which helps them track the time a team spent working on the same. Except for that, it also has time-saving features inbuilt. It is available on the desktop, Android, and iOS.
Nifty
Nifty allows you to stop switching between Chats, Tasks, Docs, Calendars, and Meeting tools. You can bring your team and clients together in one simple yet powerful app. It is trusted by thousands of remote teams such as Apple, VMware, and IBM. You can set a visual timeline for your goals and build team alignment by automating progress as tasks are completed. You can also flexibly organize, prioritize and manage daily work with a high level of detail using Kanban, List, and Swimlane views. It is available on the web and also via a mobile application for Android and iOS."
Dropbox
Using Dropbox is the simplest way to transfer files from your desktop to any mobile device. It is available for free and is packed with a convenient user interface, unlike the others. This reduces time-wasting because it provides the means to share files on the go from any location at any time through its phone application feature. Apart from its Desktop application, it is available both on iOS as well as Android. This easy file-sharing tool saves your time and boosts your productivity.
Forest
Forest is an application that enhances our focus and doesn't let it wander even for a minute. It encourages us to finish our to-do list and not procrastinate.
It starts with you blocking the sites that could cause you interruptions. Then, you plant a virtual plant seed on the application, which will grow every 30 minutes while you are busy with your activities. If you lag behind your duties or open the sites you have blocked, the tree you grew virtually will wilt and die instantly. But if you handle finishing all the tasks, you thought you would in a day, you can grow an entire virtual forest in the application. This will make your activities enjoyable by shifting your focus to a different thing and checking up on it every now and then.
If you earn and spend virtual rewards on the app, the team will contact its partners, Trees for The Future, to plant a real tree under your name. It is available on Chrome and Firefox as extensions and Android and iOS as mobile applications.
Epic Win
Epic Win takes managing your everyday activities to another level: it turns your duty completion into a game. After you add all the tasks you are supposed to finish in a single day, it will remind you to accomplish them on time, or your virtual version of the game will suffer its repercussions. If they are completed on time, you will receive coins and rewards for the same. Every time you check an activity off your list, the virtual you will destroy it. The game also provides levels, like every other game, which will upgrade once you finish all the tasks. It is available on Android and iOS.
My Daily Planner
My Daily Planner is a virtual planner that helps you to prioritize your tasks and plan your workday ahead of you. It enables you to differentiate between essential and non-essential tasks, set reminders for deadlines on activities, plan priority tasks, adds items using voice control, breaks big duties into smaller ones, manages group activities in different sheets, and check things off the list once finished. It also allows you to save a permanent record of all the items you have crossed off the to-do bar so that you can check on them whenever you want to. It is available on Windows and Android.
Trello
Trello is the greatest available team collaboration application that lets you create separate cards for each duty that you need to finish. The cards are then divided into three parts- yet to complete, ongoing, and finished. These cards help you directly in finishing your duties. It also supports easy file and picture sharing for teams working on the same assignments and allows virtual talks and comments for the same. It is available on the web, Android, and iOS.

In Conclusion
The time management tools and apps mentioned in the list above are the finest and the most used they will save your time & increase your productivity tremendously. While some of these applications cost money, some of them cost no money and are available on almost every platform. All you have to do is select the one that suits your needs and watch it boost your productivity.