12 Key HR Metrics That Every Organization Should Measure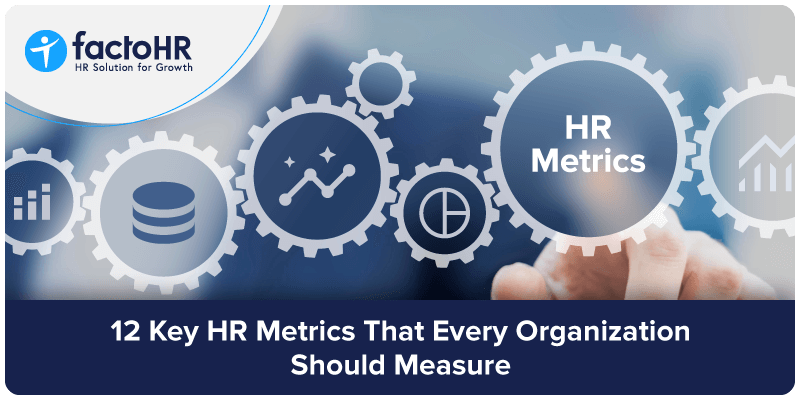 HR metrics provide quantitative information about the HR operations of your organization so that you can quickly recognize what's working and what's not working. Not having the required information will end up wasting efforts, money, and time on workforce management strategies that don't show results as expected. The human resource analytics will bring out the specific issues to understand why an initiative is not working as expected and what measures are needed to make the right improvements. Additionally, having the data will allow you to stay proactive and come up with better HR strategies. Here we have mentioned 11 key HR metrics that every organization must measure:
Cost Per Hire
The total amount spent on recruiting a candidate to your organization can be referred to as cost per hire. All the costs involved, internal and external, are added together and, lastly, divided by the total number of people you have hired. The metrics will help you to decide whether your recruitment strategies need to be scaled up or scaled back.
Quality of Hire
The value that a new hire adds up to the growth and success of your organization refers to the quality of hire. The cost-per-hire metrics evaluate and analyze the costs, and quality of hire will show up whether your recruitment strategies are successful in finding the right talents for your organization or not.

Time to Hire
Time to hire refers to the time span from when an applicant applies for a job in your organization until the time they accept the job offer from your organization. Generally, higher rates of time to hire portray barriers and inefficiencies in the recruitment process that are slowing down your hiring pipeline.
Employee Turnover Rate
The rate that measures the total percentage of employees leaving the organization either voluntarily or involuntarily within a specific time frame refers to the employee turnover rate. Insights on how efficient your HR tactics are in retaining employees can be obtained by comparing the total number of employees who left against the overall size of the workforce.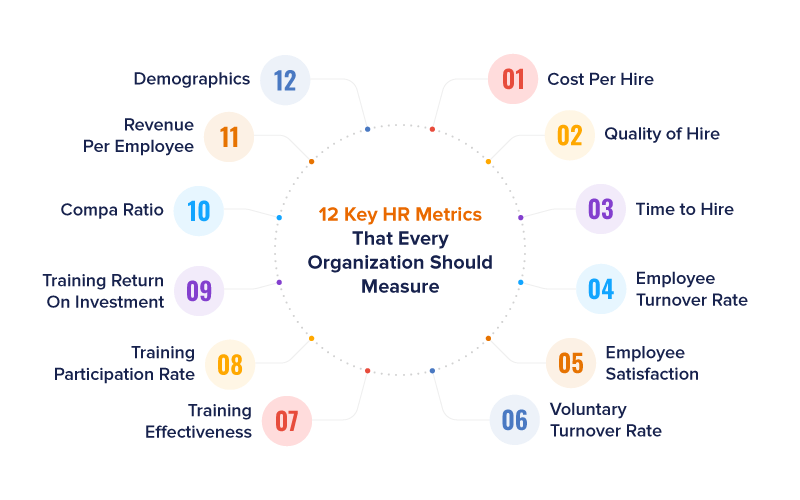 Employee Satisfaction
Employee satisfaction index is used to measure how engaged, satisfied, happy, and content your employees are with their present role. Organizations often use employee net promoter score (eNPS) to determine employee satisfaction.
Voluntary Turnover Rate
The percentage of employees that voluntarily choose to leave their position at your organization refers to the voluntary turnover rate. To calculate it, the total number of voluntary separations will be divided by the total number of employees present during a certain period, and then the quotient will be multiplied by 100.
Training Effectiveness
Training effectiveness is the measurement of how successful and effective the training program has been in reaching its goals. To find out training effectiveness, you need to set goals before starting the program and evaluate your employee's skills along with assessments before they complete the training.

Training Participation Rate
Training participation rates are the percentage of employees who participate in a particular training program. The number of participants is calculated on the basis of how many employees were supposed to participate. In addition to training effectiveness, it will also provide you insights into how employees are perceiving the training program and whether they find it engaging or not.
Training Return On Investment (ROI)
Training ROI shows how constructive, and effective a training program has been in enhancing your organizational success and contributing to its bottom line. This cost-benefit analysis is frequently used in tracking how successful your training programs are.
Compa Ratio
Compa ratio, also known as the comparative ratio is a crucial HR metric that allows your organization to evaluate whether your employees are paid fairly as per the industry norms. Generally, it is calculated by dividing the employees' salary by the market average, and then the result is multiplied by 100.
Revenue Per Employee
Revenue per employee is the calculation of the average revenue generated by individual employees in your organization during a particular period. It is often calculated by dividing the total revenue of the organization in a year by the total number of employees in the organization.
Demographics
Demographics of employees are crucial metrics that help in the betterment of the organization's diversity initiatives. Information such as the percentage of employees in a particular ethnic group, age group, background, and belonging to a different gender is obtained by tracking employee demographics.

To Conclude
factoHR, our cloud-based HR software comes with features that will provide detailed insights on various HR metrics along with its custom report builder tool to give you required HR data in no time, which is required for making meaningful decisions.