5 Advantages of an Employee Management System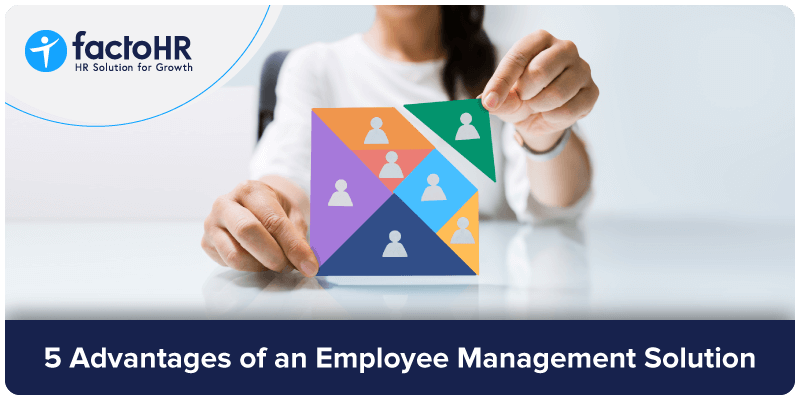 Managing HR processes and employees' data using spreadsheets is now an outdated procedure. Hybrid and remote working models are now being widely adopted by companies where employees and HR managers are not under one roof. In these scenarios, managing the workforce efficiently is complex, and keeping employees engaged and productive is a challenge. The experiences of remote employees will not be pleasant if they have to call managers repeatedly for each process, such as marking attendance or working hours. Here the need for modern cloud-based HR software arises that provides both employers and employees with a seamless experience, no matter where they work from.
A employee management system makes people management a cakewalk, with complete automation, secured and centralized data. If you are still wondering whether investing in a human resource management system will be worth it, then read this article till the end and know all the advantages of having it. Let's first start with the meaning.

What Exactly is an Employee Management System?
A software application that assists the organization with managing employees' data is an employee management system. Usually, it includes the employee's personal details, designation, reporting managers, shift timings, schedules, and leave days. Additionally, the system also has a time-tracking feature to trace employees' total working hours,which can even be integrated with payroll systems to ease the salary processes.
5 Advantages of Having an Employee Management System
An automated employee management system offers various benefits to an organization; here we have mentioned 5 important ones: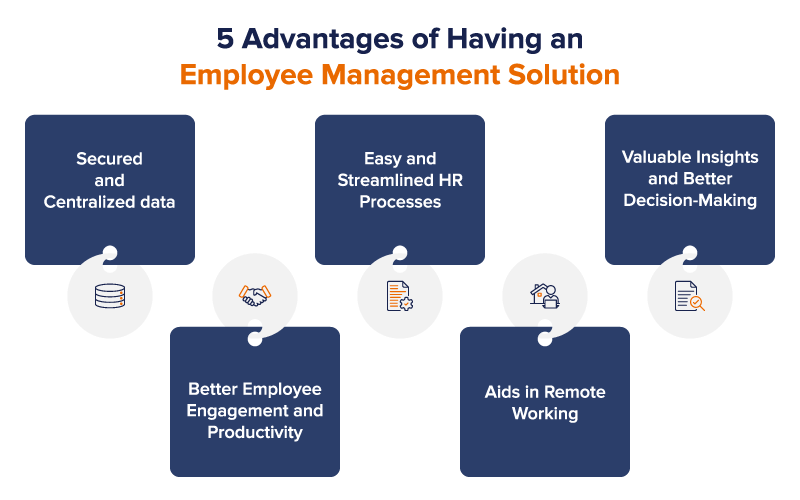 Secured and Centralized data
The HR department of any organization regardless of its type has to manage a huge amount of data. The database also has confidential information, which needs to be handled securely to stay away from emerging compliance issues and penalties. Furthermore, to stay compliant with the regional and national laws, certain data requires documentation at each stage. With implementing a human resource management platform, each piece of information related to HR operations will be automatically documented as per the standard and then stored centrally. This will make your organizations' data readily accessible anytime and anywhere. Further, user-based restrictions can be set for securing the data from reaching the wrong hands.
Better Employee Engagement and Productivity
Efficient employee management systems can lead to improved employee engagement and productivity. If we talk about employee engagement, the system has capabilities that allow employees to interact with their colleagues at any moment. Parallelly, employers can broadcast each update with their employees to keep them informed about everything in the organization. Additionally, it also makes the onboarding experience of the employees better by providing them with all the information about their new role. It enables open and straightforward communication, which is the key to improved employee engagement.
Human resource management software can streamline both performance management and training of the workforce. Your employees can access the learning management system to acquire knowledge and skills as per their new role in the organization. After the completion of training, managers can set goals for employees, which can be tracked by employees themselves for self-evaluation. Even employers can provide continuous feedback on employees' performance. All these elements will jointly help to unblock employees' potential to the fullest.

Easy and Streamlined HR Processes
Employee management systems can completely eliminate manual data entry work. Rather than spending time on repetitive tasks and making efforts to create spreadsheets, emails, and phone calls, HR managers can focus on more critical tasks. All the HR processes, from recruitment to offboarding, can be automated, streamlined, and tracked at each stage.
Let's take an example, through the system, employees can mark their attendance daily and can apply for leaves. This same information will be stored and reflected automatically during payroll calculations of the employees. Further, using the system,employees can track their daily time and attendance, raise requests, and queries where HR teams can assign different agents to resolve queries. Additionally, through the system, managers can assign shifts, and automate shift rotations.
Aids in Remote Working
The biggest advantage a workforce management system offers is that it empowers employees while working remotely. Here, the employee self-service portal becomes a helping hand for remote workers in performing various HR tasks themselves, without repeatedly involving HR managers. Using the portal, employees can complete their onboarding procedures, mark daily attendance, make leave applications, raise requests, carry out training needs, and access all the important documents. Additionally, employees can keep a record of the time spent on each activity and project, which even the managers can view, keeping managers and teams aligned no matter where they are working from. With the help of goal creation, KPIs, and KRAs, managers can run reviews smoothly and evaluate performances efficiently.
Valuable Insights and Better Decision-Making
Complete human resource management systems analyze the data from employee onboarding to performance evaluation and provide valuable insights in the form of various reports. These insights will keep HR managers and top-level executives updated and aware of all the HR operations and help identify persistent issues. The issues can then be addressed, and data-driven decisions can be taken to prevent problems from further affecting others aspects of the business. For example, the performance evaluation data will help managers clearly identify top, average, and poor performers in the organization. This will further help managers understand the training needs of certain employees and the reasons behind their average performances.

Ease your Employee Management
Employee management system can streamline HR processes, fulfill employees' requirements, and make the employee experience exceptional.
factoHRs Human Resource Management software offers various modules like employee data management, self-onboarding, and document management to make all HR processes efficient. We also emphasize employee productivity and engagement by releasing HR professionals from administrative burdens. To learn more about factoHR, contact us freely.