5 Advantages of Integrating HR tool with Payroll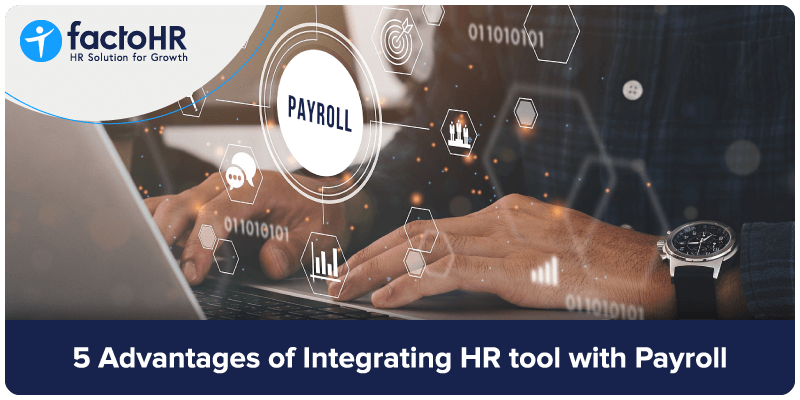 In the past, centralised systems were slow and cumbersome to maintain. Hence there were separate systems for each functionality. Employee data was held in the core HR system, while attendance and leave data in other respective systems. Employee data had to be updated separately in every workforce management tool to keep them as up to date as possible. Payroll would then be processed after extracting data from all systems manually. Data cleansing was necessary to remove duplicates and to make it usable. All this process was intrinsically time consuming and error prone.
Latest software systems are built using advanced architecture and technology that makes them responsive and easily scalable.
There are many vendors in the market who provide software with slightly varying functionality to manage your workforce. However, you should choose something that is suitable for your business, organisation culture and future expansion plans. Here are some features that you should look for in a HR and Payroll integrated system:
It is highly secure with role based access to data.
It is flexible to adapt to changes and scalable for future organisation growth.
Calculations and processing of data are always accurate.
It provides integrated and customisable dashboards for analysis and decision support.
It must be mobile ready for the generation that is always on the move.

Benefits of Combining Payroll with HR tools
There are many advantages of having integrated systems which share functionality and data. In this blog we will discuss 5 advantages of integrating HR tool with payroll.
1. Saves Time and Effort
Maintaining employee data separately for HR tool and payroll systems takes time and effort and is a wasteful exercise. The HR team and employees will have to log in to every system separately and enter or modify data as required. Manually entering the same data in multiple places is also prone to human errors. Even if a computer program is written to copy data periodically, there will be times when the data between the systems is out of sync or at times corrupted. By integrating all the systems, only a single source of employee data needs to be maintained and it can be used for payroll too.
2. Realtime and Accurate Employee Data for Payroll Calculations
The greatest advantage with modern data management and access tools for HR is that changes to employee data need to be done at one place only. When the systems are integrated, any changes to employee data regarding staff on/off-boarding, leaves, timesheets, etc. can be made from a single portal and made available in all the systems. This ensures accurate information is always available to payroll resulting in error free processing every time.
3. Great User Experience with Single Sign-on
Both employees and the HR team enjoy a seamless experience. They need to sign in once and complete all their HR related work including leave, timesheet and personal details management. Employees can access all their information like payslips and employment history in one place. They no longer have to sign into multiple systems for managing HR related tasks.
4. Better Data Analysis and Integrated Reports Facility for Management
With all the systems integrated and all the data available at one location, management can have better visibility into their employee data. It can be sliced and diced at various levels of hierarchy and departments in the organisation. This analysis can result in correct decisions taken timely. The managers and leadership team can clearly see the need for training, salary disparities, productivity and associated cost to name a few of the useful metrics for any organisation. This type of analysis and metrics help organisations to improve their overall productivity and profitability.
5. Improves Compliance to Tax Laws and Other Regulations
It is important for organisations to ensure they follow local laws and regulations regarding labour management and tax compliance. By having integrated systems, organisations can ensure accurate calculations at payroll thereby always paying the correct amount of TDS as well as EPF as applicable.

Conclusion
If you are looking for only one component of an online payroll software for your organisation, ensure they can be integrated at a later time too. If you are looking to get both, ensure that they come as a single package and work well together. Integrated systems allow for greater data accuracy and availability at all times. This enables error free reporting and analysis of data resulting in informed decisions. Those in turn will improve productivity for the organisation.
Here is some additional reading which discusses benefits of integrated systems in any organisation.