8 Key Advantages of Automating Approvals Workflow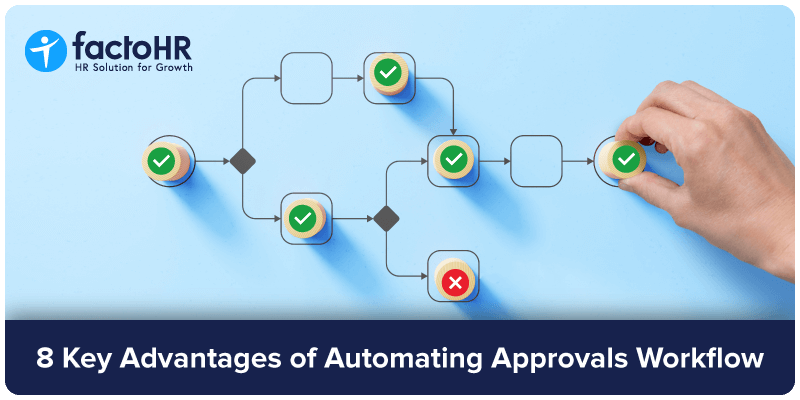 The success and achievements of a company hugely rely on the pace of executing the plans and strategies. With quick and faster decision-making, companies will be able to get things done speedily, thus resulting in better alignment of organizational goals.
Still, most organizations depend on manual operations for decision-making and approvals in spite of these processes being prone to delays. Then they try to increase the efficiency of manual operations rather than automating the approvals and end-to-end processes. Overall process efficiency will increase if the execution and decision-making are faster. Organizations can attain both, faster decision-making and faster execution when approval automation is rightly implemented. If you have still not adopted workflow automation, then read this article to know what distinct benefits it can bring to your organization. Let's go ahead with the meaning.
What is Approval Workflow Management?
A set of rules and predefined conditions to be followed for any process approval or the way in which any business decision is to be taken refers to approval management. The requests will be approved when it fulfills the criteria of predefined conditions. Approval management will include evaluating compliance with the rules at each stage of approval.
Each operation carried out in the organization may have multi-level approval workflows such as attendance regularization, and leave management. When such approval workflows are automated, it makes lower-level decision-making faster with proper checks. By implementing attendance management system organizations can make the employees' attendance punch corrections, overtime, and comp off request approvals effortlessly.
Top 8 Advantages of Automating your Approval Processes
Faster decision-making and execution is not the only benefit, here we have listed the top 8 benefits of implementing automation in workflows: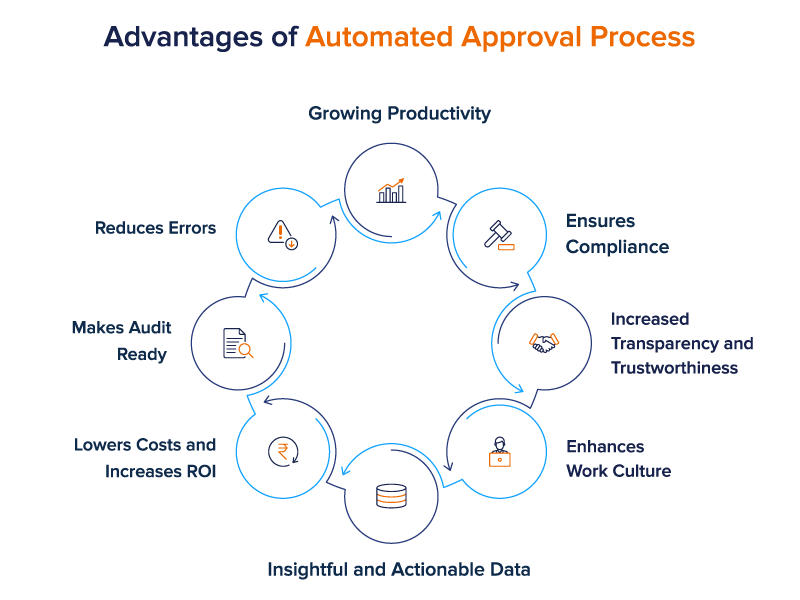 Growing Productivity
Each level of approval counts as a separate task when the process is carried on manually and is not automated. It can create interruptions for employees in the ongoing process, whereas in the case of automation altogether, decision-making can be rapid at each and every stage. Things will get faster when there is prompt and clear communication. Efficiency and productivity will be increased in your organization when employees will get the maximum support at each touch point in the approval workflow.
Ensures Compliance
By automating the workflow compliance can be ensured on every day basis. The system arranges and standardizes your processes which can then be kept on autopilot. Each approver, be it the first or last they all, are guided beforehand on what rules to comply with. The probability of unchecked faults, and inaccuracy decreases as with approval management, the process gets standardized.
Increased Transparency and Trustworthiness
Team agreeing on how the process will be carried out and decisions will be taken is a highly collaborative action. Here, any differences can hinder the smooth transfer of information pertaining to the end decision. Including all the decisions and supporting reasons in the approval workflow will ensure a single source of truth for all the employees involved. It gives better control to admins over the process when rules to be obeyed are established.
Enhances Work Culture
Monotonous day-to-day work can decrease employee morale to a great extent. Employees can be more productive and satisfied with the systems that enable them to focus on the tasks that are their subject matter expertise and actually require human expertise.

Insightful and Actionable Data
It's generally difficult to identify the bottlenecks and track the stages when multiple levels of approvals occur repeatedly. Approval workflows work as a database for the decision taken and each parameter contributing to the end result. Workflow automation will help you get the necessary insights to eliminate bottlenecks and optimize the organization's processes.
Lowers Costs and Increases ROI
A significant amount of time is saved every single day when repetitive processes are automated. For an organization, time is an asset each time when the execution of crucial decisions slows down, additional costs are incurred. The overall organization costs will get down when the approval cycle time involved in end-to-end processes reduces.
Inessential processes like approving various documents can be simply automated by configuring the level of approval from one to another. Automating the approval tasks will reduce the time involved and lowers unnecessary costs resulting in increasing ROI.
Makes Audit Ready
While approval management, certain parameters are needed to be kept in mind for making each decision. The parameters involved are; who made the decision, factors leading to the approvals or rejections and when the decision is taken. If these parameters are not noted during the process flow, it makes the inspection of key results and their affecting factors complicated. Approval workflows will catch the whole process and break it down in the form of audit trails building a process that is audit ready every time.
Reduces Errors
Workflow interface gives an intuitive manner in which all processes are both configured and governed. In the case of manual approval processes, the employees and employers both have to recall the processes or refer to documents repeatedly. Now, this will obviously increase the chances of mistakes, errors, and overlooked events. In contrast, if the process is automated, the agent will have the information for taking required actions and tracking each event.
A workflow can be configured for monitoring the approval requests, overseeing pending approvals, and changing approval status. Along with that, automation will ensure that no time is wasted when something new is added by triggering real-time notifications.

Conclusion
Automating approvals can leverage time and resources in the best ways possible. Set up workflow automation with factoHR, an automation tool that understands your business requirements and ecosystem with easy user adoption. Get in touch with us today and schedule a demo to better understand how factoHR can bring efficiency to your organization.