5 Best HR Dashboards for Automated and Data-Driven Reporting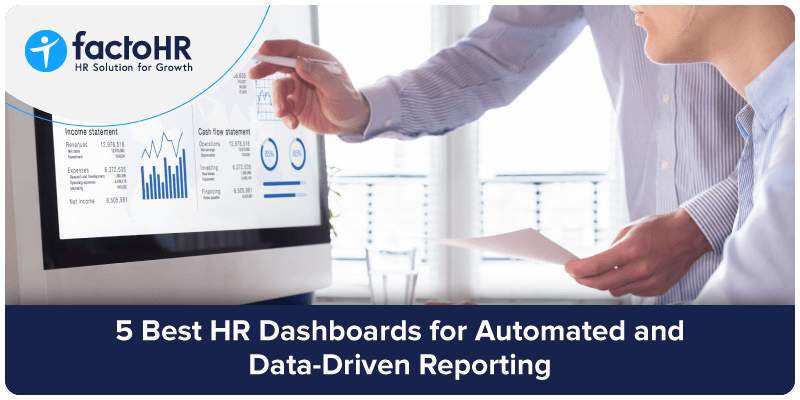 One of the critical factors that affect the growth of the business is its workforce, which is why keeping track of the HR analytics becomes vital. But as the business grows, managing and creating reports from unorganized data becomes complicated. The need for an automated HR solution that rightly analyzes and represents the data arises. Here HR dashboards come into the picture.
In this article, we will discuss how human resource dashboards can improve the process of collecting and analyzing data. Let's start with the meaning, followed by the types and benefits of dashboards.
What is an HR Dashboard?
HR dashboard is an analytic tool that collects data from different sources and then represents the HR metrics in a visually appealing way. It combines the information of different HR operations, from recruiting to retaining. Usually, the data is represented in the form of charts, graphs, and tables. Enabling HR managers to figure out the patterns through a birds-eye view to make strategies and decisions based on them quickly.

What Features Should the HR dashboard Have?
One of the key factors in a business's success, growth, and development is its human resource, which is why analyzing their patterns becomes important. The human resource dashboards are not only essential for HR managers but even support top-level executives in making decisions and strategies. But, strategy and decisions can only be made if a dashboard appropriately compiles all the information relevant to human resources. Below mentioned are a few features that a dashboard should have to make decision-making effective:
Concise and Compact
A right human resource dashboard represents all the required data in a meaningful, concise, and compact manner. It should drill down all the key performance indicators clearly and should not contain unnecessary data that increases the complexity. The dashboards should visualize the insights in such a manner that it is easy for managers to identify the patterns just with a glance.
Dynamic and real-time
There will be no difference between manual reports and dashboards if they both are static. Dashboards should be dynamic and must provide real-time analytics to take maximum advantage of them. A real-time and dynamic data representation will grab managers' attention on all the different workforce metrics.
Fully Automated
If managers have to spend a lot of time preparing the data to be represented, then dashboards are of no use. Dashboards that require uploading the data manually should be avoided, as it's time-consuming. Go for the ones which are integrated and automatically fetch data from different systems.
5 Types of HR Dashboards
Modern dashboards have the capability to showcase different HR metrics in real-time. For example, when seeing the performance dashboard of employees, managers can even view the attendance data simultaneously. Let's explore the five must-have dashboards: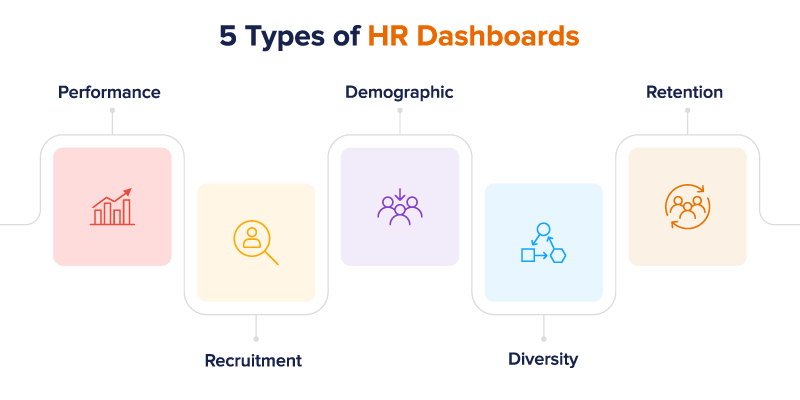 Performance
The performance dashboard includes workforce data regarding goal achievement, productivity, performance ratings, and key performance indicators. Performances are measured, on the basis of the goals and criteria set priorly. Performance dashboards provide valuable insights about the different teams and even individual employees. This overview will help managers identify the areas where employees need help and even recognize the top performers to be rewarded.
Recruitment
Recruiting dashboards help to track the effectiveness of companies recruitment processes. It helps managers analyze the costs involved in the recruitment process and identify whether the amounts spent are giving reliable returns or not. Some of the standard recruitment metrics that are shown in the dashboards are no of open positions, total applicants, with their source, hiring speed, and no. of recent hires. HR managers with these different recruiting metrics can efficiently pipeline the organization's recruitment needs. Additionally, the recruitment process can be refined, and the inefficient procedures can be improved.
Demographic
Each organization needs to maintain a balanced and diverse workforce, which is why examining the demographic characteristics of the employees is necessary. Dashboards will break down different dimensions and help managers profoundly analyze the data of employees' age, gender, location, and department. By tracking and understanding the demographic metrics, managers can implement strategies to bring equality and balance to the workforce. Besides, it can also help managers in different operations. For example, the employee age distribution chart can help determine the retirement rate and help to plan the hiring accordingly.
Diversity
Most successful and profitable companies emphasize diversity while hiring and retaining employees. A diverse workforce makes the company culture inclusive and engaging for both employees and customers. The diversity dashboard will show employees by their ethnicity. When managers evaluate the data of diversity and demographic dashboards they can accurately discover unbiasedness and identify the gaps.
Retention
Effective talent management processes and employee retention strategies can only be created when data is accurately organized and understood. The employee retention dashboard shows the average tenure of employees, workforce tenure by department, age, total departures, departures by departments and level, engagement score, and satisfaction rates. This HR analytics will help organizations identify the factors that are negatively affecting them, and based on them, new workforce retention strategies can be framed.

Benefits of Having an HR Dashboard
Having a human resource dashboard can be beneficial to the organization in various ways. Here are some of the most common advantages an organizations can get:
Trend Analysis
Visualizing the data will make recognizing the patterns easy. Managers can keep an eye on the trends related to employees and continuously analyze how they will affect the business. Analyzing the trends will also make the management aware of situations that may create difficulties in the future. So, based on it, preventive measures can be taken.
Auto Reporting
One of the most prominent advantages of modern dashboards is automated reporting. The data is automatically compiled from different systems and therefore, manually collecting data and creating reports from spreadsheets are eliminated, saving managers time and effort. Managers get real-time data in no time that increases efficiency and reduces time on the reporting processes.
Comprehensive View
Managers can get all the different metrics under one roof with a single click. All the vital information is collected in one location, giving a complete picture of all the dimensions. Even a comparison of different metrics can be made to identify the differences in the patterns.
Better Management and Monitoring
With automated dashboards, managers can keep a close eye on different metrics making monitoring employees easy and overall management efficient. When employers become aware of the factors that are affecting the growth of the business, preventive actions can be taken to improve them.

Ending Note
HR dashboards are simplifying the reporting and decision making data-driven. It aids HR managers in comparing different workforce metrics, predicting future shortcomings, and planning succession. If you are looking for an automated solution that consumes less time and represents data accurately, book a free demo today with factoHR to understand how your human resource management can reach the next level.