8 Creative Ways to Improve Employee Attendance at Workplace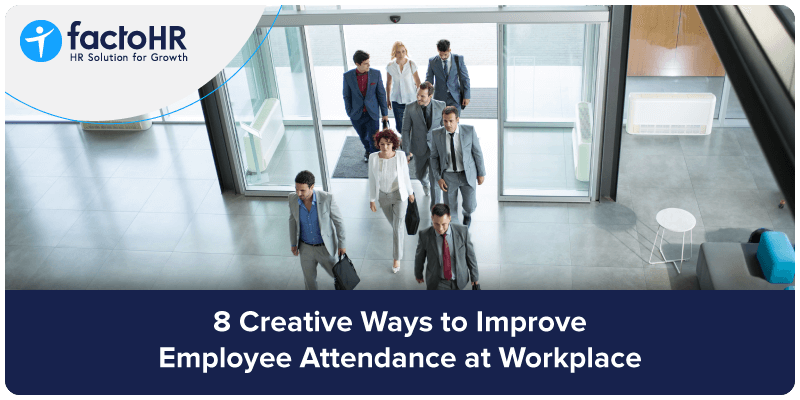 Maintaining optimal employee attendance is a critical component of a thriving workplace, as absenteeism can significantly hinder employee morale and productivity. HR managers are frequently tasked with the challenge of fostering punctuality and regularity among their workforce. However, there are numerous innovative and forward-looking approaches that organizations can employ to enhance employee attendance rates and cultivate a more dedicated and enthusiastic workforce.
In this blog, we will explore eight innovative strategies aimed at boosting employee attendance, empowering HR managers to enhance employee productivity, reduce turnover, and foster a positive and productive work environment. By implementing these creative solutions, organizations can create a culture that encourages attendance and nurtures an engaged and motivated workforce.

Importance of Employee Attendance in the Workplace
Attendance holds immense importance for both HR managers and employees. The punctuality of employees not only supports the seamless execution of operations but also enhances overall productivity. Some major problems faced at the workplace due to poor attendance are:
Employee absenteeism results in an increased workload for present employees, which leads to stress and demotivation.
Consistently absent employees may struggle to keep up with the working pace and the work progress.
More absenteeism means less productivity, which can hamper project progress and cause delays in work and leads to missed deadlines.
The cost of staffing may increase when a replacement for the employees is hired, or existing employees are required to do overtime to fill the gap caused due to absenteeism.
So what measures can you take to improve the punctuality of your employees? How will you motivate them to attend work regularly? Let us see the improvement plan for the same.
Make an Effective Improvement Plan for Employee Attendance
An attendance improvement plan is necessary to address absenteeism issues and maintain adequate attendance. The aim of this approach is to improve employee attendance rates. Also, this strategy helps to improve performance, raise employee morale, and maintain a healthy work-life balance.
For the successful attendance improvement plan, the following crucial factors are necessary:
Create an Attendance Policy
A company must establish an attendance policy for the employees. This protocol outlines the rules about the working hours, leave policies, overtime policies, grace time, and other details. In order to prevent any potential legal issues, it should abide by local labour rules. It should serve as a ground rule for any difficulties with attendance.
Install Attendance Monitoring Tools
Tools like biometric machines, geo-fencing, facial recognition, and more can be used to track employee attendance. By installing an employee attendance system, you can keep a record of your employee's leaves, late coming, early going, and so on, which helps you to ensure attendance data is tracked accurately.
Communicate Properly
In case you monitor some constant pattern of absenteeism in employees, before taking any action communicate well with them. First take into account their situations and discuss their concerns, then if required take the necessary actions.

How to Boost Employee Attendance
Here are the eight creative ways to encourage employees to arrive at work on time and consistently:
1. Develop Activities for Digital Engagement
After COVID-19, work operations and meetings are shifted to a digital platform. Therefore, HR should make efforts to create online activities, competitions, and interesting events. By doing this, you will build a complete digital HR strategy, which will promote consistent employee attendance in the long run.
2. Convey Attendance Policy to Employees
HR can use automated tools and integrated software, for conveying attendance policy to employees. The need for good attendance will be ingrained in the minds of the employees through the use of animated case studies or gamified simulations including the effect of absenteeism.
3. Monitor Employee Attendance with Analytics
In the modern era, digital attendance records and monitoring tools are used for recording employee attendance. Its advanced features like a dashboard assist HR in analyzing their employee's data in a visually appealing way. Tools also help employees as well as HR to manifest the details and pattern of employee absenteeism so that they can track and enhance attendance.
4. Plan Friendly Competition
Human resource team can plan some friendly competition between employees for good attendance. They can also provide prizes, and points for the same or can create a leaderboard for the top employees to encourage them.
5. Reward Good Attendance with Monetary Value
The human resource department can give rewards in the form of monetary incentives to the employees who have good attendance. By doing so, others will be encouraged to attend work consistently and achieve perfect attendance.
6. Allow Flexibility in Working Hours
Regardless of their job role, employees should be allowed to adjust work schedules to accommodate personal commitments, with this, they experience a greater work-life balance, thus increasing job satisfaction, reducing stress and improving overall well-being. This way, employees are consistently motivated to remain present, resulting in increased attendance and productivity.
7. Build an Employee Engagement Committee
Initiate and build an employee engagement committee in your organization that can plan team engagement activities to improve their bond. For that, you can priorly decide your budget. It is very much essential to conduct team activities, such as festival celebrations, annual functions, picnics, sports events, and more, as this will keep them motivated and will help you to boost your employee's attendance.

Conclusion
If an organisation wants to retain its workforce and ensure appropriate attendance, it is crucial to implement plans that prioritise employees needs. Employees must be an essential component of the attendance improvement plan. To make it more effective, you should give complete information about the ins and outs of tracking devices and software that will be used for monitoring attendance by your company. The above-mentioned eight creative ways can help you and your organisation to motivate your employees to attend work regularly and on time.