Table of Contents

People management is a challenge in every organization, regardless of its size. There are several activities ranging from recruitment, payroll, training, compensation, talent management, attendance management, contract management, etc., that form part of the internal operations of HR.
Automated tools such as HR System help manage these tasks efficiently. They have a gamut of features that make the working of the HR department easier. In fact, 80% of HR professionals believe that adopting a HR software improved employee's attitude toward the company. In this blog, we have listed the top 10 HR software in Bangalore that you could choose for your organisation. Going forward, let us delve into their features and uses.

How to choose an HRMS for your organisation?
Here are some tips to choose a HR solution that suits your business:
Business needs
The foremost concern would be your business needs. Whether you are a small, medium or large enterprise decides this factor.
Also, there are several automated software available to manage HR operations. These have multiple features but as a small organisation you may not need many of them. So, first assess what your business needs as a solution and accordingly choose the best one.
For example, if managing time alone is your issue, you could select a software based on this need.
Compatibility
When you have an existing IT infrastructure, your HR platform should be compatible with it so that it ensures smooth functioning of the same. It should be easily integrated with the existing tools so that there are no error or duplication issues.
So, when selecting HR software, it is essential to look into this aspect. The selection of the wrong tool may impact productivity. Lack of integration can also reduce the effectiveness of the software. This may necessitate removal of the existing software and investment in new ones that are compatible with the HR system. This is unnecessary expenditure for a business, which could be avoided by careful consideration of the features.
User-friendliness
The HR system you choose should be easy to use. It should be self-explanatory and reduce reliance on the software supplier.
Training modules should be available so that users can easily understand the working of the software. It should provide for easy navigation and interface. The HRM system should be capable of being used by all HR team members irrespective of technical expertise.
Scalability
This is the most important factor to check in HR solutions. A scalable software adapts to any upgrades in the organisation. As a business evolves there are many changes that are expected. A scalable software copes with such situations easily.
For example, when the size of the company increases, and it becomes a large enterprise, the same software it had been using should be able to cater to the new business size, without any compromise in performance. The company should not be confronted with the need to look for new software due to changes in the business size.
Budget
Even with other factors being favourable, the cost of the software should be within the budget of your organisation. Every expenditure is made in accordance with the budget allocated. So one of the main factors to consider before choosing a HR system is the budget.
A software that fits your needs should also be within the budgetary allocations.
Reviews
One of the important things a business should consider while choosing software is the reviews from people who have already used it. Reviews give an insight into the usage and performance of the tool and enable you to take the right decision. With the help of reviews you can compare various available HR tools and then arrive at the final purchase decision.

List of 10 Best HR Software in Bangalore
We have listed below the 10 best HR software in Bangalore that offer attractive features and functionalities.
1. factoHR
factoHR is an all-in-one software that helps organizations keep their HR processes organized. Through automation of all HR processes, it simplifies the workforce management processes.
It is a single-point mobile-first HR software, which is highly flexible and scalable in Bangalore. It offers an intelligent dashboard that guides organizations to smarter decisions with the analytics available. It helps maintain an exhaustive list of employee data with advanced filter options to retrieve desired information easily. FactoHR simplifies the onboarding process through automation and thus offers a memorable experience for new joinees.
Through automation of repetitive tasks, it saves time for critical tasks that need more attention. The software improves workplace transparency through surveys with multiple questions that can be attempted through the mobile app. FactoHR comes with excellent features like contactless attendance, face recognition, punching with selfies, a high level of integration, etc.
Features
Better analysis and decision-making through a captivating dashboard with exceptional reporting features
A centralised database of employees to enhance security in data storage
Overcomes use of traditional storage services with seamless document management
Provides for innovative approval system based on workflows that automates of repetitive tasks
Create offer and appraisal letters effortlessly through dynamic templates
Robust and frictionless onboarding and frictionless exit with HR system
Collect appropriate and real-time feedback through surveys and track them through mobile applications
Categorize employees seamlessly by efficiently managing and tracking employee data
Seamless payroll integration to for hassle-free management of employee salaries
Simplify organizational hierarchy with cloud-based HCM software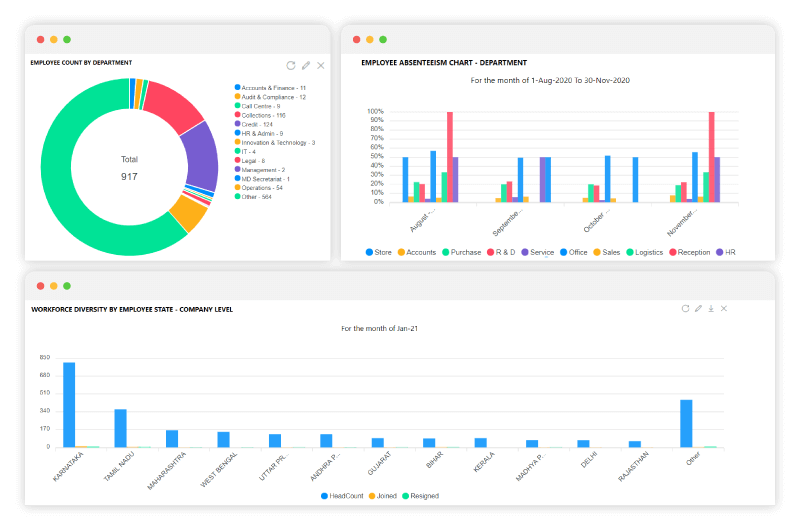 Benefits
Offers high-level of encrypted security that provides granular access control to maintain safety of data.
Off the shelf built-in integration with internal and external modules maintains a connected system without human intervention.
Offers high levels of flexibility and scalability to adapt to evolving circumstances and be future-ready.
Wizard-driven configuration ensures quick implementation of the software.
What People Say About Us

Pricing
factoHR offers four categories of pricing plans: Essential, Advance Velocity, Bolster and Performer. Each of these plans come with various features. You could also choose add-ons such as face recognition, punch with selfie, Geo fence, etc. as per your needs.

2. DecisionPlus HRMS
DecisionPlus HRMS is a comprehensive and flexible software that assists organizations in efficiently managing their HR needs. It covers areas like planning and budgeting, administration, recruitment, training, time and leave management, employee reassignment, payroll, employee exit, and HRIS.
The self-service portal at DecisionPlus HRMS helps establish better employee connections. It offers biometric-based attendance and leave management.
DecisionPlus HRMS is compliant with the labour laws. It provides easy and powerful querying and reporting through graphical representation. Also, the report builder is user-defined in all modules. Reports are automated and are available through email and SMS.
A unique feature here is the record of individual employees with their career history. The software also offers a functional and easy-to-use payroll package.
Features
Better Employee Connect through Self Service Portal.
Powerful querying and reporting features.
Robust but easy-to-use Payroll package.
Labour law compliant.
Analytical reports with graphical information.
Individual Employee Profile with Career history.
3. Gizmosys Solutions
Gizmosys Solutions is a cloud-based software that assists with the complete range of HR operations. It supports multiple organisations, multiple languages and locations.
This software is user-friendly. It is suitable for small and large enterprises. HR operations from hire-to-retire can be effortlessly handled with the help of Gizmosys Solutions. Expense claims is a big challenge for HR, but with this software you can have better control as the process is completely streamlined.
A notable aspect with Gizmosys Solutions is that it offers payroll processing and reporting features for free. The reports are up-to-date and are highly functional.
Features
Recruitment Workflow
Expense Claim Software & Expense Reporting
Training Management
Off Boarding
Intranet Portal
Employee Self-Service
4. Infotrack HR solutions
An AI-based HR solution, this software supports organizations by efficiently managing the HR operations. This intelligent solution is people-centric and people-oriented and offers seamless integration with other software.
The software takes care of key HR areas like recruitment, retention, performance management, training, compensation, and benefits. Its highly functional dashboard aids decision making and forecasting.
The software helps analyze issues in the recruitment process and helps eliminate them. Infotrack HR provides end-to-end solutions that support any type of organization. Notable features of the software are face recognition, AI-enabled interviews, biometric attendance, geo-fencing, mobile workforce, and chatbots.
Features
Loans and Advances
Arrears Processing and Adjustments
Processing for Apprentices/Stipend
Define new Allowances / Retaining Allowance
Employee Exit Management

5. Easy HR
Easy HR is a premium HR solution for small and medium enterprises in Bangalore. There are many attractive features in this software that make HR operations easy.
This HR platform provides reports in the form of tables and graphs, thereby making them easy to comprehend. Features like attendance management, document management, leave management, onboarding and exit, payroll, performance, timesheet, training, and mobile app management facilitate easy handling of HR-related activities.
It also offers easy integration with the existing tools. With Easy HR, remote check in and check out of employees is made possible. The software offers a transparent hiring process, which is highly process-oriented, and thus, quick and effective.
Features
Asset Management
Attendance Management
Employee Directory
Claims Management
Document Management
Employee Self Service
Helpdesk
Mobile App
Leave & Attendance
6. Agendrix
If you are looking for smarter and faster HR software in Bangalore, Agendrix is the one. It is an online scheduling and HR management system suited for small and medium businesses. The cloud onboarding feature of this software seamlessly structures the onboarding program for new joinees and ensures that all HR information is collected and organized in the employee database.
The digital timesheets feature is an easy way to manage employee breaks. To ensure employee satisfaction, the software enables creation of custom surveys and also efficiently collects and assess the responses.
With the Agendrix app, employee logins are easy, as it can be done from any device. This user-friendly software is available for a free trial for 21 days.
Features
Automated Scheduling
Shift Swapping
Schedule Distribution
Time Clock
Time and attendance
Employee requests management
Reporting and analytics
7. BrightHR
A software that helps save time and money, BrightHR assists efficiently in managing your HR activities. It is a comprehensive platform that makes people management easy through an accurate tracking mechanism.
Many features like absence management, electronic document filing, open shifts, payroll navigator, recruitment management, etc., make it a highly functional tool.
The software allows easy mobile and desktop accessibility. It helps managers record and approve staff overtime as time tracking is enabled in the app. Employees can clock their hours through their own devices, and this gives a real-time view of clocking in and out.
The app supports your business size as it can be tailored according to the needs of the business.
Features
Attendance Management
Customizable Reports
Organization Management
Expense Management
Salary Structures
Compliance

8. Humi
Humi is a centralized platform for all the HR needs of a company. It is a highly secure and intelligent platform as it is run by data-driven insights.
With Humi, it is easier for employees to update their information on the app themselves. Also, they can view information about other employees based on their assigned permissions only.
Humi makes onboarding a breeze with its smooth and automated workflows. The time tracking feature keeps track of hours worked and hours of break and helps managers in easily addressing any lapses.
It has a fully integrated payroll platform that reduces duplicate entry and ensures timely payment.
Features
Employee Data Management
Controlled Access with Role-Based Permissions
Traceable Approval Workflows
Digital Document Sign in
Asset Tracker
Employee Reports and Insights
9. Personio
This is an all-in-one HR management system that makes HR operations more functional. The software reduces the complexity involved in HR operations by efficiently automating almost all tasks.
Personio supports the HR at every step from recruitment to employee engagement and finally at exit. With this software, you could save up to nearly 35 percent of your time, which could be directed to more critical tasks that need personal attention.
One of the best features here is the support available to the users whenever they need. It is completely secure and is compliant with relevant labor laws. It comes with all amazing features like attendance and absence management, whistleblowing, training, applicant tracking, etc.
Features
Organization Management
Time, Attendance, and PTO
Expense Management
Salary Structures
Compliance
Benefits Administration
Applicant tracking
10. Zerocode HR
Zerocode HR is a no-code platform that simplifies and streamlines the HR tasks of an organization. This software can be used by all irrespective of their technical expertise as it is a no-code platform.
The software is scalable and saves a huge amount of cost as compared to platforms that run on coding.
The compensation system of the software is highly useful for simplifying calculations involved and the allocation of bonuses or other equity awards. This ensures timely payment with zero errors.
The performance management feature of the software helps with the feedback system. This helps drive employee engagement and thereby increases their productivity.
Features
Compensation
Performance management solutions
Planning, modeling and calibration tool
Pay Equity

Bottom line
HR Solutions offers immense support to organizations by efficiently managing crucial tasks. It is imperative that every organization invests in the HR system to manage tasks more competently. While you have the top 10 HR software in Bangalore listed above, choose that one that suits your organization the best.
FAQs
1. What are some must-have features in the HR System?
An HRMS software should be comprehensive to cover all aspects of HR operations. It should facilitate integration, be easy to use, flexible, scalable, and have efficient reporting features.
2. Why should Bangalore companies choose HR software?
HRMS software streamlines your HR processes and reduces redundancies. It saves a lot of time and improves the efficiency of the organization.