Table of Contents

An HR Software is a tool that can assist with efficiency, overall data security, and more streamlined HR processes for your organisation!
In this blog, we will take you through 10 of the best HR software in Delhi. You can use these HRMS software to save time, money, and lots of manual effort in the long run.
You should consider the following benefits of choosing an HRMS software for your organisation;
If you use HRMS software, it is straightforward to access, update, and manage employee records and reduces the risk of errors while uploading certain types of data.
Organisations can streamline the recruitment process, from posting job vacancies to candidate selection and onboarding them seamlessly.

Top 10 HR Software In Delhi NCR You Should Check Out
In the section below, we will take you through a great list of the top 10 HR Software in Delhi to help you pick the right one for your specific requirements.
1. factoHR
factoHR is a leading HR software and is perfect for the needs of your organisation. It has a solid set of features and solutions, and you should consider it to streamline your HR processes, drive efficiency, and enhance the overall employee experience.
The platform covers everything from employee data management, attendance tracking, and leave management to payroll processing and employee performance management. By offering such a comprehensive set of features, factoHR empowers organisations to centralise their HR operations, making it easier to handle and access employee-related data efficiently.
One of the standout features of factoHR is that it has received glowing reviews for its functionality. The software's user-friendly interface and intuitive design make it easy for HR professionals and employees to navigate and use the system according to their needs. Also, factoHR's cloud-based accessibility is a beneficial feature for organisations with remote employees.
factoHR helps streamline every major HR process you could possibly need, including employee data management, attendance tracking, and leave management to payroll processing and performance appraisal. It offers a comprehensive suite of features, which makes it easier for organisations to centralise their HR operations, helping them handle and access employee-related data efficiently.

Features that distinguish factoHR's HR system and help users achieve more are
Analytics and Dashboard
factoHR provides intelligent and visually appealing dashboards which are customisable. It ad-hoc report builder to customise the reports as per your needs by selecting various categories and fields so that data drives your decision-making. At any point in time, leaders can have a bird-eye-view of the entire employee data along with relevant analytics to support data-driven decision-making.
Employee Database
All employee data and associated assets data are centralised to provide a single source of truth for the entire organisation. History of the changes made to the employee information is kept along with a time stamp. This helps in establishing clear accountability for the changes made. Audit trail reports are available to review the change history as and when required.
Automation of Repetitive Tasks
factoHR's business process automation allows you to create multilevel workflows to automate your lower-level repetitive tasks. It saves HR staff's bandwidth and helps focus on strategic higher-value tasks. factoHR lets you create a multi-level approval workflow to ensure that any changes in employee data are checked by supervisors before storing them permanently, which avoids rework and saves time.
Employee Engagement
Employees will have a better experience when their queries are resolved quickly. You can manage and solve employees' queries by using an interactive and automated way with a chat-like interface that will save employees' as well as HR's time and effort. You can also effortlessly share crucial documents, inform employees about certain events, and uninterruptedly communicate with employees to keep them highly engaged with your organisation.
Major advantages of using factoHR's HR system are
Security and Privacy by Design
Role-based permissions, maker-checker workflows and granular audit logs help keep the data secure.
Faster Implementation
The system can be configured by the users themselves using its implementation wizard. This enables going live in a few weeks.
Flexible and Scalable Architecture
The system can scale to support organisations of any size. There is also flexibility in choosing the right functional modules for your requirement to grow along with the organisation and integrate additional modules at a later date.
Built-in Integration
Fairly automated integration with internal and/or external functional modules makes it a highly connected system. Automation eliminates human intervention and possible manual errors.
Pricing
There are four plans that you can avail of depending on your needs – Essential, Advance Velocity, Bolster, and Performer. For pricing of each option can be reviewed and a suitable choice can be made. Multiple add-ons to your chosen plan can be added – including Face Recognition, Self Onboarding, and an efficient Ticketing System.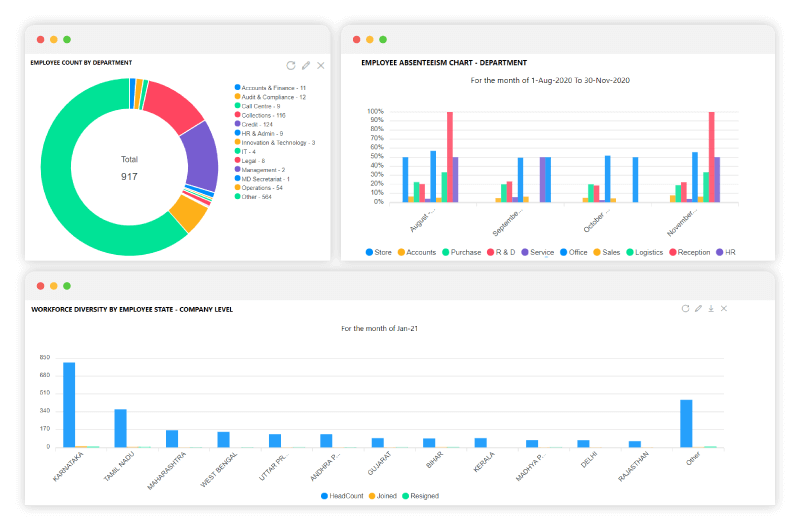 What People Say About Us


2. AddettoHR
An HR software perfect for medium and small-sized businesses, Addetto offers a very comprehensive and inclusive set of features for your day-to-day HR processes. It offers a variety of features that can help you reduce organisation backlog, time-intensive manual documentation processes, and even leave management for your employees without a hassle! You should note that if you are just getting started with an HRMS, you should look for software that has a user-friendly interface, like AddettoHR.
It covers many HR functions, including recruitment, onboarding, performance management, leave, and attendance tracking. Addetto is praised for its intuitive interface and smooth leave management feature but could improve its pricing for plans with advanced features. You can contact the team for a quote if you wish to opt for this software.
3. PionHR
A cloud-based HR software in Delhi, PionHR is best known for offering AI-driven business solutions. Not only do automated and AI-powered HR processes save a company's time, money, and manpower, but they also result in clean, error-free reports. You can also avail yourself of features such as payroll management, leave management, and a smooth ESS portal. If you are looking for features such as AI-driven talent management, streamlined recruitment processes, and automated onboarding tools, consider opting for PionHR.
Customers have given glowing reviews for the software's data analytics, which drive better decisions and growth in the company, and the advanced analytics that it offers at a solid price. As for cons, you should know that PionHR may not offer many integration options. For pricing, you should contact the team for a customised quote.
4. Officenet
Officenet is a popular HRIS software in Delhi, and if you are a business owner, you can consider opting for their software. Officenet provides many useful features and an efficient way to manage all payroll processes and automate other HR processes. A few more features that you can check out are an ESS portal, leave management, performance and appraisals portal, automated recruiting and onboarding, and travel management.
A few pros of this software are its affordable pricing model and speedy and friendly customer support. A few cons, on the other hand, are its lack of advanced/customizable features. You can contact the team for a quote based on your organisation's needs!

5. Samplex24
Samplex24 makes its way to this list of HRMS software for Delhi due to its wide range of core HR modules and efficient ESS platform. Samplex24 offers a wide range of features that are perfect for any organisation wanting to automate/streamline their HR processes. A few features that you should consider are its leave management, payroll software, attendance tracking, document management, and time tracking features.
Its pros include cost efficiency and its simple, easy-to-use interface. It is also optimised for mobile accessibility. As for cons, it offers limited scalability for large organisations. You can submit a form on their website for a quote or avail of a free demo!
6. InfoGird
InfoGird provides a set of comprehensive cloud-based HR solutions and is a popular HRMS software in Delhi. You can check out all of the features they offer on their website, but a few important ones are recruitment assistance, onboarding resources, training and development modules, and mobile accessibility.
It also offers analytics that you can use to make decisions that impact overall productivity and efficiency at your organisation. InfoGird has received great reviews for its versatile analytics and onboarding features, as well as its accessibility on mobile devices. It does have some improvements pending when it comes to its user interface, but it is a pretty solid HCM software in Delhi. You can contact the InfoGird team for a quote.
7. HRPearls
A great Human Resource software in Delhi, HRPearls offers a wide range of features ranging, from employee documentation, payroll management, and leave management, to name a few. HRPearls is quite popular as an option for business owners and offers extensive scalability. This feature makes it perfect for small, medium, and large organisations.
A few features you can avail of after purchasing software from HRPearls are recruitment and onboarding features, time tracking, benefits management, employee records, and easy access to said records. It is praised for its integration and scalability but needs improvement when it comes to overall UI. Pricing is available upon request, and you can fill out your company's details for a quote.

8. Nitsotech
An HRMS software company in Delhi with a wide range of modules, Nitsotech is a solid software to get started with if you are a beginner. It offers modules for multiple features, some including talent acquisition, payroll processing, compliance, and employee performance management. Nitsotech is very customizable, a feature that makes it an excellent choice for several companies across different industries.
Additionally, it has received great reviews for its security measures, payroll processing, and overall beginner-friendliness. As for cons, you should remember that you may find the pricing a bit steep if you are a small business. For complete pricing, you can contact them for a quote.
9. HRSS
Another user-friendly HR software in Delhi, HRSS offers a range of features such as payroll management, employee performance evaluation, and attendance tracking, to name a few. You should know that HRSS is praised for its affordability, ease of use, and beginner-friendliness.
The software is also a great option for small businesses and startups. Once purchased, you can access HRSS almost immediately – one of its biggest pros. It is yet to improve on its basic reporting features, though. You can contact the HRSS team for a quote!
10. SavyHRMS
This is a cloud-based HRMS software that offers multiple modules for recruitment, onboarding, and employee data management. Since it is cloud-based, it is particularly useful for remote teams and organisations. It offers solid scalability and has a seamless mobile app that you can use to monitor and track performance, leaves, etc., on the go.
A few features that have received excellent reviews from SavyHRMS's customers are its scalability, data security, and mobile app. As for cons, it needs a bit of improvement when it comes to customer support. You can contact the team for a quote!

How To Choose An HR Software For Your Organisation?
Now that you have checked out some of the most popular HR software in Delhi, you should consider a few factors before considering a purchase. You should also, if available, book a demo with the software that you are considering so that you can check for yourself if the tool serves your needs or not;
Identify your organisation's specific HR needs and goals.
Make sure the software aligns with your company's size and structure.
Look for user-friendly interfaces and integration capabilities.
Prioritise data security and compliance features for the safety of your employees and the company's data.
Consider scalability to accommodate future growth. A tool that offers its services to strictly medium/small enterprises may not be scalable if you are a large organisation.
Evaluate customer support and training options. If you are a beginner, you should check out if the software provides learning modules for you to learn from.
Conclusion
Now that you are familiar with the different HRMS software in Delhi and their features, pros, and cons, you are better prepared to decide based on your company's requirements. Make sure to opt in for demos if you want to check a vendor's offerings and whether they meet your needs.
Selecting an HRMS software may seem like a huge investment initially, but it does not take long to pay back manifold.

Some Common FAQs
What is the price for HR software in Delhi NCR?
The price for HR software in Delhi varies from vendor to vendor, but you can ask for an exact quote based on your company's size, goals, and overall budget.
Can HR system be used for remote workforce management?
Yes! Most of the HRMS software we mentioned in the list above provides services for remote tracking and payroll, leave, and expense management.
Are HRMS system in New Delhi beginner-friendly?
While some software offered may require some prerequisite knowledge, you can choose a very beginner-friendly tool or lots of learning modules you can learn from!