Table of Contents

Enterprise businesses are expanding and spreading their wings in remote locations all over the world. To cater to such varying needs of regional differences in local laws and cultures, using an intelligent HR software is pivotal. However, leveraging the right HR software that fulfills your growing demands and keeps the workforce engaged is crucial. This comprehensive guide shares detailed information on the top HR software available in the market for fast-growing enterprise business. They are backed by robust features and solid security, which distinguishes them from the rest of the market.

12 Best HR Software To Meet Ever-Growing Enterprise Businesses Needs
Check out the best HR software available in the market with a brilliant feature list that matches your value propositions in the best way.
1. factoHR
Want to handle all the mundane HR operations in a systematic way? You can make your life easier with HR software that eases data collection and enables employee self-service for managing a dynamic workforce. FactoHR can prove to be your ally in this situation.
factoHR acts as the backbone for enterprise business HCM requirements with its pristine security and intuitive interface. From simplified employee onboarding to hassle-free offboarding, it ameliorates HR productivity and elevates it to the next level.
Being an award-winning HR cloud based solution, it has worked with national and international brands in diverse industries. Its outstanding AI features and simplified HR operations blend together to serve different enterprise businesses in 20+ countries.
Some of its benchmark features include
The Employee self-service portal helps you share employee details in real time to build a high-performing workforce.
Handles all core HR operations, such as effective management of payroll, attendance, and expenses, to deliver an enriching employee experience.
Acts as a unified solution for retirement fund management such as gratuity, superannuation, provident fund, benevolent, and pension trusts.
Its OKR-based performance system ensures rigorous employee performance management.
Proffers state-of-the-art security and privacy using strong encryption for exceptional data accessibility.
The user-friendly interface of this HCM platform ensures extensive flexibility that imparts a sophisticated look and feel.
Why Opt for factoHR as your HR software for Enterprises?
Since factoHR comes in a user-friendly mobile app, the HR operations get streamlined, encompassing everything between your hiring and retirement.
Its powerful AI features make it stand out from its competitors and ready for the upcoming generation. From mobile-driven chatbot support to contactless attendance with either facial recognition or geofencing, you will love its advanced features.
Its customizable features allow you to meet the business needs of your enterprise business in the best way. You can use centralized HR operations to manage your global teams efficiently.
Features
| | |
| --- | --- |
| Dashboards provide analytics which help make decisions that are data-driven. | Role-based access and a Centralised employee database serves as a backbone to the entire HR operations. |
| New hires will get a better experience when they use factoHR's onboarding software which automates the onboarding process. | Automate repetitive tasks by creating multi level workflows using factoHR's business process automation. |
| Generate important letters automatically and directly share them with employees by using our pre-defined templates. | Using an intelligent chatbot helps resolve employees' queries quickly. |
| Share important documents with your employees via the plug-me feature of the mobile app. | Instantaneously communicate with all employees using push notifications of any events. |
| An organisational tree that will help you define clear career paths out of the reporting structures defined. | Employee exit process can be glitch-free by using factoHR's offboarding module and generating full and final settlement. |
| factoHR's payroll software allows you to manage payments on time and be 100% compliant with local tax laws. | The acknowledgement module can be used to reach out to employees and get quick responses. |
| The survey module can be used for soliciting real-time feedback from employees on important topics. | Quick and guided integration can be used to onboard other factoHR modules like attendance or timesheet software. |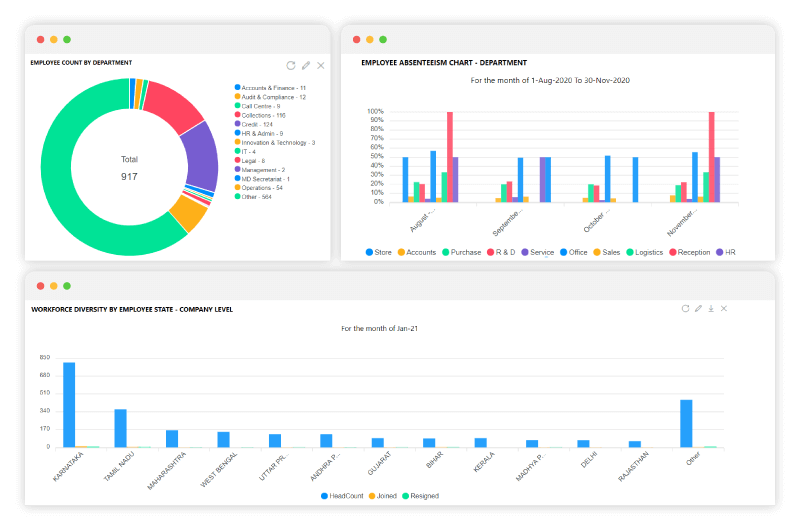 Major advantages of using factoHR's HR system are
Ensures watertight security through encryption at rest and SOC Type 2 certified cloud data centres.
Offers an integrated platform that centralises all HR data and processes into a single, cohesive system.
Whether you are a startup, an enterprises or an organisation of any size in Chennai, you can take advantage of the offering as it is scalable to meet your specific needs and requirements.
Provides a clean and intuitive interface that enhances user experience.
There are four plans that you can check out for pricing – Essential, Advance Velocity, Bolster, and Performer. You can add multiple add-ons to your plan, including Face Recognition, Self Onboarding, and an efficient Ticketing System.
What People Say About Us


2. Workday
With Workday HRMS, you can move ahead of simple management and tracking of your task force in the enterprise business. You will get a complete understanding of the skills and capabilities of the personnel working in your company. With these deep insights, you can deploy the necessary steps to boost productivity by nurturing the right talent and offering a personalized experience.
Moreover, you get central administration of benefits and agile compensation management with the Workday HRM. The software is capable of scaling as your business grows and has all the features to support and manage your business at a global scale.
Features
Document Management
Email Integration
Project Management
Collaboration Tools
Timesheet Management
Collaboration
Portfolio Management
Resource Management
Contract Management
Calendar Management
Invoice Management
Reporting
Sales Management
Incentive Programs
Bonus Management
3. UKG Pro
With UKG Pro HCM, you can manage all the employee data efficiently and manage the payroll tasks easily. Besides this, you can manage the scheduling of the personnel properly and attract a fresh and talented workforce to your company. The administration can manage all the data in one place and share all the company information with the whole workforce(global and local).
The UKG Pro suite easily handles talent and workforce management tasks. Moreover, you get access to smart tools, reporting, and legislative updates to stay compliant with the standards of payroll, recruitment, and several other departments. UKG Pro is servicing 80,000 customers in several industries in over 150 countries worldwide.
Features
Time Tracking
Self Service Portal
Employee Scheduling
FMLA Tracking
Calendar Management
Benefits Management
Overtime Calculation
Employee Scheduling
Check Printing
Reporting/Analytics
Direct Deposit
401(k) Tracking
Multi-Country
Multi-State
Vacation/Leave Tracking
W-2/1099 Preparation
Wage Garnishment
4. Gusto
With automated Payroll and HR operations, Gusto, a widely used payroll, and HR software platform, simplifies and streamlines payroll management for businesses. With an intuitive interface, Gusto allows employers to calculate taxes, automate payroll processes, and generate pay stubs effortlessly. Its user-friendly UI and design cater to businesses of different sizes, from rising startups to large corporate enterprise businesses.
The cloud-based architecture of Gusto enhances the collaboration of all the members, enabling HR teams to manage employee data and handle benefits enrollment seamlessly. Besides payroll, Gusto offers features like tax form filing, benefits administration, and compliance assistance. Moreover, it can integrate with several 3rd party apps to offer everything under one roof. It was awarded as the #1 Payroll Software of 2023 by the U.S.News and #! HR software for startups by TechRepublic in 2023.
Features
Attendance Management
Document Management
Employee Self Service Management
Expense Management
HR & Payroll
Multi User Login & Role-based Access Control
Payroll Management
Taxation Management
Time Tracking
Pay Slip
Data Security
Salary Adjustment
Benefits Administration
Events & Reminders
Salary Information & History
Back Office Assistance
Self-onboarding
Retirement Plan Management
Time Off Requests
Multiple Pay Schedules

5. BambooHR
BambooHR is one of the top HRMS when it comes to managing HR and Payroll tasks. With 30,000+ companies trusting in the brand, BambooHR offers excellent features to simplify all the steps in the complete life cycle of the employees to offer an exceptional experience.
Moreover, you can go beyond the traditional HR and payroll management with BambooHR and use it to find and hire the best talent for your enterprise business. Moreover, it offers tools to the administration to gather feedback from the personnel and target the areas of improvement to build a solid company culture to promote overall productivity and growth.
Features
Document Management
Employee Self Service Management
Expense Management
Payroll Management
Performance Management
Recruitment Management
Statutory Compliances
Task Management
Time & Attendance Management
Training Management
Employee Database
Mobile App
Leave Management
Applicant Tracking
Recruiting Management
Assessments
6. Sage
Are you looking for a complete HR Software for your enterprise business? Don't worry. Sage is here to cater to your needs. No matter the aspect of the HR domain, Sage will help the administration to manage everything and improve overall accuracy. Payroll, Accounting, HR management, and customer outreach, HR managers can perform all the tasks through this cloud software.
Sage comes with a clean and simple user interface. The in-house team offers outstanding customer support to all the clients using the Sage software. There are several time-saving automations in the software that reduce the stress of managing everything from the shoulder of the administrative staff.
Features
Asset Management
Attendance Management
Email Integration
Employee Self-Service Management
Exit Management & Separation Management
Expense Management
Mobile Support
Payroll Management
Performance Management
Recruitment Management
7. CVVIZ
This is not a full HRMS suite, however, it finds a mention here due to its unique offering on recruitment management. This software is used specifically for AI-powered recruiting. CVVIZ provides multiple features that can help you post job vacancies for your company, track applicant status, quickly review resumes, and evaluate candidates! One custom reports closing almost 95% of all vacancies at their organization using CVVIZ. The software is known for its efficient applicant tracking tool, as well as its interview scheduling feature. As for cons, specific integrations may need some work/development, but a solid tool otherwise. For pricing, you can contact the team for a quote.
Features
Email Templates
Applicant Tracking
Applicant Workflow
Applications Management
Recruiting Management
Resume Database
Resume Search
Social Media Integration
Social Recruiting
Talent Acquisition
Candidate Management
Collaboration Tools
Job Requisition & Posting
Jobs Board Integration
Recruiting Firms

8. Tech Cloud ERP
No matter the size of the company, Tech Cloud ERP will offer you an excellent solution to reduce the stress on HR. The solutions offered by the company are robust, reliable, flexible, adaptive, and budget-friendly.
Sales and marketing, HR management, asset management, inventory management, quality control, and finance are some of the essential modules offered by the company. You will get auto-backup support with zero renewal cost on the solutions with Tech Cloud ERP.
Features
Recruitment
On-boarding
Leave and Time Management
Welfare Management
Payroll Management
Dynamic Dashboard
Versatile Calendar
Real-time Collaboration
9. Digiclove
Get ready to harness the power of digital technologies to manage and empower your business with Digiclove's smart ERP solutions. You can manage the inventory, oversee the HR tasks, manage payroll, and streamline the accounting processes through the custom solutions offered by the company.
Moreover, the solutions come with budget-friendly price tags, so they will not add a high burden to your pockets. On top of this, you will enjoy 24/7 customer support from the in-house team of the company for all your issues and queries.
Features
Employee data management
Recruitment and onboarding process
Attendance and leaves management with customized policies
Claims and Advance management
Multiple salary structures with formulas
Statutory compliance like EPF, ESI, Professional Tax
Tax Declaration and Tax Calculations
Multi-Location support
The Bank mandates export as per the given format
ESS (Employee Self Service) portal
10. Smart HRMS
Smart HRMS is the perfect tool to automate several HR processes to reduce the stress on your personnel and minimize human errors. With Smart HRMS, you get the full freedom to customize it according to your business needs. The best thing about the software is that you don't need any aid from software developers to perform the changes. It is pretty user-friendly in terms of usability and customisation.
The software covers all the aspects of HR management and allows you to create dynamic reports. Also, you will get lifetime support from the tech-support team for all maintenance and general queries.
Features
Real-time attendance tracking with biometric integration.
Hassle-free leave management for both employees and managers.
Flawless payroll process for the company and employees.
Compliant with the government's tax laws.
Attractive and infinite dynamic reports with analytics support.
Organizational communications can be sent on time, safely and securely to all the employees.
Other HR tools like helpdesk and dynamic letters to help operations.

11. MapolHR
MapolHR software comes with the best combination of features that reduces the stress on your whole HR department and streamlines all the tasks. Besides having an interactive interface to work with, the software comes with labour management, HR data management, a payroll module, and several other functionalities.
The best thing with the software is that you can export the details of the personnel to the accounting software directly without any hassle. It features a database management facility with proper architecture. You also get an optional choice for the backend with it.
Sights and reports to measure crucial business decisions and strategies.
Features
Simple yet powerful and user-friendly application
The application allows you to maintain the human resource data starting from recruitment to relieving and final settlement process.
Fully customizable and can be integrated with any other ERP applications
The application includes a contract labour management system
360-degree appraisal format
Fast payroll processing and generates 'n' number of payslips at a fraction of the time
Integration with Attendance Monitoring Systems like biometric systems, access control etc.
Capable of flexible salary definition using formulas which include ESI, PF, PT
The payroll module enables you to manage advance payments, arrear payments, OT payments, shift allowance payments, gift payments and increment details.
Export option to carry the Salary details to Accounting Software
Database Capability and Client Server Architecture with optional backend, available with Oracle/MSSQL/My SQL/MS Access
All types of government statutory reports can be downloaded
12. Employee Vibes
Another great option for you if you're looking for HR software in Mumbai, is Employee Vibes. As the name suggests, the software offers a host of payroll services that you can make the most out of. Its features are payroll management, compliance, reimbursement tracking, and overall expense management. Quickchex is a highly automated tool used by popular organisations such as Acko and Epigamia. The software also has many other features that can be highly useful for managing leaves, onboarding new employees, performance management, and TDS assistance and calculation.
The biggest pro of using Employee Vibes is its speedy and efficient customer support and quick resolution of issues you may face while using the software. Additionally, the payroll processing feature is also praised by its users. However, a few cons of using Employee Vibes is that it offers limited customisation options. As for pricing, you can pay 6,000 rupees/month for the self-service plan and 8,000 rupees/month for the full-service plan.
Features
Attendance Management
Inventory Management
Mobile Support
Payroll Management
Performance Management
Recruitment Management
Statutory Compliances
Survey Management
Workflow Administration
Onboarding
Offboarding and Alumni
Workforce Management
Geofencing Time And Attendance
Employee Hourly Wages

Conclusion
In the above list, you will get the top HR software for enterprise businesses. Good HRMS software can help the enterprise business to manage all the personnel and create a motivated environment for the employees by offering a superior engagement experience. Go through all the options and carry out comprehensive research before you pin down the right partner for your company.