Table of Contents

If you are a company in the healthcare industry, purchasing HR software is one step you should not miss out on. Here's why – the healthcare industry is growing rapidly, and relying on manual efforts for HR processes isn't the norm anymore. You should consider opting for payroll management for your employees and patients, leave tracking, overall performance management, and advanced data analytics. The latter can help you make better decisions regarding employee satisfaction and productivity.
This blog lists 12 of the best (and most popular) HR software for the healthcare sector. You can also read more about each software's main features, pros, cons, and pricing details so that you have all the information you need to make a solid decision!

Top 12 HR Software For Healthcare You Should Check Out
Now that we've covered why HR software is essential for the healthcare sector, let's dive into 12 of the best software options you can choose for your company.
1. factoHR
An all-inclusive HR software, factoHR is one of the best options on this list. The software is highly customisable, making it perfect for any company in the sector, big, small, or medium. factoHR has developed solutions for some of the biggest problems faced by employers and companies in the healthcare sector. Unexpected leaves by employees, the stress of manual shift planning, manual travel approvals, and other company-related expenditures are a few of the problems that take up a ton of resources, time, and money to resolve.
However, with a highly intuitive tool like factoHR, you can automate leave tracking, shift planning, attendance tracking, overall performance tracking, compliance, and benefits. factoHR boasts of a clientele that includes Horizon Hospital, Zydus, Shanmuga Hospital, and more. Let's now dive into the main features factoHR offers for organisations in the healthcare industry.
Features
| | |
| --- | --- |
| Dynamic shift planning: Healthcare facilities require staffing around the clock, no matter how big or small. In such cases, scheduling shifts and arranging for replacements in the case of unexpected absences can be a huge issue. factoHR thus offers dynamic shift planning to help solve this. | Manpower resource and planning reports: These reports provide you with insights into staffing levels, resource allocation, and general workforce trends. With these reports, you can analyze data to make informed hiring, training, and optimised workforce distribution decisions. |
| Smooth and efficient expense management: With factoHR, you can track and manage various expenses, including medical supplies, equipment, and employee reimbursements. | Streamlined ESS portal: An ESS portal ensures flexibility and efficient access to documents, benefits, and requests for leave for your employees. The secure ESS portal factoHR offers options to access and update personal information, view pay slips, request leaves, and review work schedules. |
| Leave and attendance tracking: This feature allows healthcare employees to request time off, view their overall leave balances and allow HR teams to manage and approve leave requests efficiently. | Compliance with industry norms: The healthcare industry has specific norms that companies must maintain compliance with. factoHR offers solutions that align with industry norms, making it efficient and easy for you to get started with other HR automation in a completely safe manner. |
| Accessible mobile app: HR teams can track employee leave data, expenses, performance reports, and more on the go with the factoHR mobile app. Employees, too, can file for leaves and reimbursements through this app. | Shift swap and flexible scheduling options: This function helps you adapt to staffing challenges, such as sudden absences and ensures seamless patient care. |
| Safe employee documentation: With factoHR, you can upload employee documentation and data and ensure their safety. | Training and certification tracking with learning modules: factoHR includes a feature for tracking employee training, certifications, and skill development. |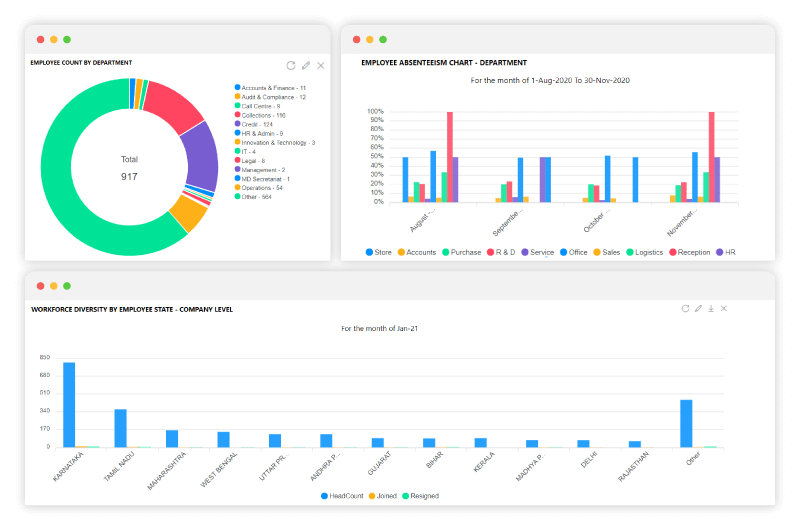 What People Say About Us

Pricing
They offer mainly four plans which you can check out with the pricing – Essential, Advance Velocity, Bolster and Performer. They provide add-ons which can be added to your plan which includes facial recognition, self-onboarding and an efficient ticketing system.

Why Should You Choose factoHR as an HR Software for the Healthcare Industry?
Tailored Healthcare Features: factoHR offers many specialised features designed specifically for the healthcare sector. A few features are – dynamic shift planning, health and safety compliance tracking, and employee training modules.
Comprehensive Employee Self-Service: factoHR's Employee Self-Service portal ensures that healthcare employees can easily manage their personal information, submit leave requests, view schedules, and retrieve pay-related details.
Enhanced Workforce Insights: Along with the above features, factoHR also provides workforce insights through customisable reports and analytics. HR professionals can thus check data related to staffing levels, training effectiveness, performance appraisals, etc.
2. iSolved
A leading HCM software for companies in the healthcare sector, iSolved is known for its vast range of features and customizability. With a subscription to iSolved, you can avail yourself of features such as payroll processing, time tracking, benefits administration, and employee self-service capabilities. It is also praised for its integration of HR and payroll processing features and compliance with industry norms. With iSolved, you can track time and attendance, handle benefits enrollment, and provide employee self-service options. A few reviews state that iSolved can improve when it comes to its advanced analytics, but it is still an excellent HR software that you can make the best of.
Features
Attendance Management
Document Management
Email Integration
Employee Self Service Management
Expense Management
HR & Payroll
Mobile Support
Payroll Management
Performance Management
Recruitment Management
Reimbursement Management
Task Management
Taxation Management
Time & Attendance Management
Time Tracking
Training Management
3. UKG Pro
UKG is a highly integrated HR solution for companies across various sectors, including healthcare. It offers a complete suite of features, including recruitment, onboarding, performance management, time tracking, and payroll processing. With its talent management features, you can attract, hire, and onboard new talent without having to spend too many resources on recruitment processes that can be fully automated. UKG Pro also offers self-service options for your employees, allowing them to file for leaves, access benefits, and apply for reimbursements. UKG Pro has received glowing reviews for its scalability and customisation, which makes it the perfect tool for both large and small organisations in the healthcare sector.
Features
Time Tracking
Self Service Portal
Employee Scheduling
FMLA Tracking
Calendar Management
Benefits Management
Overtime Calculation
Employee Scheduling
Check Printing
Reporting/Analytics
Direct Deposit
401(k) Tracking
Multi-Country
Multi-State
Vacation/Leave Tracking
W-2/1099 Preparation
Wage Garnishment

4. Hireology
Hireology is another great HR software that assists healthcare organisations in finding the right talent, onboarding them, and assisting with day-to-day HR processes. Hireology is known for its end-to-end recruitment and talent management solutions and its payroll processing features. Note that you can schedule and manage shifts, track attendance and leaves, and receive reports and analytics based on your employee's performance. Hireology also offers assessment options to help you identify candidates with the right skills and qualities for healthcare roles in your organisation.
Features
Recruitment Management
Training Management
Resume Search
Assessments
Background Screening
Internal HR
Onboarding
Self Service Portal
Competency Management
Resume Parsing
Goal Setting
Candidate Tracking
Interview Scheduling
5. Humi
While Humi isn't specifically for organisations in the healthcare industry, it is highly customisable and scalable. You can use Humi for a wide range of HR processes, a few being employee records, time-off tracking, applicant tracking, and performance management. Not only does this data help you make more informed decisions when it comes to shift planning or planning new hires, but it also optimises your current employee base. Humi is a good option for both big and small healthcare outfits and is praised for its intuitive design and integration with its other apps.
Features
Document Management
Email Integration
Employee Self Service Management
Exit Management & Separation Management
Help Desk
Knowledge Management
Payroll Management
Performance Management
Project Management
Recruitment Management
Time & Attendance Management
Time Tracking
Training Management
Travel Management
Workflow Administration
6. BambooHR
BambooHR is another option you can consider if you are looking for customizable and seamless HR software. BambooHR has employee management, leave tracking, attendance, and performance appraisal features. You can also avail of highly efficient data analytics reports, a feature that has received great user reviews. BambooHR also supports talent acquisition and onboarding, saving your HR teams time and money and improving the overall efficiency of the process. It offers several different plans you can avail of, so check out their pricing page for the same.
Features
Document Management
Employee Self Service Management
Expense Management
Payroll Management
Performance Management
Recruitment Management
Statutory Compliances
Task Management
Time & Attendance Management
Training Management
Employee Data Base
Mobile App
Leave Management
Applicant Tracking
Recruiting Management
Assessments

7. APS Payroll
APS Payroll is an end-to-end HR and payroll software that is an excellent option for organisations in the healthcare sector. APS Payroll offers the usual set of features, including benefits administration, attendance, recruiting, and employee onboarding. It also offers specific solutions for the healthcare sector, including shift management, time capture options, employee training and certifications, multi-location management, and special income items.
Features
Recruiting and Onboarding
Benefits Administration
Performance Management
Carrier Connections
Events Tracking
Compliance
8. Workday HCM
Workday HCM is an HRM software trusted by the British Heart Organization, amongst many others in the healthcare sector. Workday HCM offers human capital management, including HR, payroll, talent management, and analytics for healthcare organisations. You should also keep in mind that if you are looking for a highly intuitive interface, accessible ESS portal, and advanced data analytics reports, Workday HCM is a solid option you can consider. It has received great reviews for its performance metrics and robust automation.
Features
Document Management
Email Integration
Project Management
Collaboration Tools
Timesheet Management
Collaboration
Portfolio Management
Resource Management
Contract Management
Calendar Management
Time & Expense Tracking
Invoice Management
Reporting
Sales Management
Incentive Programs
Bonus Management
9. Symplr workforce
Symplr is an HRMS software built specifically for the healthcare sector. It boasts robust features that help optimise and retain staff, assist with scheduling, and offer top-tier compliance with industry norms. Symplr also offers payroll and leave management features, shift management, automated scheduling, and assistance ensuring proper staffing levels for different departments. Symplr stands out because of its strong emphasis on security and compliance!
Features
Document Management
Appointment Management
Committee Management
Expiration Management
Online Applications
Certification Tracking
Privileging
License Verification

10. Visier
Visier offers advanced HR analytics and reports that you can use to optimise employee productivity, costs, and time in the healthcare sector. Visier is known for its strong emphasis on data-driven insights, a feature it does its best to deliver. It boasts a clientele including various companies in the healthcare sector, such as Baptist Health. You can also utilise Visier for the following features – customisable dashboards, seamless payroll processing, predictive analytics, and robust integrations.
Features
Recruiting Management
Dashboard
Talent Management
Succession Planning
Trend Analysis
Predictive Modeling
Leave & Absence Reporting
HR Metrics Library
Turnover Tracking
11. PeopleStreme
PeopleStreme is a software that offers companies in the healthcare sector a comprehensive HR software suite. PeopleStreme is known for its focus on performance management, talent acquisition, and employee development. It has received generally good reviews for its customisable workflows and general HR automation, such as payroll and leave management. It also supports many integrations to make the HR automation process as smooth as possible.
Features
Resume Search
Assessments
Background Screening
Internal HR
Interview Management
Onboarding
Recruiting Firms
Reference Checking
Self Service Portal
Workflow Management
Job Requisition
Resume Parsing
Job Board Posting
Candidate Tracking
Interview Scheduling
12. Paycor
Paycor offers a complete set of HR Software for any organisation in the healthcare sector. You can opt-in for payroll management, leave and attendance management, and assistance with recruitment and onboarding new hires. Paycor is praised for its intuitive and easy-to-use interface and compliance with industry standards. Users praise it specifically for its hiring and onboarding feature that hospitals and smaller healthcare outfits can use to hire nurses and other medical personnel.
Features
Attendance Management
Bonus
Loan & Advances Management
Discussion Forum
Document Management
Email Integration
Employee Self Service Management
Exit Management & Separation Management
Expense Management
Financial Management
HR & Payroll
Knowledge Management
Mobile Support
Multiuser Login & Role-based access control
Payroll Management
Performance Management

Conclusion
Opting for HR software in the healthcare sector is a solid strategy to optimise costs, save time, and attract and retain employees. Tools such as BambooHR and Zoho People are generalised HRMS software you can customize according to your needs. In contrast, software such as factoHR, Visier, and Symplr offer a highly robust set of features built specifically for the healthcare sector.
Before opting for a particular solution, you should ideally schedule a demo or hop on a call with the sales team to better understand the tool and how you can make the best out of it.
Some Common FAQs
How does HR software address the unique scheduling needs of healthcare facilities?
HR software addresses issues like unexpected leave-taking, lack of employee performance data, manual expense management, and shift scheduling. You can utilise the dynamic shift planning feature, reimbursements platform, and an optimised ESS for leaves and performance tracking.
What are some HR software for the healthcare sector?
A few excellent HR software you can consider for your company in the healthcare sector are factoHR, BambooHR, Hireology, iSolved, and Workday HCM.
What should I keep in mind before selecting HR software for healthcare?
It is a good idea to note down your company's size, plans for scaling up/down, and overall needs and goals. Additionally, here are a few features you must look for before opting for a particular HR solution – payroll processing, leave and attendance tracking, shift planning, expense management, and secure employee documentation.