Table of Contents

Kolkata is mainly known for its rich heritage. In this fast evolving business environment, it has also made strides in the IT and other services sectors. As both international and national companies establish their presence in the city, they look into Kolkata's vast pool of skilled talents.
Managing such an expanding workforce requires an online, automated HR software that simplifies HR's routine tasks like attendance tracking, leave management, payroll processing, maintaining employee records and much more. It helps HR in improving employee retention and efficient strategic planning.
In this guide, we will highlight some of the premier HR software that are transforming the way businesses operate in Kolkata.
Selecting the Right HR Software for Kolkata Based Business
Before exploring the top HR software in Kolkata, it's essential to keep in mind some of these specific considerations before finalizing your choice. It's beneficial to schedule a demo if possible which first allows you to evaluate the software that meets your requirements.
Start by identifying your organization's unique HR objectives and needs.
Ensure the software fits your company's size and organizational structure.
Look for the ones which have intuitive interfaces and seamless integration capabilities.
Data security and statutory compliance should be at the forefront of your selection criteria as it will ensure data protection of employees' critical information.
A software must possess a scalability factor, especially if you want significant growth in your organization and caters to your every need as you grow.
Lastly, assess the quality of customer support and available training resources which can be useful, especially for those new to HR software.

List of Best 6 HR Software in Kolkata
Our list will take you through the top 6 HR Software in Kolkata to help you pick the right one for your specific organizational requirements.
1. factoHR
Considering an intelligent and efficient HR Software in Kolkata? factoHR might be your ideal choice. Its comprehensive and robust Human Resource Management System is designed to simplify and ease out HR operations. Its intuitive design and seamless integration capabilities not only manages your hiring process to performance evaluation but also facilitates employees' full and final settlement. This makes factoHR an invaluable tool for all organizations, regardless of their sizes.
factoHR's highly secured platform protects employee details, tracks employees attendance and, leaves, automates salary processing as well and monitors employees' performance based on OKR. Its insightful dashboard provides HR personnel with proper analytics, helping them in smarter decision-making and efficient strategic planning. Its automated, centralized database management facilitates smooth teamwork across different locations.
Features
| | |
| --- | --- |
| Intuitive Dashboards for better analytics and data-driven decisions. | Centralized employee database management with secure access control to employees records. |
| Provides seamless document management to overcome traditional document storage services. | Define multi level workflows to automate lower-level repetitive tasks. |
| Auto-generate various letters and directly share them with employees by using our pre-defined templates. | Manage and resolve queries from employees using AI driven chatbot. |
| Automate the onboarding process and give your HR team a new experience. | Keep employees informed about events using push notifications. |
| Simplify organization hierarchy with cloud-based HCM software to define career paths. | Its exceptional offboarding option streamlines the employee retirement process and FNF settlement. |
| factoHR's payroll software facilitates timely paychecks and fully compliant with local tax laws. | The acknowledgement feature helps you take better informed decisions by allowing employees to give a quick response from their mobile app. |
| The survey option enables the collection of relevant and real-time feedback. | Seamless integration with inbuilt modules like attendance, leave, payroll, performance or timesheet software. |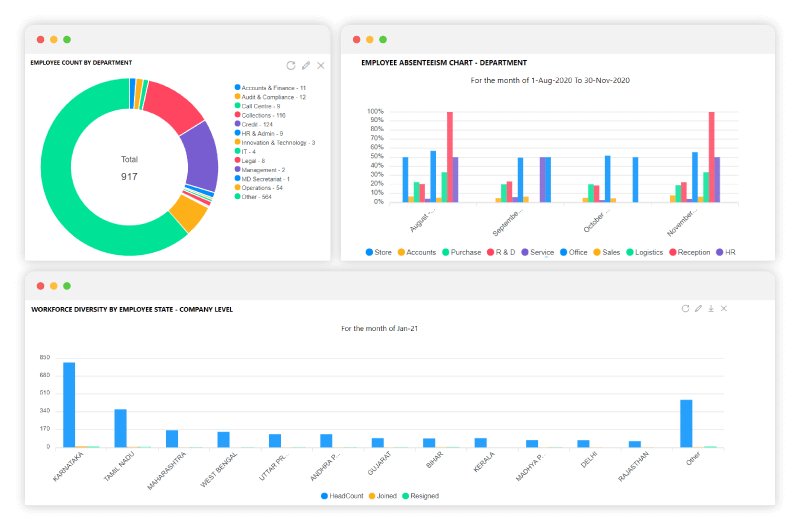 Benefits
With its role-based permissions, granular access controls and audit trails, data integrity and complete security are ensured.
Its user-friendly wizard allows users to set up the system on their own, enabling them to go live in a few weeks.
Its adaptable and expandable design offers flexibility to cater to organizations needs, regardless of its size and integrating option as it further grows.
factoHR provides automated integration with internal systems as well as external modules which requires zero human intervention and errors.
What People Say About Us

Pricing
factoHR offers 4 exceptional plans for simplifying your core HR tasks with various add-on features like Face Recognition, Self Onboarding, and an efficient Ticketing System. Check out their pricing and arrange a demo.

2. Personio
Personio is a comprehensive solution that streamlines and enhances HR processes. It guides HR personnel at every stage, from hiring a candidate to track employee's performance and look out for employees retention rate. Utilizing this tool can free up approximately 35% of your time, allowing focus on more vital, hands-on tasks.
A standout feature of this software is it provides consistent support for their users. Personio prioritizes security and allows you to adhere to all labour regulations. It boasts a range of impressive features such as attendance tracking, absence management, whistleblowing mechanisms, training modules, and applicant management.
Features
HR & Payroll
Compliance Management
Contract Management
Compliance Reporting
Analytical Reporting
3. Decision Plus HRMS
DecisionPlus HRMS offers the best HRM solution to address the diverse HR requirements of organizations. It streamlines various HR functions like planning, budgeting, administration, and recruitment, time management, employee transfers, payroll. Decision Plus HRMS provides a self-service portal that enhances employee engagement.
Moreover, its attendance and leave management software is integrated with a biometric device. Ensuring adherence to labour regulations, DecisionPlus HRMS facilitates user-friendly querying with visually appealing graphical reports. Additionally, it has a customizable report builder across all its modules, with the convenience of automated report delivery via email and SMS.
Features
Resume Search
Assessments
Job Board Posting
Candidate Tracking
Interview Scheduling
4. Savvy HRMS
Optimize your core HR operations using the top-tier Savvy HRMS, allowing your company to save both time and resources. This software efficiently handles employee information, and manages everything from their joining to off-boarding process.
Additionally, it efficiently manages essential HR functions, including payroll, resource allocation, and project administration. Savvy HRMS is suitable for businesses of all sizes across various sectors, providing you with round-the-clock assistance and ensuring you with prompt and effective solutions to any inquiries.
Features
Attendance management
Loan & Advances Management
Document Management
Email Integration
Employee Self-Service Management
Performance Management
Recruitment Management

5. Agendrix
Agendrix might be your ideal choice as it is an online HRM system, tailored for small to medium-sized businesses. The cloud-based onboarding feature smoothly carries out the induction process for new hires and ensures all relevant HR details are properly stored in the employee database.
Its digital timesheet module provides a convenient method for managing employee breaks. To record employee emotions, the software provides various surveys and adeptly gathers and evaluates the feedback. The Agendrix self service portal simplifies employee logins, allowing them to access from any device.
Features
Automated Scheduling
Shift Swapping
Schedule Distribution
Time Clock
Time and attendance
Employee requests management
Reporting and analytics
6. Gusto
Gusto is a prominent HRM solution, offering automated features that revolutionize core HR functions for all kinds of businesses. Its intuitive design ensures easy handling of tasks like tax calculations, tracking attendance, leave, calculating payroll, and more. Its cloud-based setup fosters enhanced teamwork, allowing HR departments to effortlessly manage employee information and oversee benefits enrollment.
Beyond just payroll, Its compatibility with various third-party applications further amplifies its comprehensive offerings. In recognition of its excellence, it was named the #1 Payroll Software of 2023 by U.S.News and the top HR system for startups by TechRepublic in the same year.
Features
Employee Self Service Management
Expense Management
Time Tracking
Pay Slip
Data Security
Time Off Requests
Multiple Pay Schedules

In Conclusion
This blog showcases some of the best HR software that provides effective HR management for Kolkata. Implementing HR software delivers an exceptional employee experience, increases their morale, which indirectly heightens the productivity of your organization. The in-depth analysis and understanding of each software solution will better help you find the perfect HR software in Kolkata that fits your company's unique needs.