Table of Contents

Pune is one of the leaders in India's tech scene. This city has become the hub for innovation and tech progress with a wealth of skilled professionals and excellent infrastructure. In a hyper competitive market like Pune managing and engaging skilled professionals is also challenging for HR. HR software in Pune can make a significant impact on the role of HR. With proper implementation, the system has potential to improve how they hire and retain talent. HR software automates core HR functions and ensures streamlined HR operations, improves compliance, reduces administrative burden and contributes to better decision-making in any organization, so it's essential to choose the best suitable HRMS for your organization. From startups to large companies, choose efficient HRMS, which enhances productivity and expands their business more effectively.

Key Benefits of HR Software in Pune
The Benefits mentioned below play an essential role in optimising HR operations and enhancing the overall efficiency of an organisation.
1. Improves Productivity
By automating all operational tasks such as employee data management, onboarding process and workflow-based approval streamline HR operations and release the administrative burden on HR.
2. Streamlines Recruitment Process
HRMS simplifies the recruitment procedure by automating job posting, resume screening, and interview scheduling. It helps HR teams identify and onboard the best candidates.
3. Enhances Employee Self-Service
HR software often includes employee self-service portals where employees can access and update their personal information, request and approve leave. This empowers employees to do their own tasks and reduces the administrative burden on HR.
4. Employee Engagement
HR software often includes tools for measuring and improving employee engagement, leading to higher retention rates, increased morale, and enhanced overall productivity.
5. Compliance Management
HRMS helps organizations stay compliant with labor laws and regulations by automating compliance tracking and reporting. It reduces the risk of legal penalties and fines.
6. Centralized Data
HRM software stores all employee data in a centralized database, making it easy to access and update information. This reduces data duplication, errors, and ensures data security and compliance.
7. Data Analytics
The Human resource management system provides valuable insights through data analytics. This helps HR professionals to make informed decisions about organizing the workforce, managing talent, and keeping employees engaged.

List of Best HR Software in Pune
It's important to choose the best suitable HR Software in Pune. It has potential for how your company can grow, with a smooth process and helping you make smarter decisions. So, let's explore some Human resource management systems for businesses in Pune.
1. factoHR
factoHR serves as the backbone of your HR department, providing a comprehensive and mobile-first solution that empowers organizations to automate and optimize various operational HR functions. Its enhances efficiency and streamlines the management of HR tasks, ensuring that your HR team can focus on strategic initiatives and employee engagement. With factoHR, you can effectively manage processes such as recruitment, employee onboarding, performance management, benefits administration, and more, all from the convenience of a mobile device or computer.
factoHR simplifies routine HR operations and contributes to overall organizational success by enabling data-driven decision-making and fostering a more productive and engaged workforce. factoHR makes HR tasks smooth and easy, from hiring to retiring employees. Having factoHR in your organization lets you keep a close eye on everything happening in your HR department.
Features
Get a bird's eye view through the dashboard and smarter analytics.
Set a centralized and secure database with precise access control.
Automate your onboarding process and make new joiners feel positive.
Create multi-level workflows to automate lower-level repetitive tasks.
Create all documents and letters using dynamic templates.
Streamline organization hierarchy with cloud-based HCM software.
Categorise employees seamlessly by managing and tracking employee data securely.
Streamline employee exit process and FNF through offboarding module.
Effortless salary management through seamless payroll integration.
Get real-time feedback using surveys and increase workplace transparency.
Resolve employees' inquiries with a chat-like interface through factoBot.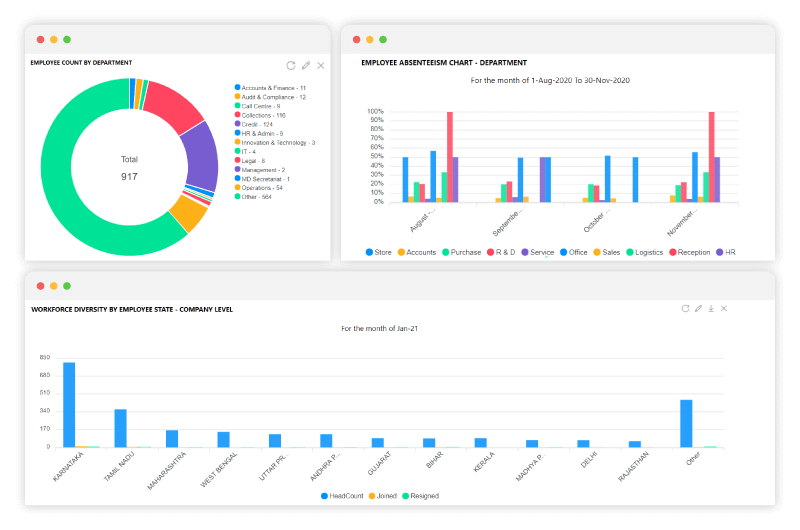 Benefits
To ensure data remains secure and protected, it is crucial to implement effective permission and audit trials at a granular level.
Wizard-driven configuration gives weekly access to information for quick implementation.
While offering flexibility and scalability, It makes your organisation future-ready with a flexible core HR process.
Seamless integration with internal and external modules enhances the interconnectedness of automated software, resulting in improved employee productivity.
What People Say About Us
Pricing
factoHR provides flexibility to select from four plans designed to meet specific requirements of your organisation – Essential, Advance Velocity, Bolster, and Performer. The pricing for each option can be reviewed to identify the most suitable solution for their needs. Furthermore, there are some add-ons to enhance your chosen plan by incorporating various optional features, such as Face Recognition, Self Onboarding, and an efficient Ticketing System.

2. Mapol
Mapol is a comprehensive software designed to promote seamless collaboration between employers and employees in organizations of all sizes. This system works on three core principles: Planning, execution, and assessment. Organizations can streamline HR operations while gaining valuable insights into workforce dynamics with Mapol. Users can access information on employee performance, and establish clear organizational hierarchies. Additionally, the system offers MIS reports, empowering users to make data-driven decisions. Beyond administrative functions, Mapol actively encourages and facilitates employee engagement, improving overall organizational productivity and job satisfaction.
Features
Recruitment
Training Management
360-degree Appraisal Management
HR Administration
HR Analytics
Employee Life Events
3. Tech Cloud ERP HRMS
Tech Cloud ERP is a modern cloud-based software that simplifies employee management. It saves time by automating tasks, provides quick access to information, and ensures accurate statutory reports. It aids in performance reviews, reduces errors, and resolves employee issues. It cuts down on paperwork and storage costs with self-service options. It efficiently handles travel, loans, and skill tracking, alongside monitoring leave, attendance, and timesheets. It offers insightful analytics for smarter decision-making covering everything from hiring to retirement. Tech Cloud ERP is your complete solution, integrating data seamlessly for a more efficient workforce.
Features
Recruitment
On-boarding
Dynamic Dashboard
Versatile Calendar
Real-time Collaboration
4. Samplex 24
Samplex 24 HR is a cloud-based software designed for seamless mobile accessibility, providing a comprehensive solution for all your HR needs. It simplifies HR management by leveraging automation and digitization across various HR functions with its user-friendly interface. This software ensures real-time connectivity, allowing you and your employees to access, process, and update data from anywhere, eliminating geographical barriers. It streamlines HR operations, saves time, and enhances efficiency. Experience the power of Samplex 24 HRM, the simple, affordable, and potent HRMS that optimizes data management across departments, transforming your HR department into an efficient machine.
Features
HR Analytics
Candidate Data Management
Integrated with Payroll
Employee Self Service
Training Management
Onboarding

5. Humi
Humi offers a comprehensive and centralized HRMS that streamlines and simplifies all your HR needs. Humi allows you to effortlessly store, access, and manage employee data with the efficiency of HR professionals with a user-friendly interface. One of its features is the Employee Self-Service profiles, where employees can conveniently update their personal information, like addresses, ensuring data accuracy and reducing administrative burdens. It enables users to upload documents, effortlessly select recipients, and collect legally-binding e-signatures, simplifying the paperwork process. You can track the status of e-signatures in real time and send timely reminders when needed. Moreover, signed documents are automatically stored in organized folders, attached to the respective employee profiles, ensuring easy access and compliance.
Features
Core HR
Recruiting
Onboarding
Time off
Employee Benefits
Business Insurance
6. BrightHR
BrightHR is a user-friendly software designed to simplify organisational workforce management. It is a comprehensive solution, saving businesses valuable time and resources. The platform offers secure storage for essential HR documents like contracts and compliance records.BrightHR simplifies staff time-tracking through its exclusive clocking app. BrightHR's ultimate goal is to streamline HR processes, allowing organizations to focus on nurturing their workforce, ensuring compliance, and achieving organizational success. It offers a glance into the future of HR management, serving as the key to unlocking HR potential.
Features
Clock in and out
Expense Tracker App
Staff Holiday Planner
Document Storage
Shift and Rotas
7. Agendrix
Agendrix is a dependable Software designed specifically for small businesses. With Agendrix, you can effortlessly onboard new employees, efficiently centralize and manage employee records, gather valuable feedback through surveys, and celebrate outstanding work daily. This user-friendly software offers a comprehensive platform to small businesses that simplifies your HR tasks. From simplifying the hiring process to maintaining organized employee records, Agendrix ensures your HR operations run smoothly. Moreover, Agendrix empowers you to engage with your team through feedback surveys, fostering a culture of continuous improvement. Choose Agendrix as your trusted Human resource management system for small businesses, and experience the convenience of a single, integrated solution that supports your HR and scheduling needs.
Features
Employee Information Management
Recruitment
Onboarding and Offboarding
Document Management

8. Personio
Personio is an all-in-one platform that addresses every aspect of HR management. From the initial stages of talent recruitment to the concluding steps of offboarding, Personio simplifies and streamlines the entire HR workflow. Its quick and easy setup makes it faster to use its strong HR features, saving time and money and making things work better. This empowers HR teams to redirect their focus toward strategic tasks. This automation increases HR team productivity and ensures the seamless handling of all HR management aspects.
Features
Onboarding
Time Tracking
Absence Management
Centralized Employee Files
Reduce Administrative Tasks
Conclusion
Choosing the right human resource management system is the most important in the dynamic landscape of Pune. This system eliminates tedious tasks and streamlines operations to help businesses stay on top of their game and keep employees happy. HR Software simplifies administrative responsibilities and creates a positive work environment, ultimately contributing to the overall progress of the business. The right HRMS can create a positive environment for employees and enhance the productivity of an organisation.