Importance of Tracking Employee's Time and Attendance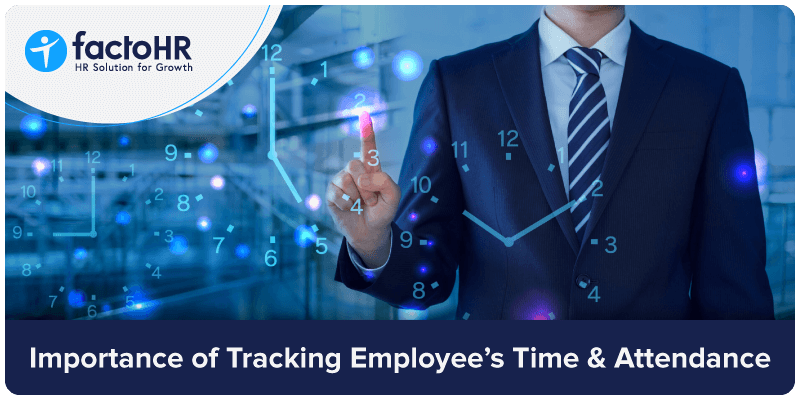 Time and attendance tracking is a process of tracking each employee's working hours and days. In any organization, the HR department is mostly responsible for managing employee's time and attendance. It is done to ensure that all employees complete their responsibilities and that the organization complies with all the requirements.
Monitoring employees' time and attendance are important for improving their performance and productivity. Implementing effective timekeeping strategies can help the organization assist its employees to keep up with their deadlines and improve client satisfaction.
Following are the five important reasons why every organization should track their employees' time and attendance:
Helps in Payroll Activities
Payroll is an essential HRM function, and it is crucial for the organization to prevent calculation errors by accurately observing employee's attendance data. When necessary steps are taken to ensure that payments are made accurately and on time, It helps to ensure that employees receive adequate overtime, builds trust within the organization, and promotes the employers' branding. Organizations can use a staff attendance system to automatically calculate and document employees' time and attendance data Instead, of manually documenting employees' attendance data. As a result, they can save time and utilize that time on other important activities for their organization's growth.

Strengthens Compliance With Labor Laws
Recording and reporting employees' working hours helps an organization comply with their local and regional labor laws. By maintaining employees' data accurately, the organization can save itself from potential legal issues. Apart from that, this data can also help in establishing an organization's commitment to worker protection rights.
Increases Employee Productivity
Employees' productivity directly depends on how well the company manages their employees' time and attendance. Proper timekeeping can help an organization to know about an employee's capability and challenges he or she faces, that helps the organization to estimate the duration of the next task and improves their productivity.
Provides Important Insights on Employee Management
By analyzing employees' time and attendance data, the organization can gain important insights and address the problems their employees are facing. For example, by analyzing employees' leave data, the organization can know their absenteeism rate. A higher absenteeism rate means employees' morale is low and they are probably tired out, which could also result in an increase in employee turnover rate.
Similarly, by evaluating timesheet data, managers can determine how much responsibility each employee has in a team and how well they are performing it. After analyzing all the data, management can find room for improvement and start working on it accordingly.
Employees Self Improvement
It's not that only organizations can use the time and attendance data for their benefits but employees can also access this data and use it for their benefits too. For example, by analyzing the timesheet data an employee can know where, how and on what their time was spent. It becomes extremely important for employees when they are working remotely to know about their work and time allotment. With the help of time and attendance data, employees can make adjustments to their schedules to increase their productivity.

Conclusion
Proper timekeeping can give so many benefits to your organization and employees in return. While you can manually track working hours by using spreadsheets, it will be time-consuming and not fully accurate. The best way to track your employees' time and attendance is by using a factoHR's attendance management system, you will find it an excellent investment for your organization that will pay off immediately.