Promotion Letter | Meaning, Format, Sample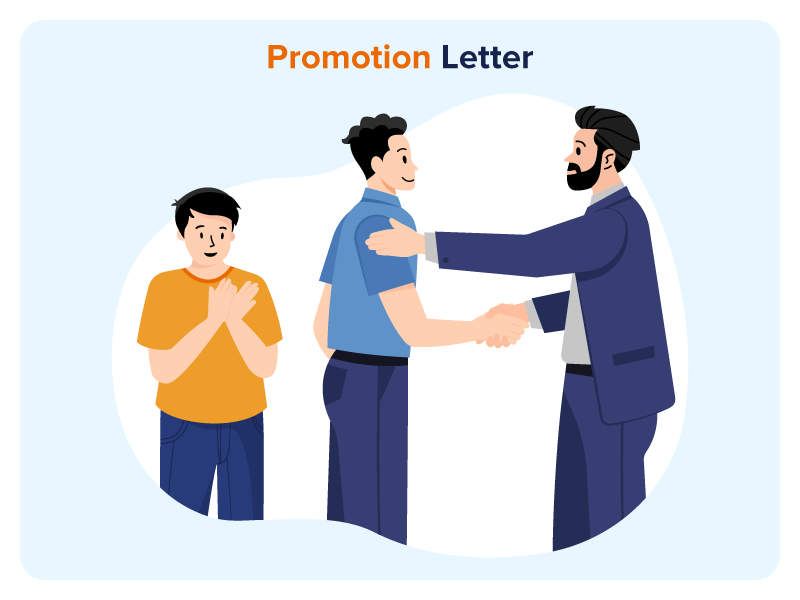 Download Promotion Letter Word Format For Free
Promotions are always important for both the company and the employees who are getting promoted, but you shouldn't allow your excitement to get in the way of formalities. Whenever you promote any employee, they should get a letter to confirm their promotion. Increased salary and their new responsibilities. This letter will help you to hold employees accountable as they transition into their new roles effectively. This letter doesn't take much time to write, and they don't need to be rigid as other documents, though they have to be formal.
What is a Promotion Letter?
A promotion letter is a letter that formally details an employee's new, higher position in your organization. It confirms all the details you had discussed with your employee relating to their new position, duties, and pay. It also provides a chance for employers to congratulate and show their gratitude towards the employees. An employee promotion letter is usually written by the HR department on behalf of managers and the organization.

Details to Include in a Promotion Letter
The following things should be included in a promotion letter:
Employee's new position – Along with their new pay and responsibilities, you should also include their new position. So that, they can start making planning and working accordingly.
New pay, working hours, and payday changes – Even though you have already discussed about the promotion and increased pay with the employee, it is still important for you to clearly mention these details in the letter. You should also include information about changes in their working hours and payday (if any).
Employee's new responsibilities in their new role – promotions always include added responsibilities and as your employee goes through a transition between roles, some important activities can go overlooked if the employee is unaware of their new responsibilities. That is why you must include the new responsibilities of the employee in their promotion letter.
Official starting date of employee's promotion – A promotion doesn't necessarily take effect from the delivery of promotion letter to employee. That is why you should include the state the date from which the promotion takes effect.
A request to employees to accept the promotion – Even if the employee has already accepted the promotion verbally, ask them to respond to this letter by replying with a written acceptance of the promotion.
An expression of gratitude – As we mentioned earlier, a promotion letter should be an opportunity for the organization to tell employees how grateful they are for their work. This letter is one way to show that you trust and value your employee. It is also a great way to reduce employee turnover rate.

How to Write a Promotion Letter?
Here are a few tips to keep in mind while writing a letter of promotion:
Use a professional format – Even though the promotion letters are less formal than the other business documents, there should still be some level of formality in it. Using a professional format can help you with that.
Check and edit the letter – Before sending it to the candidate, you should check the letter for errors and edit it accordingly. You can take the help of any colleague to catch the errors faster, this way, you can ensure to catch any error, such as wrong payment amount or inaccurate job title before sending the letter.
Get the right balance between casual and formal – Even if you are friendly with the employee, you should still stick with the professional tone and avoid using the language you wouldn't use in a formal document.
Promotion Letter Format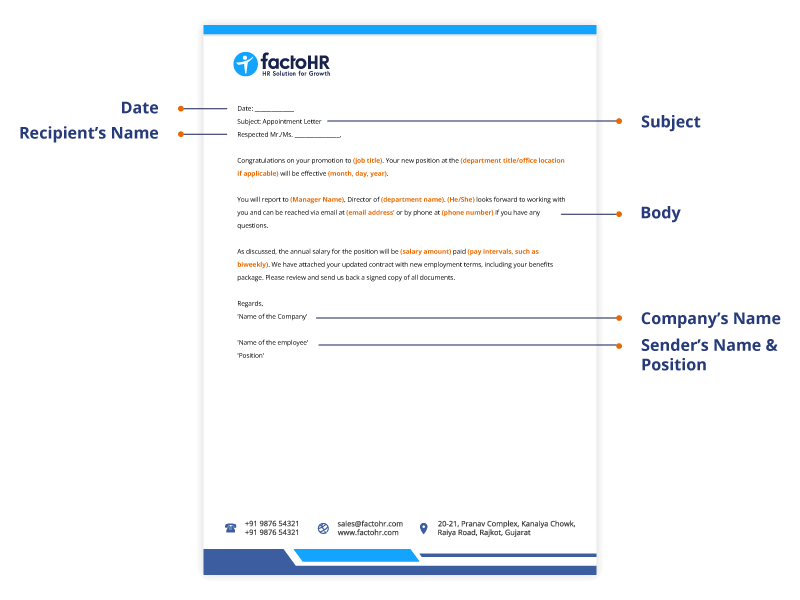 Conclusion
Promotion is very important for any employee's lifecycle in the organization, and providing the letter for promotion is a crucial step to end the promotion process effectively, that is why it's important to have a strong and meaningful promotion letter at your place.

Frequently Asked Questions
As an employee, How do I ask for a Promotion?
You can try verbally discussing it with your superior or HR manager, or you can directly write a promotion request letter about it, but don't forget to mention your performance and other criteria on which you want to get promoted.
Is it Compulsory to give a Letter for Promotion to the Employees?
Legally, it is not compulsory to give this letter to the employee every time they get promoted, but still, almost every organization provides this letter to clarify the details of promotion to the employees and to keep everything on record.
What is a Thank you Letter for a Promotion?
The thank you letter for a promotion refers to a document written by an employee to express their gratitude and appreciation for the promotion they received from the organization.