Objectives of HRM – 10 Main Objectives of Human Resource Management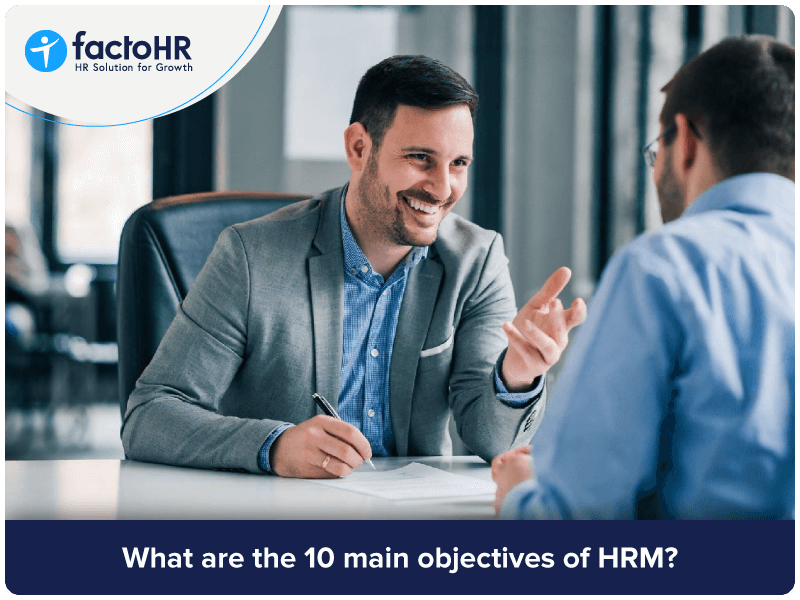 ul, li { padding-left: 5px; /* line-height: 1; */ } .toc { border: 2px solid #ccc; border-radius: 10px; padding: 18px 30px 0px 30px; margin-top: 15px; font-size: 16px; } .toc .toc-menu>ul>li>a { color: #007bff; } .toc .toc-menu>ul>li>ul>li>a { color: #007bff; line-height: 1; } .toc .toc-menu { padding-left: 20px; margin: 15px 0 25px; } .toc .toc-menu>li, .toc .toc-menu>ul>li { margin-bottom: 15px; line-height: 1.3; } .toc .toc-menu>ul>li>a { color: #007bff; } ul.sub { padding-left: 25px !important; } @media only screen and (max-width:768px) { ul li { line-height: 1.3; /* font-size: 15px; */ } .toc .toc-menu>ul>li>ul>li>a { line-height: 1.3; } .toc-h2 { font-size: 22px; } }
Human Resource Management (HRM) stems from the core premise of managing relations at the workplace. It is a management function that deals with all aspects of an employee's working life: from getting hired to being promoted to leaving the organization. Entire HR Process from staffing to staff, all of it comes under the domain of HRM. HRM objectives ensures that employee talent is used effectively to accomplish organisational goals while providing employees with a fulfilling experience with the organization.
High-level Objectives of HRM
The scope of HRM can be vast. This is why, every organisation, big or small will need to align with some high-level objectives of HRM. The specific objectives of human resource management that are detailed later in this article, fall under one of these high-level objectives.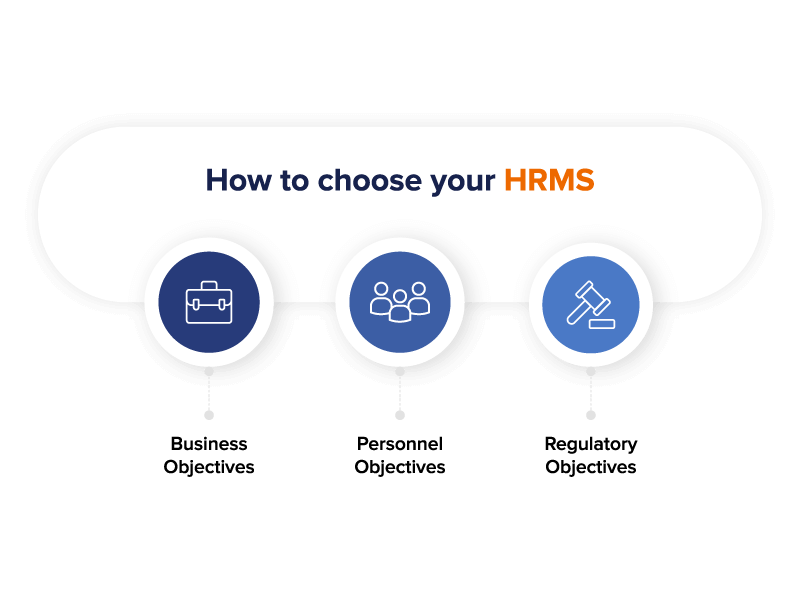 Business Objectives
These centre around managing human resources to achieve business goals by defining organisational structure, hiring right fit candidates and training them.
Personnel Objectives
These objectives enable efficient and engaging employee experience starting from pre-hiring to post-exit and every step in between. Employee experience has multiple touch points – the recruiter's call, interview process, HR discussion, offer & acceptance, induction, performance management, grievance redressal, training and more. Most of these touch points are with HR. Hence, it is important to ensure a robust HR software is in place that performs to the letter and spirit of its objectives.
Regulatory Objectives
Another set of core Human resource management objectives is to ensure compliance and enforcement of guidelines related to the workforce in accordance with local labour laws.
You can also divide HRM into buckets depending on the functions it enables, to know more about this read more at our HRM Functions blog.

Please select from below options to help us improve our content:
10 Key Objectives of HRM
While every organisation views HRM through the lens of its culture. Here are ten main objectives that should be fulfilled by the HRM department.
1. Organisation Structure
Defining and implementing organisation structure is key to achieving organisational goals. The HRM is required to align the org structure with business functions and their delivery targets. The inappropriate org structure could result in diminished staff morale impacting their performance and thereby scuttling the organisational outcomes. On the other hand, a well-defined org structure leads to an organisation that functions to its full potential.
2. Staffing
This important objective of HRM is directly related to the one above. Finding the right resource for a role is imperative for successful business outcomes. Before publishing job postings, shortlisting candidates and setting up interviews, the HRM needs to work closely with the hiring managers to understand the role and get a robust job description written. Another key aspect of hiring is to present the organisation's culture mindfully, be it in terms of inclusivity, flexibility or even social causes. The young workforce is seemingly choosing their employers based on these aspects.
3. Career Path
Defining and documenting career paths available within the organisation in consultation with the business leadership team is another key objective of HRM. The defined career paths need to be current and relevant. Well-defined career paths allow employees to align their aspirations with opportunities available within the organisation.

4. Learning and Development
The HRM also needs to facilitate the learning and development of employees so that their chosen career goals are achieved. Succession planning within the organisation becomes easy when the organisation has nurtured a pool of talent. This will also help with the organisational objective of retaining talent. This involves keeping abreast of industry trends so that the relevant training can be arranged before it becomes an urgent need.
5. Performance Management
Providing a performance appraisal framework to enable meritocracy within the organisation also comes under the purview of the HRM. The HRM is responsible for all the four key stages of performance management, from planning to monitoring to reviewing and rewarding. The entire performance management process needs to be fair, accurate, efficient and above all, should form a basis for improving performance.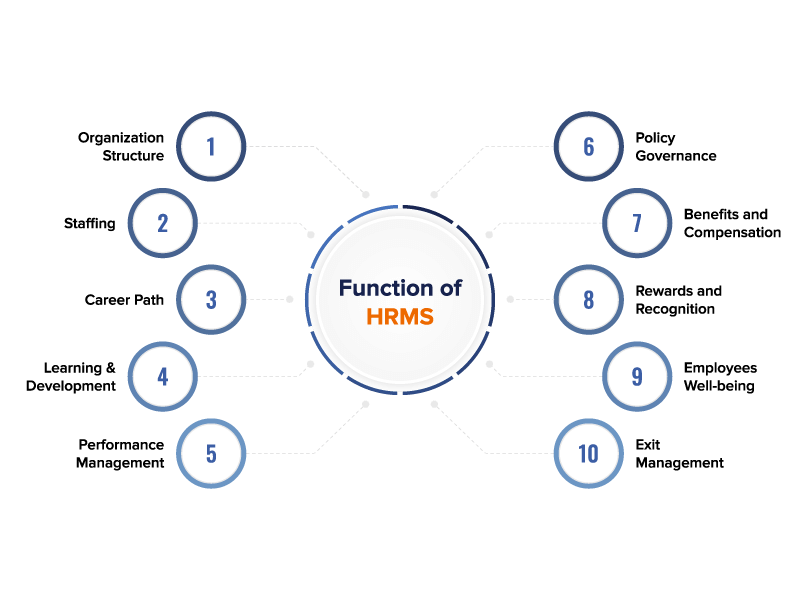 6. Policy Governance
Ensuring that the organisation always operates within the boundaries of moral, ethical and local applicable laws is a critical objective of the HRM. It needs to define, communicate (via training, if required), update and make available the rules, policies and regulations of the company. The HRM also needs to govern compliance with the policies and facilitate investigation and disciplinary actions for any reported violations by the employees.
7. Benefits and Compensation
Effectively utilising available budgets to hire talent and retain high performers is another important objective. Industry trends on pay scales for various skills and experiences applicable and relevant to the organisation are communicated to the hiring managers by the HRM.
8. Rewards and Recognition
Timely recognition of the employee success and appropriately rewarding them goes a long way in building a positive workplace atmosphere, another important function.
9. Health, Safety and Overall Well-being of Employees
Ensuring a healthy workforce results in less downtime, quality outcomes and high satisfaction levels. Increasingly, due to the recent COVID pandemic, employees have been working from home impacting their both physical and mental health. Organisations are focusing on providing the required help and support to overcome these issues, with the help of the HR department.
10. Exit Management
Ensuring a smooth exit process that creates a positive experience for the leaving employees is important for future engagements and goodwill and is an important responsibility of the HRM.

HRM System – Technology to the Rescue
factoHR helps you automate and ease most of the HRM tasks. That leaves time for HR professionals to focus on keeping themselves updated with the latest trends and changes in the HRM space. This allows them to support their organisations through various changes that could have otherwise impacted adversely.
By creating well-defined and automated processes, HRMS provides the framework upon which good leadership and organisation culture can thrive and help the organisation achieve what it has set out to achieve.