Table of Contents

Calculating payroll manually can result in error prone outcomes and can be time intensive. This explains the ongoing demand of payroll software which eases and speeds up such complex processes in just a few clicks. In an economic hub like Chennai, where numerous businesses operate, there arises a growing demand for efficient and accurate payroll processing. Online payroll software empowers businesses in Chennai to streamline their HR processes and automates the compensation of employees thereby allowing them to focus more on core HR functions.
The software handles various operations like disbursement of employee salaries, deduction of taxes, PF, ESIC, loans, payroll analytics and other statutory payment.
The software is capable of handling and automating various tasks like calculating and disbursement of salaries, deduction of various statutory components like income tax, PF, EISC, deduction of loan EMI, and also provide analytics to make objective decisions.
The automation to these tasks simplifies the entire payroll process and reduces the burden of paperwork, thus helping to enhance overall productivity.
This blog list out top payroll software available in Chennai with its features, advantage and benefits so that you can take informed decision while selecting one.
This blog summarizes top payroll software in Chennai with its unique features and benefits that smoothes payroll processing.

Key Advantages
Let us understand how payroll software in Chennai streamline HR processes and makes an essential tool for businesses in this competitive market.
1. Enhanced Efficiency
Payroll software streamlines the entire payroll process, from calculating employees salaries and deductions to generating payslips. This reduces the time and effort required to manage payroll tasks manually.
Payroll software simplifies the entire payroll process from calculating compensation to disbursing salaries in bank accounts thus saving time, money and effort required by the HR department to do these tasks manually.
2. Error-Free Outcomes
Automated calculations minimize the risk of human errors and ensure the timely and accurate salary payments to employees while maintaining tax compliance.
3. Ensured Compliance
Chennai, like the rest of India, has specific payroll compliance requirements, including income tax regulations and EPF/ESI contributions. The software can help businesses adhere to these regulations.
4. Data-Keeping
Payroll software maintains detailed records of employee salaries, deductions, and other financial transactions, which can be crucial for audits and financial reporting.
Payroll software keeps all the records related to employee attendance, leave and salary and other monetary transactions which are required for statutory and audit purposes.
5. Employee Self-Service
Many modern payroll systems offer self-service portals for employees to access their pay information, tax forms, and other relevant documents, reducing the administrative burden on HR departments.
Nowadays all the modern payroll solutions offer employee self service portal and many also offers mobile app for employees which allow them to access their payslip, YTD, attendance, leave and other relevant information at their fingertips thus reducing burden on HR departments.
6. Saves Money
While there is an initial investment in acquiring and implementing payroll software, it often leads to cost savings in the long run by reducing the need for manual labor and minimizing costly errors.
7. Scalability
Payroll software can easily adapt to the changing needs of a growing business. Whether a company expands its workforce or needs to accommodate payroll complexities, the software can often accommodate these changes.

List of Top 7 Payroll Software in Chennai
In Chennai's competitive business environment, where talent retention and compliance are critical, investing in reliable payroll software can be a strategic decision. It not only simplifies the complexities of payroll processing but also contributes to employee satisfaction and organizational growth. Explore various software to find the one that best suits their specific requirements and budget, ultimately contributing to their success in this thriving city.
1. factoHR
factoHR has been a game changer in the businesses in Chennai due to its intuitive and scalable features. factoHR allows you to run your payroll process on time with its wizard-driven approach and single source of data. It streamlines and eases out intricate payroll processes with seamless integrations with its internal modules – attendance, leave, and performance management. Apart from automating payroll, it provides features like loan advancement, calculation of arrears, direct bank deposits, statutory reports and many more. In addition to its payroll processing, it also offers a unique mobile application which easeout numerous activities for employees like punch in and out, downloading payslips, IT statements and many more.
Features
| | |
| --- | --- |
| Easy to use UI mobile app provides all time access for employees to view payslip, download tax sheets and more. | Provides flexibility to configure payroll processes easily with a formula driven rule engine. |
| Payroll can be processed quickly, thanks to its wizard-driven salary process. | Automatic statutory compliance calculation at the time of arrears calculation. |
| Allows you to stay updated on tax laws while maintaining your compliance requirements. | Single-point payroll software prevents data duplication and provides a centralized data management system. |
| Provides Loan Advancement and allows auto deduction of Loan. | Possess special functions like off-cycle payroll, which aids in calculations aside from salary. |
| Enables you to create custom reports and forms with its custom report builder. | Auto arrear calculation can be used to claim or correct retroactive changes. |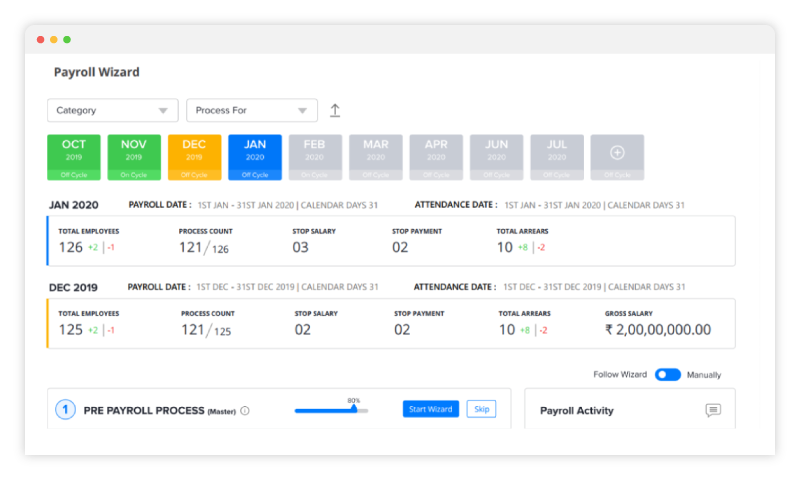 Benefits
Effortlessly streamlines your business payroll with a system that's secure, precise, automated, and fully compliant.
Integrated payroll takes a few clicks to process payroll and gives exceptionally seamless user experience.
Clear audit trails, granular locking system and encryption rest provides a water-tight payroll system.
Minimizes data duplication and gives error-free outcomes via plug-n-play integration, making payroll processing highly accurate.
The ready to use integration is designed for easy plug-and-play functionality, reducing the need for human involvement while maximizing the accuracy of the data collection generated.
Calculations based on formulas, customizable processes, and the ability to create an unlimited number of components provide the flexibility you require both now and going forward.
What People Say About Us


2. Gizmosys Solutions
Gizmosys Solutions streamlines all payroll-related activities with ease and precision, working as a renowned system for the HR department. Offering extensive services in both payroll and compliance, it stands as a robust solution in today's fast-paced business landscape. The software not only simplifies the intricacies of payroll processing but also offers the option of payroll outsourcing services.
Features
Configurable Payheads
Earnings / Deduction / Allowance
Bonus / Loan / Arrears / Advance
Upload attendance for LOP / LWP
One click process payroll
Audit processed payroll
Employee self-service to download payslips
Audit Trails Reports
Statutory Compliance
Payroll Reports
3. EasyHR
EasyHR simplifies even the most complex payroll tasks through an integrated configuration panel that syncs with other modules, such as leave and attendance management systems. Its user-friendly interface fully automates all aspects of payroll processing, freeing up valuable time for the HR department. Designed to operate efficiently across various types of organizations, EasyHR offers a holistic solution for employees through its Employee Self-Service module.
Features
Multiple Pay Options
Run Payroll on the Go
Customize Earnings and Deductions
Analytics and Reports
Resource Center
Employee Self-Service
ERTC Services
Compliance Support
4. Paychex
Paychex is a digital payroll software in Chennai that simplifies payroll processes by effortlessly merging employee data with HR and benefits information. The service also features a complementary Paychex Flex mobile app, offering immediate access to vital payroll information like upcoming pay dates and amounts, thus enabling remote management and administrative ease. Whether you prefer to take an active role using its intuitive online platform or work in tandem with their specialized payroll experts, Paychex provides tailored solutions to meet your specific needs.
Features
Multiple Pay Options
Run Payroll on the Go
Customize Earnings and Deductions
Analytics and Reports
Resource Center
Employee Self-Service
ERTC Services
Compliance Support

5. Infotrack
Infotrack offers a user-friendly payroll solution that excels in simplifying complex payroll tasks through its rule and component-based structure, complete with a formula editor for easy calculations and adjustments. Notably, the software also specializes in employee exit management, ensuring a smooth and thorough separation process that covers full and final settlements. Whether you're concerned with routine payroll tasks or seamless employee transitions, Infotrack provides an efficient, accurate, and comprehensive solution that stands out as a top choice.
Features
Salary Calculations for Pro-Rata Adjustments
Rule-Based Payroll Processing
Component-Based Payroll Processing/Formula Generator
Loans and Advances
Arrears Processing and Adjustments
Processing for Apprentices/Stipend
Define new Allowances / Retaining Allowance
Employee Exit Management
6. PayCare
PayCare provides an all-inclusive solution for Payroll management. During the initial setup, it assists you with various tasks such as implementing the payroll application and transferring existing payroll data. The system also aids in configuring interfaces where you can input your company information and establish comprehensive employee databases. These databases can include various details like job titles, departments, leave allowances, salary information, payment schedules, holiday lists, tax information, credits, and deductions. PayCare Payroll delivers a genuine plug-and-play experience, complete with initial setup of master data and employee information.
Features
Payroll Processing
Payroll Tax Filing
Payroll Reporting
Statutory & Government Forms
Employee Provident Fund
Regional Forms & Payslips
7. Aegis
Aegis offers scalable payroll software that fits all business sizes. It fully automates all payroll tasks and ensures compliance with local laws and regulations. Aegis provides a high priority on data security, giving you peace of mind in managing your payroll and human resources. Considering its advanced technology and integrated modules, Aegis can process payroll Leveraging cutting-edge technology and integrated systems, the platform is adept at accommodating various pay-run schedules, such as weekly, bi-monthly, and monthly. With Aegis, you can count on top-tier service, adaptability, and reliability for all your HR and payroll needs.
Features
Payroll Management
Payroll Reports
Direct Salary Deposits
Payroll Tax
Statutory Compliance
Payroll Audit Services

In Conclusion
The article discusses the growing need for efficient payroll software in Chennai's bustling business environment. It outlines the various benefits that specialized payroll systems offer, such as enhanced efficiency, error-free calculations, regulatory compliance, data-keeping, employee self-service, cost-saving, and scalability. The payroll software aims to simplify the complex tasks of payroll processing and contribute to better HR management, thereby helping businesses in focusing on their core activities while ensuring employee satisfaction and organizational compliance.