Table of Contents

The hospitality industry refers to the business that provides services such as food, lodging, beverages, travel, tourism, and meetings to customers. It's crucial to deliver services and solutions to the guests, and payroll software proves to be a turning point in successfully eliminating the complexity of employee remuneration. Thus it helps in concentrating the main chores of the hospitality sector. It is user-friendly and offers accuracy, accessibility and compliance. It provides strategic solutions that ensure efficient operations, real-time access for employers and employees, a dynamic workforce and flexible working hours. The hospitality sector can concentrate on delivering exceptional experiences by utilizingḤ this system. This blog will explore the best payroll software for hospitality.
Enhance Hospitality by Incorporating Payroll Software
Below are the essential reasons for incorporating payroll software for hospitality, which enhances effectiveness, ensures compliance and facilitates the experience for operations and workers in the hospitality industry.
1. Time and Cost Efficiency
Cloud-based software automates the payment process and reduces the time and trouble needed to perform payroll tasks manually. It proves cost savings and allows staff to concentrate on core tasks, enhancing overall effectiveness and productivity in the hospitality sector.
2. Accuracy and Compliance
Automated salary management reduces the chances of errors by automating calculations. This ensures accurate payment expense and compliance with applicable statutory laws securing the organization from legal problems and fines.
3. Employee Self-Service Portals
Employee Self-Service Portals empowers employees to download their pay statements, time off requests, and update their personal details. It reduces the administrative burden on HR staff and benefits the hospitality sector.
4. Integration with Other Systems
Integration with attendance, leave, which is especially important in hospitality because staff rotation and work hours may change daily.
5. Time and Resource Saving
Utilizing payroll solutions minimizes human errors and automates tax calculation, employees' compensation and tax deduction. This reduces the manual burden on HR and saves time and cost of allocating resources, allowing them to focus more on other important tasks.

List of Best 6 Payroll Software for Hospitality
1. factoHR
factoHR is a cloud-based payroll software that is the most suitable for the hospitality sector. It simplifies and streamlines payroll processes with a wizard-driven approach and a single data source. It automates the payroll process and saves time for other valuable tasks. factoHR's unique mobile app empowers employees to mark their attendance, download payslips, and request leave. It provides scalability and enhances the efficiency of your core HR department. It simplifies complex tasks such as salary calculations, payment processing, statutory compliance, IT deductions, ESIC, PF, and loans, making them easy to manage. Moreover, it provides a reliable solution for these critical functions.
Features
| | |
| --- | --- |
| View salary and access gross earnings summaries. | Download payslip from the last month or year in PDF format. |
| Choose a payslip format to choose your organisation's needs. | Utilise a Wizard-driven salary process for guidance at every step. |
| Deposit employees' salary directly to employees' bank accounts. | View income tax and compare it with actual deductions. |
| Process salary with multiple payroll groups according to employees' payroll cycle. | Generate all kinds of income tax reports and forms. |
| Pay incentives according to employees' performance. | Manage advance and loan management through policy. |
| Configure unlimited salary components. | The off-cycle payroll process enables additional payments like bonuses. |
| Simplify arrear calculations for various scenarios like overtime, attendance, and more. | Fulfills compliance requirements with automatic calculation and ready to file form, report and challan. |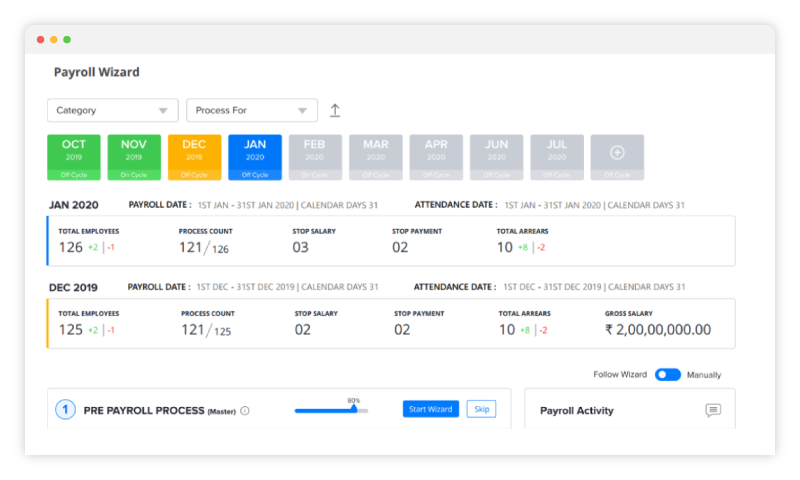 Advantages
Its high-level security protects employee data with encryption at rest, audit trail and precise access control.
Plug-and-play integration ensures minimal human interventions and ensures the highest accuracy in data output through the validation engine.
It gives flexibility according to your requirements with formula-based calculation, unlimited component creation and customisation process.
Integrating payroll into our system creates a seamless and user-friendly experience, ensuring smooth interactions between all internal modules and external systems.
What People Say About Us


Pricing
factoHR offers 4 exceptional pricing plans to choose: Performer, Bolster, Advance Velocity, and Essential. Some add-ons may boost your chosen plan by including different optional features, like face recognition, self-onboarding, and a ticketing system.
2. Humi
Humi calculates employees' salaries and tracks the income of employees. It also gives financial records, finds mistakes, and allows for corrections with salary calculation and generates detailed summaries of payroll. It also offers access to certified software experts for consultations, audits, and payroll setup. Its hourly salary process feature provides flexibility for paying freelancers. It also provides records and reports to assist HR in better budgets and managing expenses.
Features
Automatic Calculations
Employee Self-Service
Year-End Tools
Hourly Payroll
Record and Report
3. Fingercheck
Fingercheck automates salary processes of business and eliminates chances of minor errors. It makes these processes smooth and also assists businesses in avoiding unexpected year-end bills by seamlessly integrating the salary process with employees' compliance insurance. Its user-friendly platform manages federal, state, and municipal tax compliance. It also supports customers and makes their automated salary process easy.
Features
Configurable Payheads
Tax Compliance
Multi-State Payroll
Customer Support
4. Personio
Personio provides an automated system that is designed for the hospitality industry. It helps in removing unique challenges like dynamic working hours, tips, and seasonal staff variations. This system integrates with other systems, automates salary calculation and also provides year ending summary. It also assists in managing schedules, attendance and tax compliance which ensures accurate and easy staff payment and management. This enables establishments to centre their focus on customer experiences while ensuring administrative efficiency and compliance.
Features
Easy payroll process
Customised payroll reports
Integration with accounting
Data backup and recovery

5. TrickyHR
TrickyHR assists in timely and accurate payments and manages deductions and tax declarations. It provides customisation in payments. Businesses can minimise errors, save time, and manage all payroll-related processes, ensuring a streamlined and efficient salary administration in the hospitality sector. It also provides IT statements and reports that simplifies complex processes.
Features
Tax Filling Reports
Statutory Compliance
Earnings and Deductions
Arrear Calculations
Reimbursement Management
6. EmployeeVibes
EmployeeVibes creates detailed policies according to the requirements of the hospitality industry. Its intuitive interface makes all processes easy. This software handles all your HR needs, from hiring to retirement, and meets all the industry rules. It can be customized for any hospitality business, big or small. Its main goal is to help you provide excellent customer service, share information, and build strong relationships.
Features
Unlimited CTC structures
Filter salary process
Statutory compliance
Payslip on mobile app
Loan and EMI management
Clearance during FFS

Conclusion
It's necessary to incorporate payroll software in the complex and busy schedule of the hospitality sector. This technical solution improves efficiency and accuracy and liberates valuable time for core responsibilities such as delivering exceptional accommodation, food, and services to guests while prioritizing their well-being, safety, and overall satisfaction. Utilizing payroll software is a strategic imperative in commitment to excellence in hospitality.