15 Best Payroll Software in India - 2023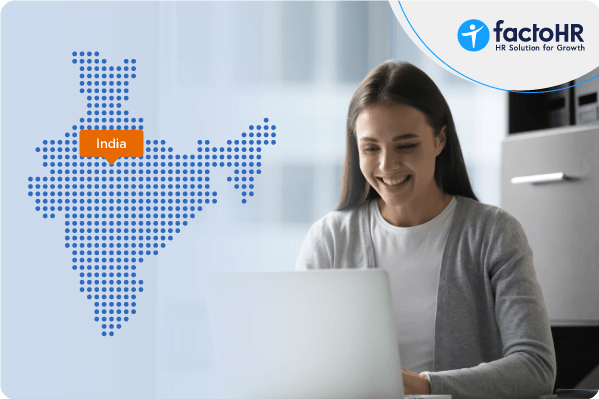 Table of Contents

In today's competitive market, businesses in India have started adopting payroll software to streamline their operations. This software helps businesses to focus on core HR activities by automating the compensation of employees. Payroll software autonomously computes everything from salaries and taxes to various deductions. These technological advancements significantly reduce paperwork and thereby boost overall productivity. The ideal payroll software is not only user-friendly but also offers various features such as e-filing, seamless integrations, employee access portals, precise computations, and time management. This article will help you choose the best payroll software in India that comes equipped with tools to simplify HR tasks.
Simple Steps to Understand Payroll Processing
Given the fact that processing payroll manually can be a complex and time consuming task. Following these simple steps will help you better understand and optimize your existing payroll process.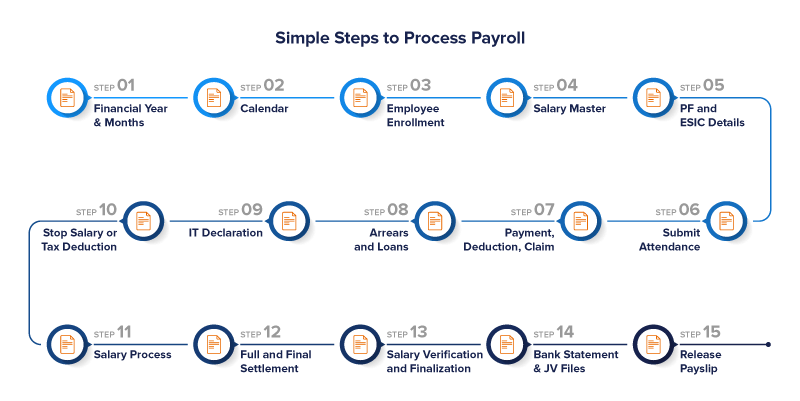 What are the Criteria for Selecting the Best Payroll Software in India?
Below are some essential guidelines to consider when selecting the ideal payroll software for your business in India:
1. Assess Your Business Requirements
Before choosing any particular payroll software, conduct a comprehensive evaluation of your organizational needs. Ask these questions that might help you to evaluate your requirements:
How frequently do you encounter payroll challenges?
What financial impact do payroll errors have on your business?
Is your payroll cycle monthly or weekly?
What's your budget for a payroll system?
Is manual payroll management still effective for you?
How proficiently are you maintaining payroll records?
Understanding your specific requirements will help you filter out options that don't align with your needs.
2. Ensure Compliance Management
Remaining compliant with regulatory norms is critical. Non-compliance can bring financial or legal ramifications. Therefore, choose payroll software that keeps you up-to-date with statutory requirements, thus minimizing legal complications.
3. Seek Essential Features
The efficacy of payroll automation largely depends on the features the software offers. Make sure to check for key functionalities such as automated wage calculations, tax filing capabilities, expense handling, mobile accessibility, and compliance tracking, among others.
4. Try Before You Buy
Many leading payroll software options in India provide a free trial period, usually lasting about 14 days. Utilize this opportunity to gauge whether the software meets your expectations and needs.
5. Budget Considerations
While the allure of advanced features is tempting, aligning your selection with your budget is crucial. There are various cost-effective solutions available; however, the most robust options might necessitate a larger budget.
6. Read Customer Reviews
Platforms like IndiaMart, SoftwareSuggest, and G2 offer valuable customer feedback. These reviews from current users can be useful in your software selection. You can even reach out to these users for more in-depth analysis.

List of Best Payroll Software in India
Given the growing demand, there's now fierce competition in the payroll software market. Numerous options are available, each boasting its own special features. Therefore, selecting software that aligns with your organizational needs becomes imperative. We've examined several payroll services, weighing in on their features, credibility, and more. Subsequently, we've compiled a list of the top payroll software in India for businesses.
1. factoHR
factoHR is a highly configurable, all-in-one cloud-based automation platform designed to adapt seamlessly to businesses of all sizes. This robust solution revolutionizes your payroll operations, boosting the efficiency and performance of your entire HR team. With factoHR, intricate tasks like salary computations, payments, statutory compliance with regulations, income tax computation, ESIC calculation, PF, and loan calculations are effortlessly simplified, making them both easy to manage and highly scalable.
In addition to its comprehensive payroll automation capabilities, factoHR also offers a user-friendly mobile application. This app empowers employees to carry out various activities on the go, such as punching in and out, viewing payslips, and requesting leaves. Further enhancing its suite of HR tools, factoHR incorporates cutting-edge features like an AI-enabled chatbot, selfie-based attendance tracking, and geofencing technology, all aimed at streamlining HR processes.
Features
| | |
| --- | --- |
| Download your payslips and view YTD income through graphs and detailed monthly breakdowns, via ESS portal. | View and download statutory forms, IT statements, etc through mobile app. |
| A formula driven rule engine to configure salary with multiple salary components. | Easy payroll processing with its wizard-driven approach. |
| Simplifies handling of all statutory compliance like PF, ESIC, TDS, etc. | Auto calculation of statutory compliance at the time of calculating arrear. |
| Single point payroll software which has built-in integration with internal modules. | Possess unique features like off-cycle payrollhelps in calculation apart from the salary. |
| Employees can request various types of loans. | Allows auto deduction of Loan. |
| ISO accredited and SOC Type 2 certified cloud data center. | Capacity of handling 2000 RPM of varied traffic per application server. |
| Helps you build various forms and reports or customize it. | Business continuity and backup plan ensures you don't lose any critical data in a situation of natural calamity. |
| Retro changes can be rectified or claimed using auto arrear calculation. | Quick payroll calculation by creating multiple payroll groups based on location, salary, etc. |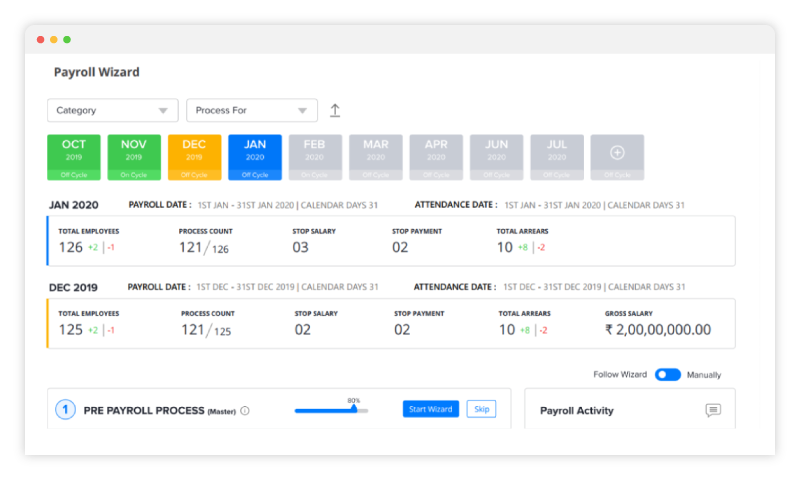 Benefits
The platform provides robust security measures, including data encryption while at rest, an audit trail, and granular access controls, to safeguard sensitive employee information.
Its plug-and-play capabilities minimize the need for manual oversight, ensuring maximum data accuracy through a specialized validation engine.
The system offers tailored flexibility through formula-driven calculations, customizable processes, and the ability to create an unlimited number of components as per your specific requirements.
Users enjoy a seamless experience, thanks to the software's integration with internal modules such as core HR, attendance, leave, and expense management, as well as compatibility with external systems like ERPs and accounting applications.
What People Say About Us


2. HR Pearls
HR Pearls is India's powerful platform designed to simplify Payroll management and make HR responsibilities more manageable. The system is exceptional at carrying out various tasks with seamless precision, transforming intricate functions like salary calculation into an uncomplicated and user-friendly experience.
In HR Pearls, the salary computation process is visually transparent, thanks to an interactive flow chart that breaks down each step of the calculation. This ensures clarity and accuracy whether you are dealing with formula-driven, fixed, or flexible salary components. By catering to a diverse array of calculation elements, HRPearls offers a versatile solution for precise and effective payroll management.
Features
Salary Calculation
Reimbursement Management
Loan & Advance Management
Overtime Management
Bonus Calculation
Full & Final Settlement
Tax Declarations or investment proofs
Gratuity Calculation
Payslips & Reimbursement Slips
Bank Transfer Sheet
Salary Register & Various reports
Increment Module
3. Enspire HR
Enspire HR provides your organization with the vital tools needed to automate payroll operations, elevating Indian business from good to great. The software allows for highly customizable payroll settings, monitoring every adjustment and compensation given to employees. This enables your team to automate the intricate processes that often require manual calculations, thus reducing the chance of error.
In addition to its payroll features, Enspire HR also excels in workflow management, allowing employees to set up flexible approval processes. This streamlines administrative tasks, making it easier for management to oversee approvals. Furthermore, the software seamlessly integrates financial data across various business taks, ensuring complete accounting accuracy while eliminating the risks associated with manual calculations.
Features
Customize Payroll Process
Salary Processing
Payslip Template
Loan Disbursement
EMI Deductions
Off-Cycle Payments
Reimbursements
Leave Encashment
Configurable TDS Section
Multi-purpose Report and Analytics
4. Officenet
Officenet is India's premier cloud-based payroll software, expertly crafted to manage all the intricacies of payroll calculations and withholdings. One of its distinctive features is the ability to automatically update whenever there are amendments to tax laws in India, ensuring that your payroll system remains current and in line with the most recent regulations.
Beyond calculations, Officenet assists employers in completing tax forms. The software even sends timely reminders for filing these forms, eliminating the chance of missing important deadlines. By streamlining these processes, Officenet not only saves valuable time but also boosts productivity, all while guaranteeing complete accuracy in your payroll management.
Features
Payroll Processing
Accurate Salary Computation
Payroll Reconciliation
Automated Payroll Inputs (reimbursements/loans/advances)
Customized Payslips
Statutory Reports
Extensive Excel Output

5. Paychex
Paychex is a digital payroll solution in India that streamlines the payroll process for any business by seamlessly integrating employee data with HR and benefits information. It also offers a complimentary Paychex Flex mobile app that provides quick and convenient access to crucial payroll details, such as forthcoming paycheck dates and amounts, enabling you to manage payroll remotely and simplify administrative tasks.
Paychex offers customized solutions to accommodate your unique requirements, whether you want a hands-on approach using its user-friendly online platform or like to collaborate with its specialized payroll experts.
Features
Multiple Pay Options
Run Payroll on the Go
Customize Earnings and Deductions
Analytics and Reports
Resource Center
Employee Self-Service
ERTC Services
Compliance Support
6. Personio
Personio is a comprehensive HRM solution that manages the entire employee lifecycle, from recruitment to offboarding. With a centralized database, all your payroll-related information is conveniently stored in one location, streamlining data management and making it easier to oversee HR tasks.
In addition to quick implementation, Personio offers a quick return on investment, providing immediate value to your organization. Our high-impact automation features enhance focus across the company by simplifying complex HR processes. Designed with the future in mind, the platform is compatible with leading payroll applications, ensuring that you can integrate seamlessly with major software solutions in the industry.
Features
Self-Service Portal
Seamless Integration
Payroll Accounting
Centralised Data System
People Workflow Automation
7. EmployeeVibes
EmployeeVibes meets the intricacies of payroll management, particularly in India which can be challenging, time-intensive and needs fulfillment of numerous compliance standards. It provides a robust and scalable payroll solution that can be customized as per your company's specific needs.
Utilizing this software simplifies the payroll procedures and guarantees the swift and precise distribution of wages to your team members. This allows the HR department to focus on other critical aspects of the business, knowing that the payroll can be calculated in just a few clicks.
Features
Payroll Configuration
Flexible Benefit Plan
Loan and Advance
Salary Process
Investment Declaration & Actuals
Bonus, Gratuity & Arrears

8. TrickyHR
TrickyHR is an online payroll solution that possesses an intuitive user interface that meets the unique demands of your business, offering scalability as your operations grow. Not only does it save time, but it also minimizes the likelihood of errors, streamlining the entire payroll process for your organization.
By utilizing a computerized approach, our payroll system simplifies tax calculations and reporting, removing the hassle associated with manual record-keeping. Moreover, the system is designed to cut down on TCO and boosts ROI. It also keeps an all-inclusive record of salary disbursements and ensures you have all the information you need at your fingertips.
Features
Online Payroll Transaction
Loan & Advance Management
Payroll Processing
Earnings & Deductions
Reimbursement Management and Bank Transfer Details
Arrears Calculation and Other Payments
PF/ ESIS /PT/ Income Tax Management Reports
9. Samplex24
Samplex24 is a specialized software solution in India created to manage various kinds of payroll and adhere to business-specific guidelines. It's a flexible system and offers a seamless integration with various modules such as attendance, leave, claims, bonuses, performance assessments, and time tracking into its payroll automation capabilities. This makes Samplex24 one of the most reliable and comprehensive payroll software options.
Key features of the software include integration with biometric devices for daily attendance tracking, streamlined and accurate calculations for salary deductions, and estimates for leaves, attendance, dues, and overtime. Moreover, the software automates the process of salary computation and the generation of payroll reports, making it easier than ever to manage your payroll operations efficiently.
Features
Loans & Salary Advancement
Salary Benefits
Statutory Deductions
Salary Processing
Automated Generation of Form 16/Salary Statements/ESIC/TDS Reports
Salary Reconciliation
10. Rippling
Rippling is a robust payroll solution provider for managing a workforce and streamlines various functions by providing a unified system for hiring, compensating, and managing both employees and contractors. One of its standout features is the ability to onboard new hires and contractors in as little as 90 seconds, making the process both efficient and straightforward.
Beyond swift onboarding, Rippling simplifies payments by enabling you to pay everyone within minutes. The platform combines the capabilities of HR, IT, and Finance into one integrated system, which significantly enhances operational efficiency. In addition to these features, Rippling also automates the complex task of ensuring compliance, allowing you to meet legal requirements without the usual stress and hassle.
Features
Payroll Compliance
Payroll Analytics
Payroll Integrations
Role-Based Permissions
Workflow Automator
Dynamic General Ledger Mapping
HM Revenue and Customs compliant
P45, P11D, P60, FPS, and EPS
Time Tracking
Job Costing & Multiple Pay Rates
Mobile App

11. Aegis
Aegis is a scalable software which is suitable for small and medium-sized enterprises, as well as corporate and government accounts. Aegis can be entrusted to automate and ensure full compliance with local laws and regulations. They also prioritize confidentiality and security, offering you peace of mind as you manage your payroll and human resources.
Utilizing advanced technology and integrated systems, Aegis is equipped to handle your HR and payroll needs across various pay-run structures, including but not limited to weekly, bi-monthly, and monthly schedules. With Aegis, you can expect the highest levels of service, flexibility, and assurance and can be dependent on them for all your payroll and HR requirements.
Features
Payroll Management
Payroll Reports
Direct Salary Deposits
Payroll Tax
Statutory Compliance
Payroll Audit Services
12. Humi
Humi delivers a high-quality payroll solution that does more than just store important data; it also manages intricate tasks such as payroll and benefits administration, all while reducing the need for labor-intensive manual processes. The platform is designed for ease of use, making key information easily available and well-organized, which enhances operational efficiency. Additionally, the system's capabilities facilitate error-free payroll operations, conserving valuable time.
Employee benefits management becomes a breeze with Humi's user-friendly interface. The platform goes beyond basic administrative tasks, offering in-depth analytics that enable your organization to concentrate on strategic development and employee wellness. With Humi, you can streamline HR processes and focus on what truly matters for your organization.
Features
Integrated Payroll
Compliance
Automatic Calculations
Employee Self-Service
Year-End Tools
Hourly Payroll
Unlimited Payruns
Records and Reporting
Managed Payroll
13. Infotrack
Infotrack is an incredibly user-friendly payroll solution that simplifies even the most intricate payroll tasks. Its rule and component-based architecture, complete with a formula editor, streamlines the payroll process and makes arrears calculations and adjustments a breeze. This software serves as a robust engine for all your payroll needs, handling everything efficiently and accurately.
What sets Infotrack apart is its meticulous approach to employee exit management. The software ensures a seamless separation process, covering all aspects of the full and final settlement without any hitches. Overall, if you're looking for a comprehensive yet easy-to-use payroll solution, Infotrack is a top-notch choice that won't disappoint.
Features
Salary Calculations for Pro-Rata Adjustments
Rule-Based Payroll Processing
Component-Based Payroll Processing/Formula Generator
Loans and Advances
Arrears Processing and Adjustments
Processing for Apprentices/Stipend
Define new Allowances / Retaining Allowance
Employee Exit Management

14. Gusto
Gusto offers a full service payroll in India. They have an incredibly simplified process where you can pay your employees and contractors in just a few clicks without any hassle. Gusto possesses impressive capabilities like auto tax-filing, adheres to tax laws and identifies tax credits, helping you to save money.
It comes with several other benefits like unlimited payroll runs with no extra cost and a flexibility to adopt to any payroll situations. The automatic tax calculations are incredibly accurate and time-saving, while the time tracking feature syncs perfectly with payroll, ensuring everyone is compensated for every minute they've worked. Plus, the direct deposit feature makes sure that payments go through swiftly and securely. All in all, Gusto makes payroll a breeze.
Features
Payroll Taxes
Integrated Platform
Compliance
Workers' Compensation
Direct Bank Deposit
Financial Benefits
Employee Management
15. PionHR
PionHR excels as a fundamental HRIS, packed with innovative features designed to streamline the often complicated task of employee onboarding. A highlight is its unified document management system that consolidates various employee records—whether those are ledgers, payslips, or expense receipts—into a single, accessible platform. This alleviates the need to sift through multiple digital systems or physical files, ultimately boosting operational efficiency.
In addition to its document management capabilities, PionHR also boasts a robust, fully managed system for tracking attendance and managing leaves. This allows HR departments to easily maintain accuracy and compliance, freeing them up to focus on more strategic projects that benefit the organization as a whole.
Features
Dynamic Salary Processing
Arrears and Variable Payment
Bank Advice
Full and Final Settlement
ECR/TIC Generation
Compliances
IT Forms
Statutory Reports
Wrapping Up
There are tons of businesses offering robust and comprehensive payroll software in India in 2023 that fits every needs of your organization. These software solutions simplify the intricate task of payroll management and minimizes error prone outcomes. As technology advances, relying on more efficient, secure and user friendly payroll solutions to ease out such complex processes like payroll is a basic requirement. From essential features like e-filing and employee portals to advanced options like AI-enabled chatbots and mobile apps, these platforms offer numerous customizable functions to your modern workplace.This article highlights each platform with its own unique selling points, helping you choose the right solution for your businesses that aligns its specific needs.