Table of Contents

Any organization, regardless of its size, has to go through the complex process of calculating payroll on a weekly/ biweekly or monthly basis. Payroll processing serves as a fundamental and a necessary task for any business. However, manually processing payroll becomes tedious and boring, leading to error prone outcomes. To overcome this cumbersome and time-consuming paper-based payroll procedures that have persisted for far too long, the usage of payroll software has been a pivotal choice. Adapting the cutting-edge software streamlines and enhances your organizational payroll operations.
Unlike any city in India, a payroll software in Kolkata increases the transparency and efficiency in managing employees' payroll. It eases and simplifies the task of maintaining employee records, eliminating the outdated paper based processes. The arrival of efficient payroll software in Kolkata has revolutionized the payroll process in just a few clicks. Software reduces the repetitive HR and administrative tasks, allowing them to focus on strategic planning.This article contains a list of best Payroll Software in Kolkata, based on the various parameters like adaptability, unique features and more.
Critical Points to Evaluate While Buying Software
Be on the lookout for what software vendors often refer to as an all-encompassing business management system. These packages come complete with a payroll management program, alongside a comprehensive suite of HR tools that can streamline your human capital management. The advantage here is that these tools are designed to seamlessly cooperate, erasing concerns about data sharing across different business divisions.
It's crucial to ensure that the package you opt for includes automatic overtime calculation, particularly if your employees are entitled to overtime pay for extra hours worked or during public holidays. Without this feature, you'd be forced to manually input overtime periods, defeating the purpose of automating your software.
While remote access features can be highly beneficial for those looking to automate their payroll processes, it might be prudent to avoid them if you suspect that employees could misuse this feature to log in from home, falsely indicating they are at work when they are not.
Furthermore, it's essential to verify that your new software package is compatible with any existing hardware investments your company has made and can seamlessly integrate with your existing software suites. This integration can eliminate the need for redundant data entry and reduce maintenance efforts.

List of Best 6 Payroll Software in Kolkata
Kolkata, being the essence of technological advancement in Bengal, is at the forefront of cutting-edge innovations. If you're looking for highly efficient payroll software in Kolkata, explore the list given below and select the one that best suits your business.
1. factoHR
factoHR serves as a comprehensive payroll software designed to meet the needs of payroll processing in Kolkata. It offers automation in features like payroll management, generation of payslips, ensures statutory compliance, and provides income tax reports and loan management. Additionally, it features an employee self-service portal. What sets factoHR apart from other payroll software is its ability to integrate with internal modules such as attendance, leave, and HR software, as well as with renowned ERP and accounting systems, rendering payroll processing more seamless than ever. Moreover, it stands out for its mobile app, robust security, and scalability, making it the ideal choice for calculation.
Benefits Offered by factoHR's Advanced Features
Mobile App/ESS Portal
View income tax, generate payslips, and download statutory forms like 12BB and Form 16 using ESS portal.
Process Payroll Quickly
Flexible formula driven engine to form multiple payroll groups, configuring any number of salary components and payslip customization.
Enhanced Security
ISO accredited and ISO Type 2 certified data centers to protect employee's critical data.
Arrear Calculation
Support various retro changes scenarios and automises arrear calculation with statutory calculation and deduction.
Single Point Solution
Built-in integration with internal systems (attendance, payroll, leave) and external software (Tally, Quickbboks) for seamless payroll processing.
Statutory Compliance
The system is up-to-date with the laws and automatically calculates your compliance requirements like PF, ESIC, TDS, Income tax, challan.
Salary Revision
factoHR allows you to revise employee's salaries by keeping track of every revision.
Loan Management
Organizations can offer various types of loans in advance with loan interest to employees, set up loan policies and auto deduction of EMI.
Off-Cycle Payroll
This standout feature makes all necessary payroll calculations which aren't part of regular calculations.
Highly Accurate
With its plug-n-play integration and validation engine requires no human intervention and achieves highest accuracy in data output.
Reports and Analytics
Generation of various reports and statutory forms related to Payroll. Customization can also be done in report building as per your needs.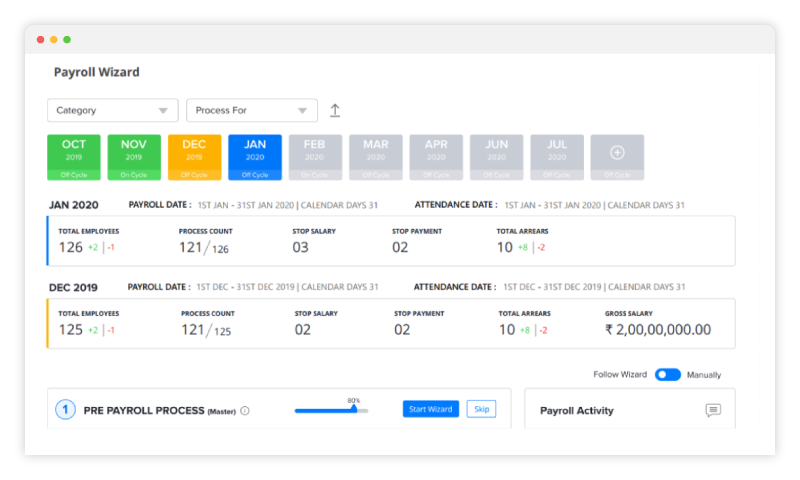 What People Say About Us


Pricing
factoHR offers 4 exceptional plans for simplifying your core HR tasks with various add-on features. Check out their pricing and arrange a demo.
2. WalletHR
Wallet HR offers a robust software designed to simplify complex payroll processes in just three easy steps. The system is extremely capable of processing e-payroll for any size of businesses and ensures efficiency and accuracy in managing large companies.
Additionally, the software features a powerful data wizard, allowing users to generate any payroll report with absolute ease. This user-friendly tool is helpful in facilitating seamless HR operations and producing comprehensive and accurate reports, thereby enhancing the overall payroll management experience.
Features
Core-HR Integration
Data Generation
Multiple Salary Structures
Financial Management
Payslips
Full and Final Settlement
3. Humi
Humi provides a top payroll system in Kolkata that stores data and manages intricate tasks such as payroll and benefits administration, thereby reducing the burden of manual processes. It is designed as a user-friendly platform that organizes key information efficiently, enhancing operational workflows, and ensuring error-free payroll operations.
Additionally, managing employee benefits is simplified with Humi's intuitive interface. The system offers more than just administrative solutions; it provides in-depth analytics enabling organizations to focus on strategic development and employee wellness. Thus, with Humi, streamlining HR processes and concentrating on organizational priorities becomes seamless.
Features
Integrated Payroll
Compliance
Automatic Calculations
Employee Self-Service
Year-End Tools
Hourly Payroll
Unlimited Payruns
Records and Reporting
Managed Payroll
4. BambooHR
BambooHR provides an integrated solution, streamlining various HR tasks by enabling the monitoring of hours worked, documenting time-off, managing benefits, and executing payroll processes all in one consolidated platform. This cohesive approach eradicates the need for cumbersome data double-entry and tedious manual approval methods, thereby significantly reducing administrative headaches.
Moreover, it provides hassle-free experience to both employers and employees with precise paydays. By simplifying these essential tasks, BambooHR allows organizations to focus more on strategic initiatives and employee engagement, fostering a more productive and harmonious workplace environment.
Features
Payroll
Benefits Administration
Time Tracking
Time Off
Tax Filing
Reports
ESS Portal

5. Gusto
Gusto provides a comprehensive payroll solution in Kolkata, streamlining the process to allow for hassle-free payments to employees and contractors with just a few clicks. Notably, Gusto excels in functionalities like automatic tax-filing, compliance with tax laws, and identification of tax credits to optimize savings.
The service offers numerous benefits including unlimited payroll runs at no additional cost, adaptability to various payroll scenarios, precise automatic tax calculations, and seamless integration of time tracking with payroll. Moreover, the direct deposit feature ensures swift and secure transactions, making the overall payroll process efficient and effortless with Gusto.
Features
Payroll Taxes
Integrated Platform
Compliance
Workers' Compensation
Direct Bank Deposit
Financial Benefits
Employee Management
6. Nitso Payroll
Nitso Payroll stands out as one of the most user-friendly payroll management systems in Kolkata, addressing all requirements related to employee's payroll. This cloud-based software calculates employees earning and deduction components using a calculation table.
It generates all necessary outputs and statutory reports, ensuring compliance with legal requirements such as PF, TDS, ESIC, and Professional Tax. Beyond payroll, it aids in managing various HR activities including leave, attendance, promotions, transfers, and loan advances, making it a comprehensive solution for HR and payroll needs.
Features
Easy customization business policies
Automated payroll
ESS portal
Mobile app

Conclusion
In the dynamic landscape of Kolkata, the demand for effective payroll software is a necessity due to the complexities of manual payroll processing. Many companies are adopting such systems for automation, simplification and error free outcomes. Incorporating this technology is a strategic move that offers numerous benefits, organizing workflows and enhancing efficiency.