HR Tools: 6 Reasons Why Every Organization Needs Them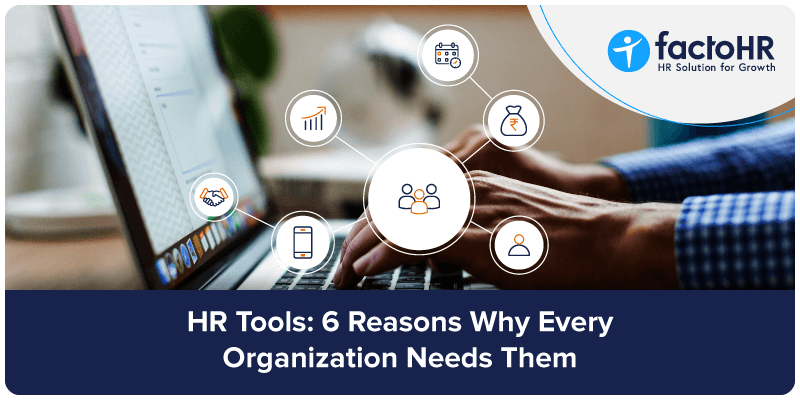 HR tools have been designed to automate the management of human resource functions. It is well known that HR teams need to handle various activities at any given point in time. The scope of activities could include onboarding new employees, tracking employee attendance, payroll processing, conducting performance reviews along with attending to day-to-day employee queries and resolving personnel-related issues. Many times these tasks are interrelated and surface simultaneously. The right HR tools can integrate all of these functions for strategic human capital management. Tasks which come under the purview of HR are often repetitive, time-consuming and prone to error. All these activities also generate large amounts of data which need to be maintained securely as records and for future reference. This is where automation in the form of dedicated Human Capital Management (HCM) software can really benefit an organisation and its workforce.
By automating and integrating all the HR processes, the organisation can reduce operational costs, make -informed decisions and focus on the most important asset of any organisation, its workforce.
What are HR Management Tools
Tools for HR Management are used by employees to manage several important matters that may not directly be part of their work but are an essential ingredient of the employee experience. This could include benefits, payroll access, leave management and so on. The HR department uses the software to streamline the process of collecting and maintaining important employee records as well as ensuring compliance with various regional and state laws.
HR Management broadly includes these functionalities
HRMS/HRIS which helps with payroll, HR helpdesk,
Workforce Management which includes leave management, time clocks and scheduling
Talent Management which is involved with recruiting, onboarding, employee learning, appraisals.
For more than 20 years, Sierra-Cedar has deployed an HR systems survey that measures technology adoption by HR professionals. The 2020 survey report says that "Elevating the perception of HR and investing in specific approaches to HR technology strategy, integration and change management correlates to 15% year over year increases in overall outcomes.

6 Reasons Why Organisations Need HR Tools
Regardless of size, all types of businesses will stand to benefit from automating their HR functions since the operations can be recorded in real-time with multi-level approvals and report generation can happen at any point in time. Listed below are 6 compelling reasons why it would be a great idea to invest in HR tools.
1. Empower Employees
Employee-centric technology provides simple solutions to several employee needs. The process of managing human capital keeps employees productive, happy and engaged since much of the tedious and repetitive administrative tasks can be handled with the click of a button. When choosing an HR software, keeping the objectives of the organisation in mind can help complete several tasks such as
Log in shift times
Enrol for training programs
Apply for leave
Track goals
View performance review
Provide feedback
Keep abreast about the latest developments from the company.
2. Data Security
The automated HR systems available offer the added advantage of avoiding potential security threats arising from data thefts. Sensitive information pertaining to employees as well as the organisation can be encrypted to avoid a breach of data. These systems also provide for role-based permission for access to information that is accessible only to the right people. Employees are assured that all their personal information is safe and at the same time accessible as and when they require it. The threat of losing all the paperwork due to natural calamities such as floods or fires is removed by automating all the data.
Storing all the information digitally also greatly reduces the paperwork in any organisation.
3. Simplified Benefits Administration
Designing and managing employee benefits is a complicated process. Various benefits which are offered to employees such as health benefits, provident fund, retirement benefits, calculation and handing out of bonuses and so on are time-consuming and also require compiling several kinds of information before payout. Keeping up with the changing Government rules and regulations can also be challenging in the manual mode. However, when all such processes are automated, the HR tools will compute all the necessary calculations as well as adhere to deadlines and rules (once they are preprogrammed with the parameters) as necessary.
4. Suitable for Hybrid Work Environment
Remote work is here to stay for good. The pandemic has taught everyone that being in office is not the only way to be productive. Although productivity in many cases is not affected by remote work, it is important for technology to assist the hybrid model of work too in order for work to continue smoothly. With cloud based HCM software employees can work from anywhere just as long as they have a stable internet connection. Onboarding, training, performance reviews, project submissions, leave applications, expense reimbursement requests and so on can all be handled through the software itself. Since everything is centralised, entries, progress and closure of most tasks can be tracked online itself. The complete HR functioning can even be standardised for those working in different geographical locations and time zones.

5. Efficient use of HR Time
Payroll processing, monitoring attendance records, pouring over spreadsheets and so on are repetitive and monotonous tasks. A person routinely handling these activities will not have time for much else. Automation tools help to perform these tasks, monitor and regulate certain functions and generate reports when required. The best part is that all this can happen in real time and by configuring multi level approvals. Once the HR personnel are assured that basic tasks are being executed smoothly they can deploy their time to improve employee relations. Educating and engaging the workforce can be carried out in a more meaningful way thereby raising morale and increasing retention. With deeper involvement in people related processes, HR teams gain greater insight into employee issues.
6. Metrics
Metrics is as important in HR as in any other domain. Analysis of metrics is crucial in several areas of HR such as HR cost management, attrition rates, employee engagement and compliance risk management. The Oracle research of 2019 shows that HR maybe overtaking finance as an analytics driven function. HR teams are drawing important conclusions from these metrics which are driving the workforce policies shaping the future. Easy access to data that is both accurate and available in real-time helps to connect metrics with business goals. This kind of data is readily available only in an automated environment which makes it imperative for organisations to necessarily opt for HR tools.
Today's workforce is demanding round-the-clock access to data and personal information. HR automation is bringing in a revolutionary change when it comes to employee matters in a cost and time-efficient manner. Organisations are therefore using these revolutionary HR tools to bring employees closer to business goals.