7 Reasons Why Effective Employee Management Matters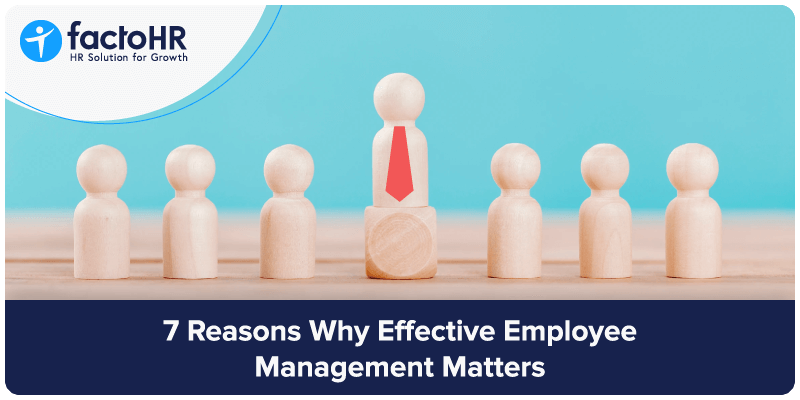 The workforce keeps your organization moving. Without employees, production will standstill, sales will decline, and client queries will not be answered. Your organizations success significantly depends on how your employees are being treated. So It is crucial to develop and execute talent management strategies effectively. When the approach is right, it can create a productive work environment and assist employees to go above and excel.
Here we have mentioned 4 reasons why each organization should execute effective employee management strategies:
Builds Up Employee Retention Rate
Whenever we accept a new role, complete the training, and get adjusted into the new work environment, we ordinarily choose to stay with the same organization for at least years. Nevertheless, when management fails to give proper support, it forces us to look out for opportunities elsewhere. That's why organizations should put forward focus on identifying and recognizing the hidden reasons for quitting the job, like the absence of career development, inflexible culture, and inadequate feedback. All this will let you take steps and measures before the employees start jump-shifting.
Helps Employees Stay Productive and Successful
Companies that have successful employee management always emphasize performance reviews on a regular basis, appreciating good work, setting up clear expectations, and providing training opportunities. When the right and proper support is provided employees can recognize their weak points and strengths in a better way and apply feedback successfully.

Cultivate a Positive Work Culture
To manage employees means trusting employees with their work, being transparent about business operations, and making communication two-way. All these practices will result in boosting employee confidence, stopping rumors, and reducing stress. This results in making your work environment uplifted and supportive, which makes employees look forward to coming to work every day. In turn, it also allows employees to become more productive and build stronger relations with their team members.
Establishes Exceptional Employee Experiences
Empowering employees to perform at their bests is all about effective employee management. It means providing employees with all the tools, resources, and support to effectively carry out their responsibilities. High-quality employee experiences will be created by simplifying complex tasks, setting up pleasing incentives, and encouraging a healthy work-life balance. Additionally, this will not only make employees feel valued but even strengthen employers' brands.
Reduces Paperwork
Effective employee management can be customized to meet the needs of each department's specific requirements, resulting in reduced paperwork. It is important because when employees will use digital forms, they will save time up to eleven hours per week, and six hours per week for business owners will also be saved. Instead of drowning in paperwork, both employees and business owners get the time to focus on the areas that need attention.
Additionally, it streamlines the processes and ensures compliance. Whether it is employee onboarding forms, invoices, expense reimbursement forms, reports, and many more, can be digitally filled from anywhere.
Time and Attendance Tracking
Workforce management systems provide managers with insights about their employees and assist them in managing work hours to enhance productivity and control costs. Using an online attendance management system, through dashboards, will provide insights, and real-time records of present and absent employees with their total working hours. Even employees can view their attendance records and track them.
Aids Employees in Developing Skills
In a survey done by Monster the results show that 72% of employees feel that their managers don't care about their career growth. Implementing employee management systems will help employees to grow in their roles. Using them, managers can offer training through one-on-one or online programs, conduct seminars and conferences as per the employee interests, and provide training materials as per employee's needs. Keeping employees motivated for their career path will have a positive effect on their productivity, morale and, lastly, benefit the organization.

Strengthen your Management System
Uplifting your approach to employee management will lead employees to unlock their full potential and boost organizational success. In addition, the way you manage and treat your workforce plays a big role in your corporate image.
factoHR, our human resource management software comes with features that ease each and every aspect of employees' journey, from onboarding to offboarding. It will also facilitate the formation of next-level employee management strategies by providing actionable insights.