Table of Contents

When we talk about the retail business, small scale retailers always prefer to manage their payroll in-house which leads them to certain challenges like feeling overwhelmed with a huge pile of paperwork, exhausted in processing payroll timely and so on. With a mindset of efficiently calculating payroll, it is very easy for them to lose focus on the primary goal of any business that is generating revenue. This can result in less profit margins and increased frustration.
On the other hand, the business landscape is becoming complex and congested which explains the need for precise payroll processing in retail sectors. Our article will give you a list of top 5 payroll software for retail businesses to help you overcome these challenges.
Importance of Maintaining Payroll Records in a Retail Business
1. Legally Compliant for Your Business
Properly maintaining payroll records in your retail sector must align with the Indian laws and regulations. Implementing a robust payroll software that is up-to-date with laws and regulations helps accurately in recording employee salary records and provides timely tax filing.
2. Streamlines Monitoring of Employees Remuneration
Looking at a payroll data of any employee provides important information like their entitled salary, deduction and taxes. Considering the fact that salary costs mostly represent most of the highest expenses for retailers, it is essential to closely keep a track of these expenses for effective budgeting. These budgets will provide you with an insight into your retail sector's upcoming costs and profits.
3. Reduces the Risk of Payroll Inconsistencies
Maintaining payroll records carefully can prevent discrepancies and data duplication that may land a legal trouble to your retail business. While an audit trail, these records can be immediately accessed and ensures a smooth review process.

List of Top 5 Payroll Software for Retail Business
Having a robust and flexible payroll software for Retail Business becomes necessary for its optimized productivity and efficiency.
1. factoHR
factoHR simplifies your payroll tasks with its flexible formula based engine, and integrated software. It is highly efficient HR software and possesses a user-friendly interface. Its high security protects employees' critical information and provides automation in various payroll tasks like calculating employee's compensation in terms of salary, deductions and tax filing. Salaries are directly deposited into employees' bank accounts. Furthermore, its ESS portal allows employees to view and download their payslips, IT statements and other relevant information anytime and anywhere from their phone and desktop.
Switch to factoHR advanced and secure system which aligns to every needs of your organization and benefits your intricate payroll processing. Book a demo to know more about it.
Features
| | |
| --- | --- |
| It offers a centralized database system where all employees' records can easily be tracked and provides a single source of truth. | Provides auto arrear calculation feature which automates or simplifies retro changes and calculates statutory deductions automatically. |
| Payslip can be customized and downloaded from its ESS portal, which shows detailed calculations like Arrear and YTD. | Customized reports can be built using a custom report builder as per organizational needs. |
| Performance linked payroll solution tracks the performance of an employee based on their KPI and the salaries can be fairly paid. | It generates all kinds of statutory reports and forms, giving you better analytics. |
| Its off-cycle payroll management simplifies other payments like FNF other than the regular ones. | Its DIY platform allows employees to request a loan advance with auto EMI deductions. |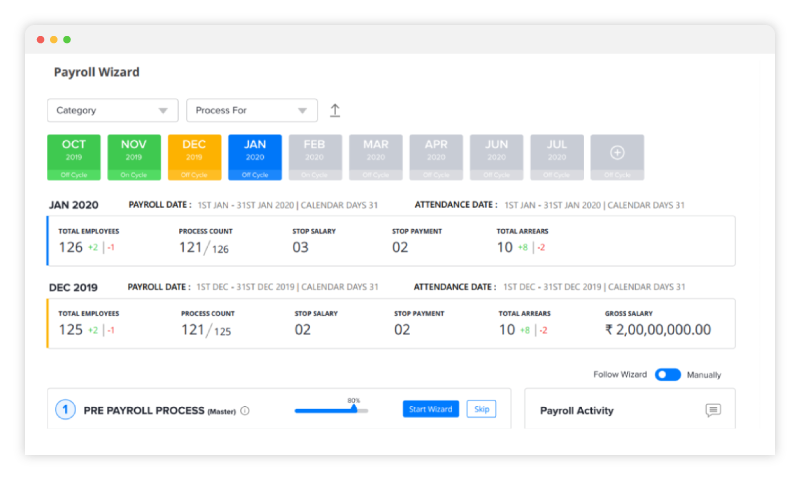 Benefits
Its built-in integration provides integration with its internal modules like attendance, leave or expense as well as with external systems including banks (SAP, Oracle, etc) and accounting apps like Tally, Quickbooks, etc.
Its wizard driven engine facilitates easy payroll processing, thus saving time and cost of the HR department.
Its top-notch mobile application provides employees satisfactions and fosters a transparent work culture in your organization.
Pricing
Check out their pricing and book a demo. factoHR's offers 4 amazing plans – Essential, Advance Velocity, Bolster and Performer with several additional features like geofencing, contactless attendance, ticketing, selfie punch and many more.
What Others Say About Us


2. Netchex
Netchex is an affordable and reliable payroll system for retail business that helps you pay your employees in a quicker way. Not only it provides smooth payments but also offers a complete flexibility to your every payroll needs and allows you to file your taxes automatically.
Netchex guarantees accurate and timely payroll processing with its features like automated tax filing, direct deposit, standard checks and paycards to meet the preferences of your workforce. To know more about Netchex, start using their demo version now, you would start loving it!
Features
Seamless Integrations
Flexible Pay Options
Most Valuable Payroll
Accounting for Accuracy
Tax and Compliance
Automation and Reporting
3. Papaya Global
Papaya Global is a premier SaaS platform that offers cutting-edge solutions for all global payroll calculations. It is an AI-powered system that ensures you the guaranteed compliance and fully integrated system.
The uniqueness that sets Papaya apart from others is its smooth payroll transition globally and complete privacy to employee records. Considering Papaya's advanced feature experience, you must try it once and will surely appreciate its functioning.
Features
Payroll wallet
Bank-level Regulation
Instant Payment Rails
One-click Invoice approval and Payment System
GDPR and SOC compliance
Treasury Management Flexibility

4. Paychex
Paychex Flex is your go-to-solution for efficient and smooth salary management. It fits all your business needs and ensures effortless payroll services and tax management. It gives automation to all your basic payroll features like new hire reporting, seamless integration, household basic support, a dedicated HR and can be done within just two clicks. Moreover, it always keeps you up-to-date with the latest laws and regulations with the help of their compliance experts.
Features
Run Payroll on the Go
Customize Earnings and Deductions
Multiple Pay Options
Analytics and Reports
Resource Center
Employee Self-Service
5. Wallet HR
Wallet HR provides a robust software solution for efficient payroll services. With its flexibility, you can configure salaries of as many employees as you want at a time like a breeze. This makes intricate payroll processing much simpler and easier for the HR team.
Additionally, the software provides a dynamic data wizard that empowers users to easel generally any kinds of payroll reports. You can rely on Wallet HR for its enhanced accuracy, expedited payouts and user-convenience.
Features
Core-HR Integration
Data Generation
Multiple Salary Structures
Financial Management
Payslips
Full and Final Settlement

Wrapping Up
Given the fact that the retail business, with its unique workforce and varied operational hours, handling payroll manually cannot efficiently fulfill the specific needs of retailers, from handling hourly wages to seasonal staff urges. However, implementing an automated payroll software for retail industries facilitates them with seamless salary management,ensuring accuracy and timely compensation to every employee. Hope this article will help you find the right one for your business needs!