Stop Manual Attendance Management: Benefits of Using Cloud-based Payroll Systems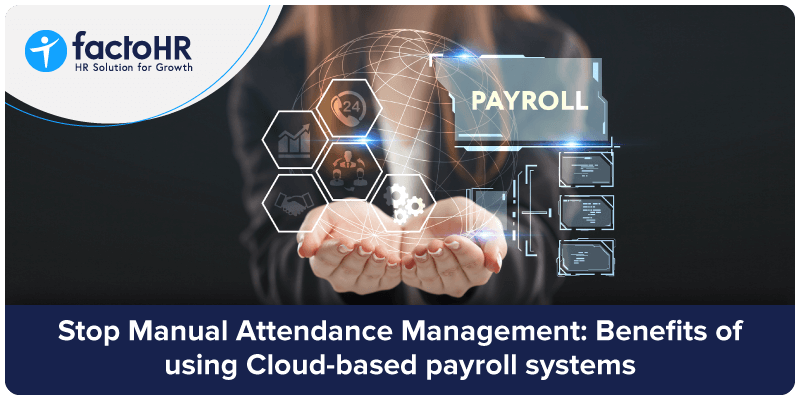 Organisations have traditionally managed attendance by manually collecting data via a paper register, an Excel sheet, or an enterprise application. All these methods are manual and require employees to input data by signing the register or entering data in the Excel sheet or the app. That data usually needed additional verification and approvals by managers and HR teams. The data along with leave data had to be converted into a usable format before uploading to other HR systems including Payroll. This cumbersome process came with a huge overhead of effort and cost due to frequent inaccuracies in payroll calculations.
​Timely and accurate payroll is one of the key factors contributing to employee satisfaction and a better workplace experience. For that reason, large organisations prefer outsourcing the entire payroll process to third parties who are experts in this area. However, it is a huge overhead for small or medium-sized companies to simply outsource their payroll process. Many companies have understood that automating their employee attendance management in-house is a highly cost-effective way to get accurate data. This in turn will help run the Payroll also accurately.
​In fact, many small and medium-sized companies have discovered that investing in an integrated cloud-based HR software system has many benefits that outweigh the initial costs in the long run.

Why should you Stop Manual Attendance Management?
Sometimes companies set up a manual process when there are only a few employees (under 10). Since everyone is busy doing their bit to help grow the business, there is little attention to HR processes. Most of the time HR department/professionals are busy trying to make everything work and ensure a smooth operation by performing the following tasks manually:​
Monitor attendance data from the source (physical book/Excel sheet/standalone tool)
Ensure the records are approved timely by respective managers
Correct the records based on managers' or employees' request
Copy/key in every record individually from the source data to a file they need to use for payroll calculations.
​This continues until something breaks and impacts payroll or leave management.
​Instead, companies should look to automate the attendance management process at the earliest possible.

What are the Benefits of Automating?
​A well-integrated automated attendance management system directly and positively impacts payroll processing for any organisation. The significant impact is as below:
Better tracking of Overtime, Late-comers, Early-leavers, etc. to ensure accurate payroll calculation as well as taking appropriate action for non-adherence to work hours.
Better tracking of absentees enables timely intervention to ascertain any personal issues employees going through and provide help as per policies.
Better tracking of leaves and paid time off, and ensuring compliance with company policies.
Increased accuracy and reliability in tracking employee hours and attendance, as the system can eliminate errors that can occur with manual tracking methods. Automation can reduce human errors and provide an accurate time-tracking mechanism, which can lead to payroll calculations being more accurate.
Automation can reduce the need for manual data entry and reconciliation of time sheets. This will Improve efficiency driving cost savings. Automating manual processes can save time and reduce the risk of introducing errors while data entry or calculations.
As sensitive employee data can be stored in a secure system, rather than on paper, data security is increased..
Improved compliance with labour laws and regulations, as the system can ensure accurate tracking of overtime, breaks, and other legal requirements.
Increased visibility into employee attendance and productivity, as the system can provide real-time reports and analytics on employee hours, absences, and tardiness.
Simplified payroll processing, as the system can automatically calculate and export employee hours to payroll systems. Many automated attendance management systems can integrate with payroll systems, allowing for the seamless transfer of data and reducing the need for manual data entry.
Provides the ability to track remote employees and monitor their attendance from anywhere, by using web-based or mobile-based systems.
Automated notifications for missing punches, late-coming and early leavers, thus increasing the accountability of employees and reducing the burden of management.
It simplifies HR processes and provides employees with a great experience as they feel they are in charge of their data and compliance.

Conclusion
​Overall, automation together with an online HR system can help streamline payroll processing and provide more accurate, efficient, and reliable data for payroll calculations. An integrated HR system can ensure straight-through processing of the data along with storing it in a secured environment. Procure an online cloud-based HR system at the earliest so that your company's efforts can be focused on improving and expanding core business.