A Guide on Human Resource Strategic Planning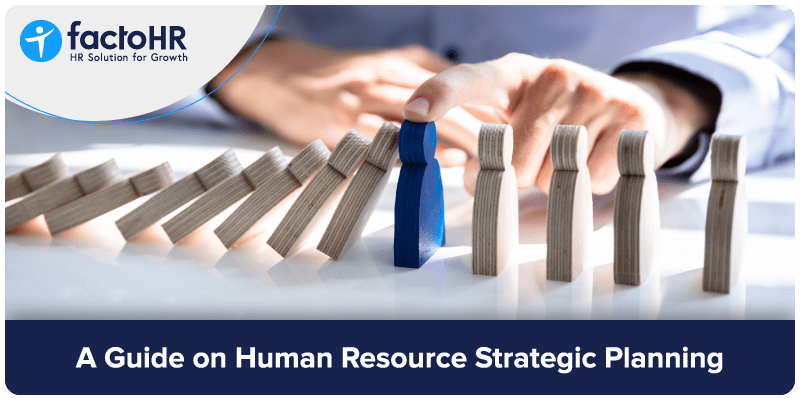 When thinking about the future of your organization, there are a bunch of variables that will affect profitability and productivity, the most important of them is the skilled employees that build your team. By creating a human resources plan, you can accurately strategize, streamline your HRM function, utilize and maintain the members of your team. This article will explain you what human resource planning is, list of steps to develop an HR plan, and the challenges of the process.
What is Human Resource Planning?
Also known as HRP or workforce planning, it is a continuous process of forward thinking to allow the organization to utilize and maintain its most valuable asset, i.e, skilled employees. Organizations use these plans to accommodate various tasks and goals, such as:
Promoting or demoting employees from their positions.
Dealing with conflict and unexpected employee absences
Attracting and reaching skilled employees to join their organization
Training and rewarding employees
The process of human resource planning can be a bit tedious, but it is a worthy investment that allows organizations to remain productive as well as profitable. HRP also offers other benefits such as:
It promotes growth and the longevity of the organization.
It helps organizations to retain their skilled employees.
It enables companies to maintain a competitive advantage.

Steps to Develop a Human Resource Plan
Once you have known the meaning and importance of HRP, you will be eager to develop your own HRP for your organization, Here are some steps to assist you in developing your own human resource plan.
Identify the Organizational Objectives
If you are planning for staffing that your organization will need in the future, then first you will need to Identify the overall objective of your organization in terms of sales, expansion, finance, marketing, and production.
Assess the Current HR Capacity
You have to create a checklist of your organization's current supply of human resources. In other words, create a list of your employees on the basis of their positions, benefits, performance, qualifications, and skills. If your organization uses an cloud based hr software, then most of this information can be gathered from there itself. Once this information is gathered, you can analyze the data to assess the organization's ability to fulfill certain job requirements.
Estimate Future Workforce Requirements
While considering variables like turnover, retirements, promotion, and transfers, the HR department should try to focus on forecasting the skills and staff needed to meet future business goals and industry requirements.
Conduct a Gap Analysis
Companies use gap analysis to compare the existing workforce with the future workforce requirement and if there is a gap between these, then HR prepares a plan to fill this gap through various strategies. A gap analysis includes:
Identify the current situation
Determine the preferred situation
Verify the gaps between preferred and current situations.
Create solutions to move from the current situation to the preferred situation.
Develop a Plan According to Organization's Strategies
Now that you have completed gathering and analyzing all the data, you can create a plan to help your organization meet its need and goals. Here are some example strategies to help you develop your plan:
Hiring new employees
Training existing employees
Outsourcing tasks to external resources
Restructuring current staff
Collaboration with other companies
Implement the Plan
Once the plan has been developed, then it's time to implement it. This process requires cooperation from all other departments and employees. After the plan is implemented, you need to closely monitor its effectiveness by continuously troubleshooting and addressing any issues.

Challenges of Human Resource Planning
There are so many benefits for developing human resource strategies, but there are some challenges to it too that can potentially disrupt your process, those challenges are:
The Process can be Time-Consuming and Costly.
Even though HRP helps in countless activities, it does require a considerable amount of time, making it a costly process.
Planning Requires Accurate and Current data.
There is a lot of data to be collected and analyzed in this process, but old and inaccurate data can make it difficult for organizations to go ahead with the planning.
Unpredictable Changes
There are many unpredictable factors that can affect the planning process, like technological changes, market fluctuations, employee turnover, absenteeism, and seasonal employment.
Employee Resistance
Some employees may struggle to adapt according to the new plans because of the changes that they face in their tasks and overall workload.
Depends on Forecasting
HRP is heavily dependent on forecasting and includes making predictions and assumptions, which makes it a risky process.

Conclusion
Developing a strategic HR plan is a vital investment to help your organization achieve its goals, But in order to develop your strategic plan, you must know how to create and implement it. Now that you have already read our guide on Strategic HPR and know everything about it, you should try to implement the same in your organization.