Virtual Corporate Event Ideas To Build Strong Relation During Pandemic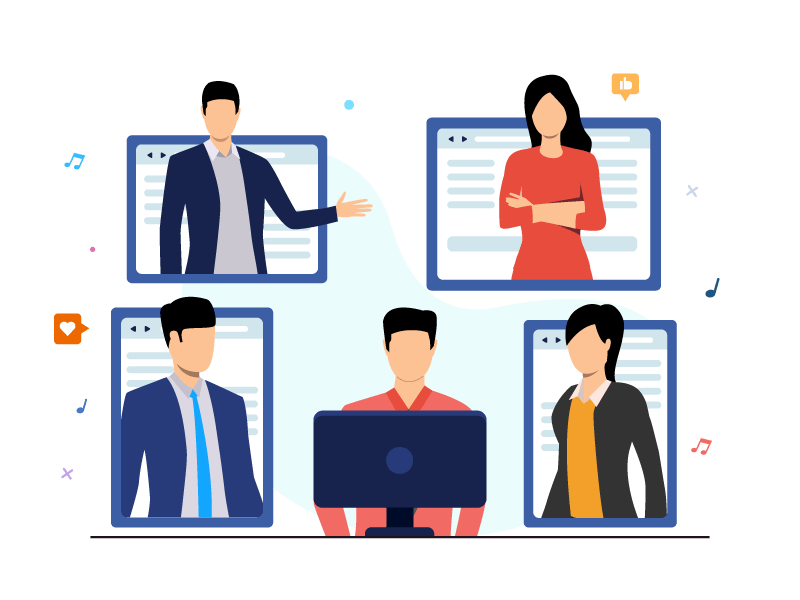 The working pattern of the corporate world rapidly changes with technological enhancement. And as we know, the year 2020 was very hard for the growth of the companies as it hurts the development of the employees too. But the automated and technical tools help the employer build a good relationship with the workforce virtually and allow them to boost employee morale and productivity. Following are the virtual events that improve the maturation of an organization joyfully and enjoying way;
Virtual Fun Event Ideas
During rigid working hours, relaxation time is essential to boost employees' self-esteem and improve performance.
Real-time Illustration
At the onboarding time, the human resource manager gives the real-time illustration of any employee or employer to a newly joined employee, as a part of their HR management. After that, the selected employee/employer gives the presentation, i.e., graphical, audio, funny video, etc., to boost the employee's morale. After compilation of the presentation, all uniquely give their self-introduction and welcome the new employee with lots of happiness, which is essential to make the new employee comfortable.
Live Game Or Competitions
As a part of the event, an employer can arrange live gaming or competition between the employees. For example, they can arrange the online song Antakshari and build a team of employees working in different departments of an organization. They can also schedule online treasure hunts, buzzer round, truth and dare games, etc., in a team or individual. These tactics help employees to boost their morale and self-confidence in the employees.
Virtual Concert
It is true that before the pandemic, employers arrange the entertainment sessions for employees. Still, during remote working, it is not acceptable for the employers to forego the entertainment session for the employees. During the work from home time, they can arrange the online concert of a comedy show, dancing show, singing performance, magic concert, or cooking concert as a part of relaxation. You can invite a guest for the same and between the show you can allow them to boost the motivation of the employees during the hard times.
Health And Well-being Activities
Many employees suffered from conceptual and substantial well-being during the pandemic. It was very evident during the attendance, since it reveal the irregularity of the employees. Health and well-being activities are essential to boost their motivation, attendance, and their performance. The employee well-being activities include meditation and a small relaxation break during rigid working hours. It also increases small group discussion where they discuss their personal and professional lives with their colleagues.
Build Impressive Environment
Arranging a meeting with the team or continuously getting in touch with the employees while working is essential to complete any task effectively. But sometimes, they feel that the employer watches them because they do not trust them. You can arrange an informal tea meeting in the morning, afternoon, and evening. In the morning, the employer assigns a task to the team; in the afternoon, they check the status of the work, and at last in the evening, the employee submits their work to them. There is how the informal meeting refreshes the employees and boosts their confidence.
Attract Star Talent
The talent show is one of the favorite games of the employee, where the employee arranges different hobby games like rangoli, drawing, handwriting, storytelling, cooking, dancing, singing, drama, movie dialogue translation, comedy, etc., and select one male and one female winner from each competition and give them a hashtag like a dancing king and dancing queen and so on. These hobby games always work and increase their self-esteem in hard times.

Virtual Social Event Ideas
Virtual social gathering to build a strong relationship between the employees is essential during the COVID-19 pandemic. Following are some social events that help to boost an employee's performance.
Cocktail and Coffee Party
Virtual cocktail and coffee party allows employees to share their personal and professional life with their colleagues and help them to overcome stress. For example, while creating a working hours policy, an employer must add a five or ten minutes coffee break in the afternoon, which gives the employees relaxation time and increases their productivity and creativity.
Trivia Night
The general knowledge quiz games are helpful to boost employees' cognizance and also permit them to show their hidden talent to their colleague friends. And by dividing them into a team also helps to build a strong relationship between them.
Online Murder Mystery
The online murder mystery with dinner helps employees to take a break into their everyday rigid working life. In this game, all are gathered through the video call, i.e., zoom meeting or skype group video call, and after that, the employer sends a text message to one employee, and all are guessing who a murderer (to whom the employer sent a text message) is? It helps employees to reduce their stress and enjoy the best dinner party with colleagues.
Question Hunt
Like a treasure hunt, a question hunt helps employees to know more about an organization's history, present, and future. Firstly, employers share a video/short film on social media, and all employees who want to play a game are supposed to see the short film. Then, at the time of playing a game, an employer builds a team department-wise or randomly and asks a question, and the team, if they know the answer, press a buzzer if they know the correct answer or else if they give a wrong answer, their points will be less to the total.
Movie Night
One of my favorite events! By arranging a google meet or zoom meeting with screen sharing, the employer shows a movie to the employees. In this game, the film must be motivated or knowledgeable so that it helps employees to boost their confidence and morale.

Virtual Fundraising Event Ideas
Fundraising is essential to cope up with the lockdown situation during the pandemic COVID-19. Following are some fundraising events that help employers;
Hashtag Donation
Permit your employees to collect sponsorship or donations for the company, especially for social activities. Give them a range of collection amounts and time to manage finance. And if they achieve their target, give them thirty or forty percent of the payment as a price. This activity builds their connections with others and promotes the business efficiently.
Head Shave And Other Dares
At a virtual gathering, this game is unique and helps your employee earn pocket money with fun and do something crazy. For example, two players dare each other for five hundred rupees, one of them tells another one to throw the vessel from the kitchen, and if they do the same, they win the five hundred rupees or else lose the opportunity.
Activity-A-Thon
Marathon and other healthy games are not allowed as per government norms during the pandemic, so, at the time of lockdown of pandemic COVID-19, vertical yogathon helps boost the employees' mental health. In this competition, the employer gives a monetary reward to the employee who performs their best.
Social Media Challenge
Social media platforms like Instagram, the most trending and attractive one, use it for the challenge. In this game, the employer gives a specific time to an employee to create a video of their hobby and send it to the handler, and they post a reel on Instagram and based on a post like a share, comments, and engagement, the employee gets the prize in terms of money. Also, the company's social page gets more followers and earns from the same.
Video Game Challenge
It is a simple game that includes an online game tournament and entertains the employees as it ensures a scenario. For example, web development, i.e., an IT company is a million-dollar earner in the automated era; this online tournament consists of an entry fee that will help the company to earn extra.

Virtual Networking Event Ideas
As we know, the network is the net worth; thus, these events help employees build their relationships with the employees who are working in the same organization but in a different department.
Speed networking
It is not a kind of game, but this event helps employees make connections as much as possible. In this event, random ten to twelve attendees transfer to a room where they can debate any topic and build an internal relationship virtually.
Birds Of A Father Breakout Sessions
It is quite an exciting game, I know. In this game, attendees are paired into two, and one of them needs to guess the sentence that another one acts using postures and gestures. It helps to understand the body language of the employees.
Gamify Connection
Gamification is one of the best ways to engage employees with fun virtually. These types of remote employee wellness programs help to increase employees' engagement and performance, and simultaneously, it increases the firm's profitability.
Pre-event Chat Rooms
While you will conduct any event, the informal chat group is essential to discuss the possibility. Again, this is not a game or any occasion, but it helps the workforce know each other better.
Audio Discussion
Virtual audio discussion through a conference call or a WhatsApp call helps to build a good relationship between the employees during the remote work situation.

Virtual Team Building Ideas
Team building events play a crucial role in productivity of remote employees. It enables the utmost feeling of still being connected with co-workers despite the distance.
Happy Hour Or Make Beer
In this event, employers arrange the food's online lunch or dinner party, including lots of cheese and beer/cold drinks (only homemade food). During lunch/dinner time, all share the food recipe and discuss something valuable, which makes their team stronger.
Picture Sharing
Again! One of my favorite fun games. In this game, the employee submits the funniest picture to the employer, and they will share the album in a virtual gathering and select the most humorous image. These types of games reduce employees' stress and allow them to work freely with other teammates.
Fact Guessing Game
It is one of the most entertaining games when two employees are in a pair, and one of them helps another one to guess a movie name, song name, etc., by acting something. These events help employees build stronger relationships with each other, which increases their productivity.
Birth Map
In this event, the employer allows the team members to pin a place on the map where they were born and after that, they give a specific time to tell a story about the beautiful place they were born. These types of events improve their communication skills and also help them to know deeply about their colleagues.
Personality Test
In this game, the employer sets a question paper that defines the employee's personality, and they are supposed to attend the online exam to check their personality.
Icebreaker Quizzes
It is just a five minutes event that the employer used to do before starting the formal meetings with the team. These types of games increase employees' enthusiasm.

Conclusion
During a hard time of the pandemic COVID-19, it is the employer's responsibility to boost the employees' morale and increase their engagement. The above-discussed virtual events help the superiors improve employees' performance and simultaneously enhance the firm's profitability.