What is HR Technology and how Does it Help an Organization?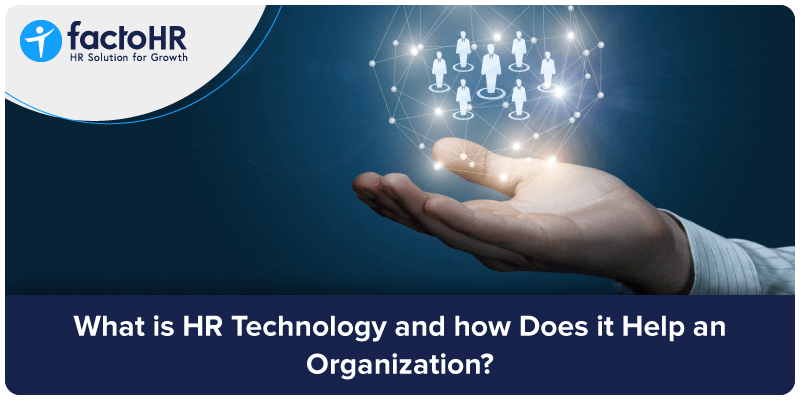 Since the dawn of mankind, Human has kept evolving, trying to improve everything they do with the intent of performing each of their activities faster and more efficiently, and now It has become a habit for us to keep improving everything we do with the use of new innovations and technology.
Nowadays, companies are trying to reach at their peak by performing their functions efficiently and reducing the costs to gain more profit, and that's where HR technology is helping them. With the use of new HR technologies, companies are performing their functions much faster and saving a ton of money.
People may think that technology is taking employees' jobs and increasing unemployment, but it's not the same case with HR technology. It is not replacing any employees, but instead it is replacing the way employees work. For example – why would any organization let their HR use a manual error-prone process of calculating and processing employees' salaries when they can just provide them a cloud-based payroll software to calculate and process salaries with 100% accuracy and no errors?

What is HR Technology?
Human resource technology refers to different kinds of software and hardware used to automate and simplify all HRM functions and operations. Traditionally, HR was seen as a person who did all the paperwork and calculation related to an organization's every human extensive activity, but with time they got assistance in their work with HR technology. It removedf all the repetitive tasks to save HR's time and organization's money.
The HR technology industry boomed during the covid 19 pandemic era, the obvious reason for that is the lockdown and the necessity of remote working. At that time, organizations realized the importance of HR technology as it allowed them to keep each and every function of the organization active remotely. It helped many organizations to not get out of business and employees to not get out of employment.
How HR Technology Can Help an Organization?
HR Technology uplifts an organization from the old physical and manual era to the new digitized and automated era. It revolutionizes the way organization works. It saves their time, effort, and most importantly their money too. Look at the below features to know how exactly the HR technology will help an organization: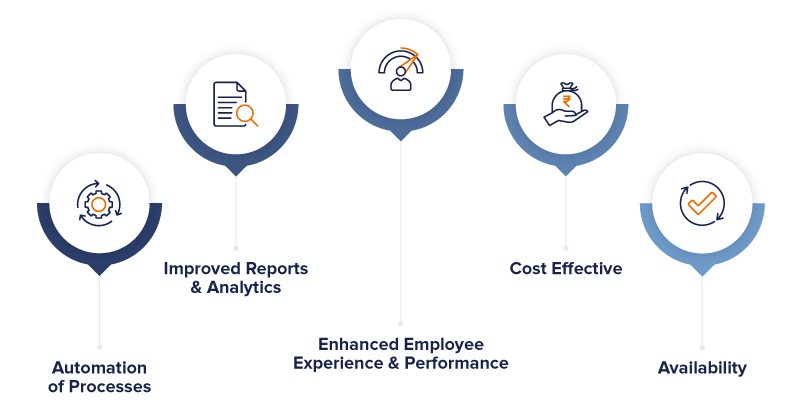 Automation of Processes
HR's most of the time is spent on managing hr processes like recruitment, employee onboarding, attendance management, payroll processing, etc. These processes can be time-consuming and hinders the HR team from focusing on their employees and other requirements. That is why an automated HR software is necessary for the organization so that all the processes can be digitalized and HR can focus on other important issues.
Automation of processes also helps in reducing the errors that could otherwise occur when done manually, so automation of processes is the way to go if you want 100% accuracy in your HR processes.
Improved Reports & Analytics
When it comes to data, HR is the main man in any organization. HR collects, stores, and analyzes data related to all employees. This data includes employees' basic details, their attendance, performance, and payroll. If this process is done manually, then it can be time-consuming and error-prone sometimes. HR technology helps in storing data on the cloud in an organized way, so whenever there is a need for data then it is shown in the most to least relevant format.
HR technology provides customized and configurable reports, like productivity reports and employee satisfaction reports which are helpful while evaluating employee performance. Vacancies reports and cost of recruitment reports which are helpful during recruiting new employees. Salaries reports and absentees reports which are helpful while paying the employees. Apart from all these, it also provides a customizable, colorful and informative dashboard for all the data to know and show data in an entertaining way.

Enhanced Employee Experience & Performance
The HR solutions are designed with the intent of making it user-friendly and impressive so that whenever any employee uses it they feel overwhelmed and excited. The HR technology provides employee self-service (ESS) to the employees with the use of the ESS portal, employees can make timesheet entries, download their salary payslips, request for leaves, request for loans, request for travel expenses, and much more to enhance their work experience.
The HR tech helps the employees to connect with each other, it increases employee engagement. With the performance evaluation software the employees' performance can be reviewed and rewarded accordingly. Clear expectations can be explained, which leads to employees' better performance.
Cost Effective
Some people think that HR technology softwares are unnecessary and a complete waste of money, but they are totally wrong, actually it's quite contrary to that. These solutions do cost some amount of money, but it also saves money in infinite ways. Firstly, by storing and organizing all your HR data, it saves the organization's cost on certain materials and employees needed to store and organize data manually. Secondly, whenever any employee leaves, it costs a lot of money to replace them. According to a study done by benefitsnews.com it costs as much as 33% of an employee's salary to replace an employee who is leaving. With the help of HR technology, that cost can be avoided because it increases employee retention, so the cost of hiring a new employee is saved.
Thirdly, it does all the processes without any error compared to manually done processes which sometimes leads to the loss of some money. These were the only ones that saved the costs directly, but HR technology saves money indirectly too, like it improves employees' performance which can be seen as a profit for the organization. It saves the HR and organization time which is much more important than money.
Availability
One of the biggest advantages of HR Technology is that it doesn't have any physical boundaries, and when the HR technology is applied in any organization, it makes that organization physically boundaryless too. It provides everything an organization needs to allow their employee to work from remote places. Whether it's recording employees' attendance or evaluating remote employees' work, or paying employees' salaries, it has got it all covered.
Remote working is a new way for organizations to grow and expand itself rapidly as it allows them to hire new remote employees without the need for their physical location requirement. It saves them a ton of money and gets more of their work done. It's a golden opportunity that no organization should avoid.

Conclusion
HR Technology has revolutionized every other industry. It has helped the industries in their good as well as tough times. It has acted as HR's savior for organizations, performing the processes at the next level to save the organizations and HR's time, HR technology is still a new concept and there isn't much information about it on the internet either, so we hope that we have taught you everything there is about HR technology through this article, and we are very excited to see you implement it into your organization.