Challenges That Hinder Effective Onboarding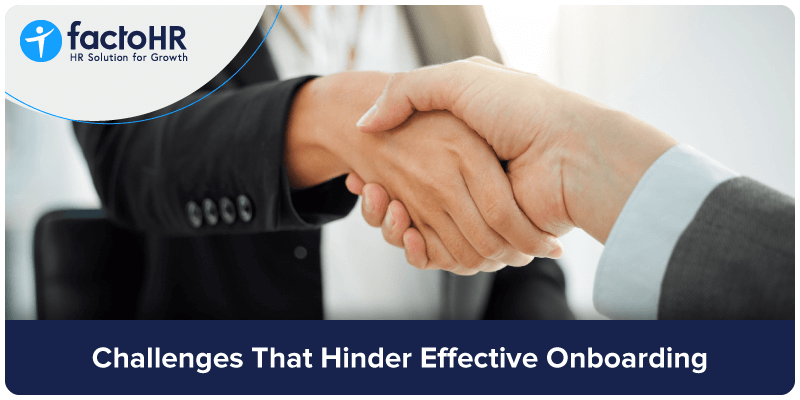 Organisations today are facing several challenges when it comes to onboarding new employees. Having a structured plan for the onboarding process is one of the best ways to overcome these challenges. Onboarding is one of the first interactions the employee has with the organisation and it is an opportunity for the organisation to create the best impression of what lies ahead for the new employee. A well curated process makes the new employees feel welcome and valued. How quickly the new employee engages in their role is another direct consequence of a well thought out and executed onboarding process. It need not be a one time exercise on day 1 of employment but can spread over the first few days to weeks.
Studies have shown that a sound onboarding program can boost the retention rate by 82% and employee productivity by 72%.

Importance of Onboarding
Getting employees formally onboarded helps them to integrate with the company and ease into their new role. It validates an employee's choice to join the organisation and forms an integral part of their journey in the organisation. Onboarding is not just about completing some paperwork and handing over the necessary equipment or a mere explanation of their role in the organisation. It demonstrates the company's culture and helps the new recruits feel a part of the team even before they have actually begun work. A well thought out process can show each new employee how they can be better engaged and what they can gain from the company in order to advance their career.
Studies by Gallup show that the employee turnover rate can be as high as 50% in the first 18 months of joining. Onboarding is an effective way of showing new recruits that they are respected and valued, thereby increasing retention.
The onboarding process typically involves:
Discussing company policies
Terms and conditions of employment
Duties and responsibilities
Introduction to the IT system
Introduction to colleagues
Discussing rights and privileges
Reporting structure

Employee Onboarding Challenges and How to Overcome Them
This is as much an emotional process as a material one. If a new recruit is left feeling lost or overwhelmed during onboarding it is likely they will look for a change in workplace very soon or might take longer in getting up to speed with their work. There are several roadblocks that many organisations face when designing the whole program. Listed below are 6 common challenges and how to overcome them:
Information Overload
It is normal for the new joiners to feel overwhelmed. The reasons could range from uncertainty about the paperwork to be submitted, apprehension about the work culture at the new organisation, having to learn names and/or designations of peers and seniors and so on. Overloading them with information can only stress out the new employees.. The sharing of information should be gradual and spread over a few days. This can be overcome by digitizing and creating online modules so that the new recruits can sift through the information at their own pace..
Lack of Role Clarity
One of the most common challenges faced by many new employees is a lack of clarity about their role in the organisation. The new recruits could get disappointed if they feel that there is a disparity in what they signed up for and the actual job they are assigned to do. It is the job of HR to ensure that the concerned team leads/managers meet with the new staff and discuss their role in the organisation. Understanding their role correctly while onboarding avoids disappointments later, increases engagement and reduces turnover rates. A good HR software helps organisations streamline the entire onboarding processing.
Failing to Educate About Company Culture
Most candidates do their research to understand the pulse of the organisation, its work culture, their competitors and unique selling proposition. While this gives them a broad idea, it cannot replace first hand information that can be obtained from the company itself.
Without a proper introduction to the organisation it will be difficult for the employees to align themselves with the culture and working of the organisation. Educating new comers about the company can be achieved through videos, booklets, websites, podcasts and so on. Giving a quick office tour helps to familiarise with some aspects of the work culture.
Lack of Employee Engagement
The quality of engagement with their teams in the beginning has a far reaching impact on new hires. Low engagement leads to low productivity and lesser than average interaction with peers. If the respective department managers do not attempt to build engagement among the new joiners it can give rise to several misunderstandings leading to a breakdown in communication and workflow. A volunteer can be assigned to help ease them into the role they are expected to play in the company by answering any questions they might have or help them find the information they seek.
Not Providing Proper Training
Many organisations expect new employees to step into their roles as soon as they come on board. This may not have the desired effect since the new recruits are not completely familiar with the working of the organisation. This leads to employees lacking a sense of direction and not being able to perform to their best. Nominating employees for various training programs can help them get up to speed as to what is expected of them. Curating courses based on the needs of employees with respect to their work enhances their skills as well helps to create a positive image in their mind about the organisation.

Not Taking Feedback From New Hires
Improving the onboarding process is a continuous practice. This can happen only when the HR department understands how the current process is faring. They need to understand which aspect is doing well and which part requires refining. Seeking ample feedback from new recruits is the best way to bring in changes. Including questions such as what aspect they enjoyed the most and what part requires betterment or what additions can be introduced helps to gain perspective on the existing onboarding process. The data so gathered can be used for making the necessary changes.
Onboarding is a crucial HR process that is well worth investing time in order to reap long term benefits for the organisation. It should be carefully conceptualised and regularly reviewed for its success.