Expert Tips for Crafting an Outstanding Job Description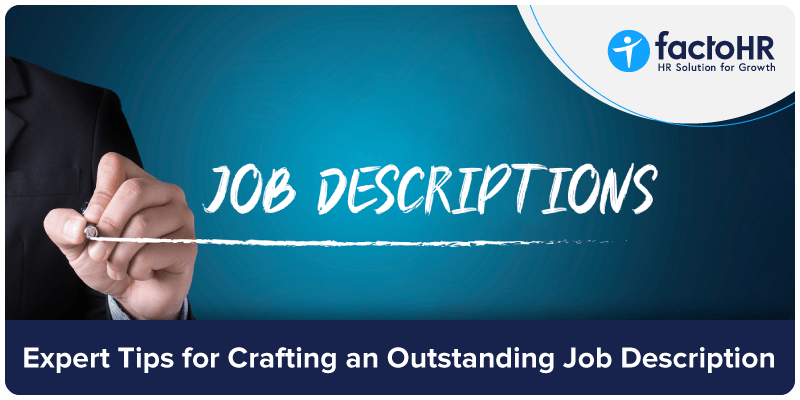 Sarah is a recent graduate who is looking for her first full-time job. She comes across a job posting for a marketing assistant at a small tech company. The job description sounds interesting and the company seems like a great place to work, so Sarah decides to apply. When she arrives at the interview, Sarah is surprised to find that the job is nothing like the job description described. The marketing assistant role turns out to be a low-level administrative position with little opportunity for creative work or career advancement. Sarah is disappointed and decides not to pursue the role.
Meanwhile, the tech company is struggling to fill the marketing assistant role. They receive a lot of applications, but most of the candidates are not a good fit for the position. The company ends up spending a lot of time and resources on the hiring process, but they are unable to find a suitable candidate.
As a result, the company's marketing efforts suffer, and their reputation takes a hit. The poor job description has caused a lot of problems for candidates like Sarah and the tech company.
Tips for Crafting Job Descriptions Like an Expert
If you're looking to hire the right candidate, having a good job description is crucial. It is one of the most important recruitment documents that a company should be having. But what entails a good job description?
Keep a job description checklist handy
Keeping a job description checklist handy can help to ensure that you include all the necessary information in your job descriptions. A thorough and complete job description can help to attract the right candidates for the job and set the stage for a productive and successful working relationship.
In addition, using a checklist can help to save time and effort every time you need to create a new job description. This can be especially useful if you're creating multiple job descriptions at once or if you're responsible for creating job descriptions on a regular basis.
For your convenience we have attached a job description checklist at the end of this article.

Emphasise on inclusivity
By explicitly stating that you are an inclusive and welcoming organisation, you can signal to diverse candidates that they are welcome and valued at your company. By demonstrating a commitment to inclusivity and diversity, you can show that your organisation is socially responsible and values all employees and stakeholders. This can help to enhance your reputation and build trust with your employees, customers, and the broader community.
Another important factor that can help to set the tone for the role and the company culture is the language you use. By using language that is accessible and welcoming, you can give candidates a sense of what it's like to work at your organisation and whether they would be a good fit.
Use language which is inclusive of all genders and races. Edit your content well before publishing.
Describe your company and its culture
According to the Workplace Trends 2023 report by Glassdoor, company culture is valuable in both attracting and retaining employees, as a way for employers to further distinguish themselves from their competitors and attract top talent.
By including information about the values, mission, and working style of the organisation, candidates can get a sense of what it's like to work at your company and whether they would be a good fit. This can help to attract candidates who are aligned with the company culture and who are more likely to thrive in the role.
Describe what the job entails in the coming 3, 6 and 9 months
This can give candidates a sense of the long-term direction of the role and the company. By providing information about what the job will entail in the coming months, candidates can get a sense of the growth opportunities and potential career path within the organisation.
Make it creative and fun
A creative and engaging job description can stand out from the competition and be more appealing to candidates who are looking for an exciting and dynamic role.
Incorporating visual elements, such as photos or graphics, can help to make the job description more visually appealing and engaging.
Consider using storytelling techniques to bring the job description to life and make it more engaging.
Use creative headings to hook the readers.
Use your own voice and tone to make the job description more authentic and engaging.

Job Description Checklist
Here is a checklist of all the points you need to include in a job description to make it complete.
Job title
Clearly state the job title in the job description.
Job duties and responsibilities
Clearly outline the tasks and responsibilities that the employee will be expected to perform. Be specific and provide examples, if possible.
Qualifications and skills needed
Clearly outline the qualifications and skills that are required for the role. Be specific about the education, experience, and skills that are necessary for the role.
Company culture
Include information about the company values, mission, and working style to give candidates a sense of what it's like to work at your organisation.
Job location
Clearly state the location of the job in the job description.
Work schedule and type of employment
Specify the work schedule (e.g. full-time, part-time, flexible) and type of employment (e.g. permanent, temporary) in the job description.
Salary or salary range
Include a salary or salary range in the job description to give candidates an idea of what to expect in terms of compensation.
Application process
Clearly outline the application process, including any necessary documents or materials that candidates should submit with their application.
Perks or benefits
Highlight any perks or benefits that the company offers, such as flexible work arrangements, health insurance, or professional development opportunities.
Use bullet points
Use bullet points to make the job description easy to read and scan. This will make it more likely that candidates will read and understand the requirements and expectations for the role.

A great job description will help you find the right fit for the job and set you up for success. By clearly outlining what the job entails, what's expected, and what you're looking for in a candidate, you can attract people who are a good fit and actually want the job. This makes the recruitment process much faster and easier.