6 HR Documents that Every Organization must have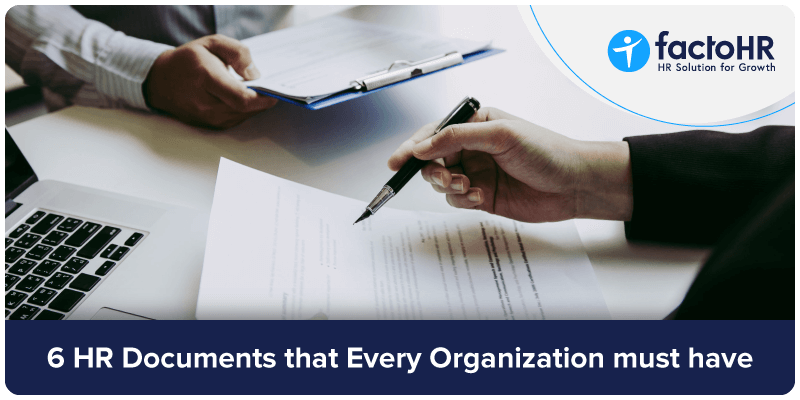 Every organization has numerous functions to perform, one of which is creating and managing various documents. Documentation acts as proof of various activities held in an organization, and it is the core part of the administration process. Not only for internal purposes, but some documents are also mandatory by government laws and regulations.
It's the HR manager's responsibility to create and manage records and also keep them confidential. Efficient documentation of events can make operations effective. So, to make the overall management and administration constructive, here we are mentioning the 6 must-have HR documents. Before that, let's understand the importance of proper documentation in the next section.
Why is Proper Documentation Necessary
Imagine new employees joining your organization each month, and their entry is done nowhere. How employee records be maintained? How will managers know who joined when and for which department? Having documents makes all the activities and procedures legitimate. Not only does it act as proof, but the record will be helpful in unexpected circumstances too.
It acts as a support for HR managers in taking different actions, such as joining a candidate, promoting employees, or terminating someone. Organizations nowadays are also relying on HR software for document creation and management . Therefore, All the processes of the organization will work in an organized manner, along with the statutory norms that can pass the audits and regulatory processes.

6 Must-Have HR Documents
Almost every activity needs a supporting document, regardless of the organization's type. So, here mentioned are the 6 most required and essential HR documents for any organization.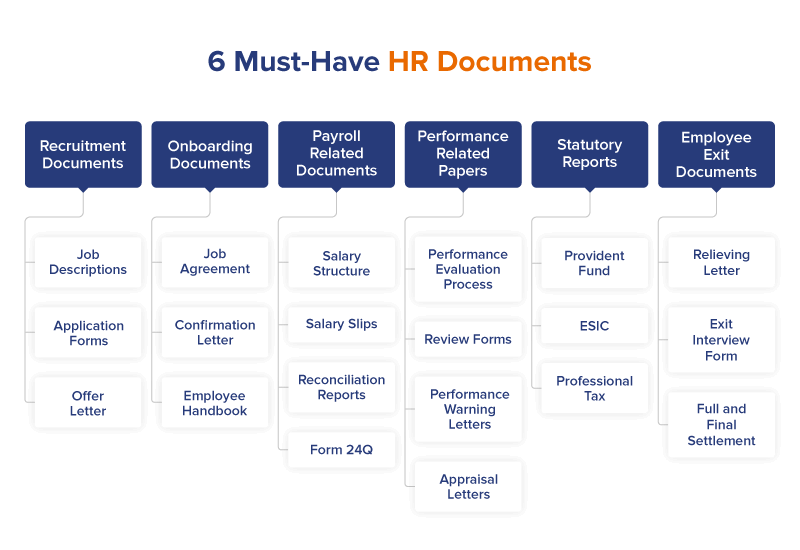 Recruitment Documents
Recruitment is often an ongoing process in any organization. Initially, having a system that can collect and put down the workforce requirement is necessary for planning. Secondly, the correct way to keep a record of all candidates interviewed for a vacant position is required. Documentation of these things can be done in any manner suitable to the company but collecting and maintaining the data is essential. Other official documents that will be required during the recruitment process are:
Job Descriptions:
The first and foremost thing any applicant looks for when applying for a job is its job description. These descriptions specify the qualifications and skills needed with key job responsibilities. Drafting the job descriptions effectively is important because it clearly communicates the expectations of the job role. Even based on the description, candidates will make the decisions whether to apply for the job or not.
Application Forms:
Another important document required is the application forms. Whenever a candidate applies for a specific job, details regarding them are needed. Crafting a form that will ask for all the personal details, experiences, skills, and all other things required for the role will make an application form complete.
Offer Letter:
Once the candidate is selected for the job, an organization needs to provide them with an offer letter that officially states the joining as an employee. The offer letter should clearly mention details about the role, salary, other benefits, and probation period.

Onboarding Documents
After the hiring process gets completed and the candidate is selected, the onboarding process starts. When an employee joins the organization often, various documentation processes are held. It is important that the information of the newly joined employee is recorded correctly and then maintained. Below mentioned are some of the documents needed while onboarding employees:
Job Agreement:
Job agreements, employment agreements, or employee contracts are the documents that specify employment terms. The purpose of making a job agreement is to make sure that the newly joined employee has clarity and agrees to terms and conditions, responsibilities, and appraisal criteria. In case of future conflict, the job agreements can act as proof.
Confirmation Letter:
A confirmation letter is given to the employee mostly when they complete the probation period. The letter confirms that the candidate, after the training period, has now become a permanent employee of the organization. This letter will give employees assurance of their employment.
Employee Handbook:
An employee handbook is a document that mentions various details of the company, which can help newly joined employees. The handbook should first mention companies history, mission, and vision. Secondly, it should have general policies, rules, and regulations to be followed by everyone in the organization. Lastly, the handbook should also cover the things that are prohibited and the consequences of not following them.

Payroll-Related Documents
Compensating employees is one of the major and crucial processes carried out by the employers at regular intervals. It's mandatory to correctly record each addition and deduction made, no matter the number of employees. Maintaining payroll records is not just for making the administrators' work easy, but it even helps them stay compliant with the laws. Using online payroll software can make all calculations easy and even take care of all statutory compliance-related documents. Some of the must-have payroll documents are:
Salary Structure:
The payment structure that consists of different salary components to be given to the employee is the salary structure. It should include the cost to the company, basic pay, gross pay, allowances, and professional tax.
Salary Slips:
A salary slip is a document that employers need to issue for each employee when the salary is paid. It should include all the details about the payment with the take-home salary.
Reconciliation Reports:
Payroll reconciliation reports should be made to compare the current payroll amount with the payroll ledger to ensure that records match. Reconciliations can ensure that the payment amount is accurate and also helps during audits.
Form 24Q:
Form 24Q is a form that has to be submitted by the employer on a quarterly basis. It has to be filled out to file a TDS return. The documents it will need are challan details, employer(deductor) , and employee(deductee) details.

Performance Related Papers
Performance evaluation of employees must be regularly done by the employers to know how things are actually going. But there should be some basis on which the performance review process should be done. Organizations need to establish a standard and uniform format for measuring employee performance. So, some of the documents that are an essential requirement while performance measurement are mentioned below:
Performance Evaluation Process:
Organizations should have a defined structure for evaluating each employee's performance. The structure should consist of the evaluation criteria and factors affecting different departments. That documentation will help managers carry on the performance evaluation fairly.
Review Forms:
Having review forms can help collect feedback from each one in the organization. Forms can be made for different reviews like the manager to subordinate, subordinate to each other, and subordinates to managers.
Performance Warning Letters:
Performance warning letters can be given to employees whose performances are not as expected and those who are not performing their duties well. This letter is given as a final warning for poor performance.
Appraisal Letters:
The letters are used to specify that the employee has performed well and they are being rewarded for that work. The appraisal letter states the percentage of increment, revised salary, and appreciation of work.

Statutory Reports
A predefined framework that companies need to follow is statutory compliance. Operating within the framework is necessary to avoid all the legal consequences. To stay compliant with the laws and regulations, it's vital to register and record in a certain way. Even laws and regulations can differ as per the state and as per the type of industry. Therefore, companies need to get familiar with the relevant statutory laws. Some of the reports that need to be regularly generated are:
Provident Fund:
Initially, for registration of the company, documents like a certificate of incorporation, partnership deed, PAN details, and bank statements are needed.
ESIC:
For the registration process, some important documents required are a company registration certificate, a Memorandum of Association, and Articles of Association. After the ESIC registration, companies need to maintain an attendance register, register of wages, inspection book, and monthly return and challan.
Professional Tax:
At the time of registration, the documents required are financial statements of establishments, salary details of the employees, PAN details, and address proof.

Employee Exit Documents
Just as onboarding involves a lot of paperwork, offboarding and exit processes also require various documents. Both for voluntary and involuntary resignations, the HR manager needs a proper exit process to analyze the retention and turnover rate and make future decisions. Another reason to have an exit procedure is to make handovers systematic and delegate the role and responsibilities to the new employee. Here are some of the important documents involved in the employee exit process:
Relieving Letter:
A letter given as an acceptance of the employee's resignation is a relieving letter. It can act as evidence for both employer and employee. Employers will have a record of employees going to leave so that they can plan for future recruitment. Employees might need the relieving letter when asked by new employers.
Exit Interview Form:
Employees going to leave the organization can be asked to fill out the exit interview form. The purpose of creating an exit interview form is to know the reasons behind employees' resignation and their experience while working with the company.
Full and Final Settlement:
The full and final settlement(FNF) is a letter given to the employee leaving the organization stating no dues are remaining, and the final settlement is completed. The FNF letter is crucial for administrative purposes and will signify clearance from HR, admin, and finance departments.

Conclusions
HR documents can not be neglected whether your organization is small, medium, or large. Almost all HR procedures will involve multiple activities, and to make those activities evident, documentation is required. Either for administrative purposes or legal purposes, maintaining documents is fundamental. This article mentions the most commonly needed HR documents any organization will need.