factoHR partners with SAP to fill white spaces of retiremeant benefit solution in its offerings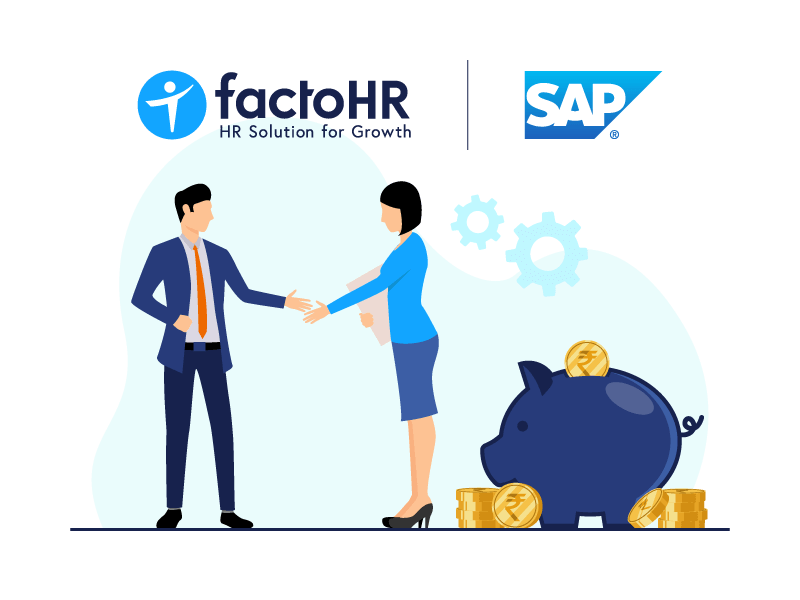 MUMBAI, Maharashtra, India — June 16, 2021 — Along with partnership SAP, factoHR today announced the availability of their entire Retirement Benefit suite the SAP store an online store providing various SAP and partner applications. Now SAP customers can use factoHR -Retirement Benefit Solution along with their various SAP instances.
factoHR all in one solution for Provident Fund, Superannuation, Gratuity, Benevolent, Pension, GPF, Defined Benefit/Contribution integrates with SAP HANA, SAP ERP, and SAP SuccessFactors through API and/or SFTP. Now users of SAP can take advantage of factoHR's mobile app solution, employee self-service portal, analytical dashboards, workflows driven architecture, etc. for their retirement benefit trusts.
Aniruddh Nagodra, CEO and co-founder of factoHR, said, "Customers around the world now can buy factoHR scalable retirement benefit solution, directly from SAP store."
He also added, "With the rapid growth of the hybrid workplace, companies are looking for solutions to address challenges like providing digital experience to employees, 24X7 access to their own fund balance, quarterly audit of trust accounts, MIS to achieve business objectives and one solution for all trust function. These all challenges have been taken care by factoHR effortlessly. our investment in advanced technology with a focus on mobile-first, comprehensive, robust and workflow-based solutions has helped us carve a market leader position in the global workforce benefits market."
The SAP Store is an online market for buying and selling cloud solutions which works with SAP. Visit the SAP Store. to learn more about factoHR on SAP.

About factoHR
Founded in 2016 factoHR has grown by leaps and bounds in the last five years and become a trusted name among 1,500-plus businesses and their 1.5 million employees worldwide.
The ability to integrate all SAP solutions ( SAP HANA, Successfactor & SAP ERP) with an API-based approach has been its key differentiator in the management space.
Recently factoHR won the best Workforce Benefit Software award from World HRD Congress and IT VAR news respectively. It also received the Happiest User Award from Crozdesk.
Mr. Devanathan Raghavan, Chief Financial Officer of Cycle Agarbatti, the largest manufacturer of incense sticks in the world, said, "factoHR enables us to serve, track, and add value to our employees' efficiency and has boosted productivity by 40 percent. Now we have integrated payroll with attendance and connected banking for an easy payroll process and a user-friendly mobile app which has reduced the overall burden of our HR team."
While factoHR is investing and integrating with the cloud technology. It also invites other customers and global solution vendors to leverage the mobile and plug-and-play capabilities it offers.