How HR Technology Enriches Your Business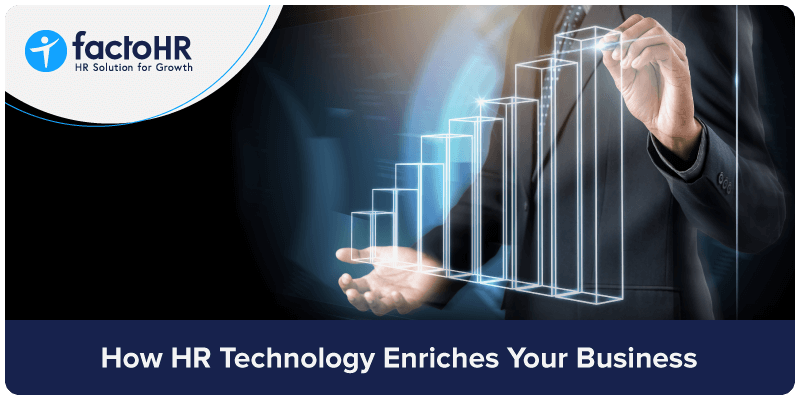 Employees are the biggest asset of an organisation. Well engaged employees supported by best-in-class tools and HR technology are motivated to perform to their fullest potential. This high performance culture enhances productivity and hence the company's performance.
While your employees go about doing their best, they should not be inundated with multiple systems and cumbersome processes to complete essential HR related work. The key responsibilities of the Human Resources department are to ensure that the best people are hired, create an environment for them to be highly productive and provide them with timely remuneration. While doing all of this, HR will need employees to perform tasks like logging their time, manage leaves, file required information for payroll, etc.
Unless you have systems in place to automate manual, time-consuming tasks, employees will be spending a lot of their time (meant for productive work) on these tasks.
Let us discuss how a technology backed HR department and processes can enrich your business.

What Constitutes HR Technology
HR technology is the sum total of every software and hardware utilised to manage an organisation's workforce.
From the days of managing everything on physical paper records to being on cloud and at the fingertips of users via mobile apps, HR technology has come a long way. There are several vendors in the market who provide HRMS in different ways:
Multiple standalone software packages for various functions like leave management, timesheet, expense claims, performance management, etc. Some allow for easy integration as and when a new module is installed. Others require complicated processes including manual steps to make everything work together.
An all-in-one package that helps in end-to-end management of workforce, which includes all modules that are discussed in above point. This is a desired solution if budget is not a constraint. With this approach, there are no integration efforts required at a later date.
These solutions are available in either of the below options or a combination of both:
Most of the solutions are available to be implemented on-premises hardware with required configuration to smoothly run the applications.
Many of the latest solutions are available on cloud making them easy to use from any browser with internet access and without the additional burden of procuring hardware.
Organisations need to do their due diligence while picking a solution and a vendor according to their specific needs.

How Does It Help Business
When organisations invest in technology, they look at the return on investment in the form of –
Reduction of operational expenditure – Usually a one time investment in technology results in reduction of monthly recurring expenditure by freeing up time. The freed up staff can then be assigned more value adding tasks like planning and strategizing. There is also significant cost saving by preventing human errors through automation..
Intangible outcomes like employee or customer satisfaction that improves productivity and prospect of repeat business.
Here's how a well thought through and timely implementation of HR technology adds value to business:
Helps in hiring top talent
Having a fully functional recruitment software helps in posting job openings and parsing the resumes received, thus enabling a faster recruitment cycle. Employee satisfaction is positively enhanced when the hiring experience is smooth, effortless and welcoming. A customised onboarding software helps in achieving this and more. Motivated and talented employees can be made productive on the job much sooner than normally possible. This additional productivity adds to the bottomline.
Enables the HR department to focus on strategy
When the many tasks the employees and HR need to do are completed via automated HR software, it will result in saved time and effort. As an example, sharings of payslips and submission of letters/certificates can be done through the system, thus freeing up the HR department's time. This freed up time can be reinvested by the HR department in more strategic endeavours resulting in better quality outcomes for the organisation.
Improving employee engagement
Automation in HR processes can help to boost employee engagement to the desired levels. There are many things that could bring about positive engagement like rewards and recognition, continuous feedback by the manager, training and development and performance evaluation. All of these activities have been traditionally very time consuming and completely manual in nature. They lack transparency and are seemingly arbitrary. The lack of transparency creates a negative engagement that adversely impacts employee morale. With the help of technology, employee engagement becomes transparent and less time consuming.
Learning and development
Instructor led classroom trainings are expensive and also cut into productive time of employees. Identifying skill gaps in employees is in itself a huge exercise which involves collecting, collating and sorting feedback from managers. Implementing a performance management tool helps organisations to easily identify skill gaps and appropriate trainings. With the availability of online training aided by technology, employees can pace their learning along with balancing their work. Management and leadership teams can keep track of the progress using a learning management system that can provide analytics in the form of dashboards.
Analytics and Dashboards
Data is the backbone of modern day organisations. Data based decisions usually result in positive outcomes. By adopting HR Tech, organisations can collect large amounts of data. Many HR tech solutions provide useful dashboards and data analysis as part of their offerings. Leadership can drive timely actions based on these data driven decisions. There is no second guessing on what is the cost to productivity ratio or which skill gaps need to be addressed next.

How COVID Pandemic Influenced the Adoption Of HR Tech
This pandemic has been devastating for many individuals and families who lost their lives and livelihoods. Every crisis also brings out the best in people as well as technological innovations.
Technology played a huge part in battling the pandemic and helping people go about their work as much as possible. Working from home became the new normal. HR tech and HR departments worked relentlessly to deal with all aspects of employee engagements. From hiring and onboarding new staff to letting go of employees and many other functions, HR departments found a way to do all of this remotely.
In some instances there were forced furloughs for contract employees and at times organisations had to pay for the time-offs too. Organisations need to ensure that employees can spend some quality time on personal development. Dealing with all these aspects was made possible by diligent HR departments powered by flexible HR tech.
Here is an interesting article that espouses people first strategy while embarking on a digital journey for your organisation post COVID-19 era.

Conclusion
Technology is an enabler and helps professionals to do their jobs better and faster. The evolution of HR tech has been phenomenal and in keeping with the times too. It enriches your business by automating mundane tasks so that the freed up time can be utilised in a more productive way by your staff. It also provides you with a rich set of data for further analysis to drive informed decision making. Both of these aspects improve the value and profitability of your organisation.