Table of Contents

India's automotive sector is perhaps one of the fastest-growing ones, with precision, speed, and efficiency being some of the most important keys to success. In such a field, the help of highly advanced automation tools for HR processes is considered a solid step towards error-free systems in the long term.
If you are a business owner in automotive sector, purchasing HR software contributes positively to various processes such as attendance management, payroll management, and ESS platforms, as well as reduces human error and the chances of a data breach for employee documentation.
So in this blog, we have covered the best 12 HR software for automotive sector in detail. We have also covered their key features, pros, cons, and important information regarding their pricing.

Top 12 HR Software For Auto Dealership Business You Should Check Out
In the list below, we have covered 12 of the best HR software you can use in auto dealership business. Note that you should keep your company's goals and needs in mind before opting for any of the following tools;
1. factoHR
The need for HR software in automotive industry has grown in the past few years, owing to the awareness amongst business owners for an automated solution for their company. So if you are the owner of a company in automotive sector and are looking for HR software, factoHR is probably one of the best tools in the market.
factoHR is an HR software that helps streamline your processes without having to worry about data breaches, system lags, or human error.
Here are the key functions of this tool that you should consider while opting for HR software for automotive sector.
Features
| | |
| --- | --- |
| Payroll Processing: With factoHR, you can automate payroll calculations, tax deductions, and salary disbursements while making sure you adhere to regulations in the industry. | Attendance Management: You can use factoHR to track employee attendance and shifts, and count overtime hours, without any chance of human error. |
| Leave Management: You can manage leave requests, approvals, and balances, ensuring error-free workforce management without spending a large amount of time and money, and human effort. | Employee Self-Service: You can provide your employees with a user-friendly portal to access and manage their personal information, leave requests, and more. |
| Performance Appraisal: Conduct performance evaluations, set goals, and track employee progress for better and more data-driven performance reviews. | Recruitment Management: You can speed up and optimise the hiring process with tools for posting job vacancies, managing applications, and conducting interviews. |
| Compliance Support: Stay compliant with automotive industry-specific labour laws and regulations. You can also ensure the complete safety of all of your employee data and documents. | Employee Documents: Digitally manage and store employee documents, certifications, and contracts for easy retrieval and secure storage. |
| Reports and Analytics: Generate insightful reports and analytics on key HR metrics, aiding informed decision-making for workforce optimisation. | Mobile App Access: factoHR's on-the-go features provided through its mobile app make it the perfect option for remote management and real-time updates. |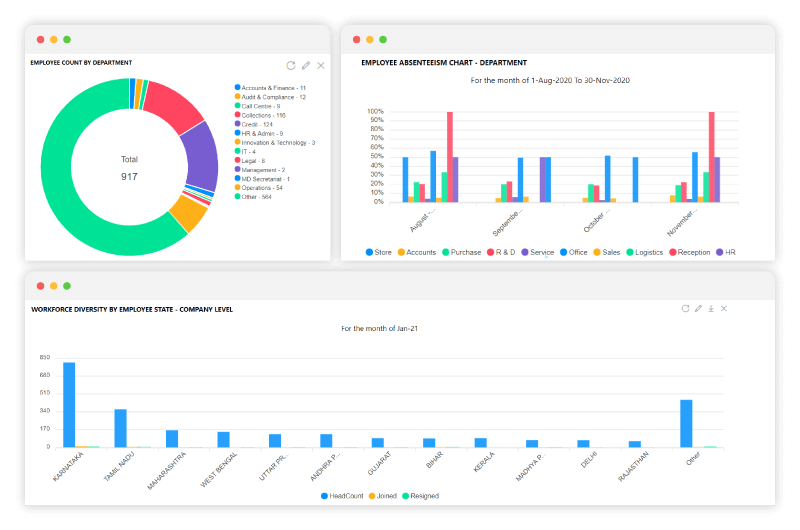 Now that we've covered all of the features of factoHR that you can make the best of, let's take a look at why you should opt for factoHR as a company in automotive sector.
Tailored to Industry Needs: factoHR is designed to address the specific challenges and requirements of automotive sector in India.
Comprehensive HR Management: From payroll to performance, factoHR covers all aspects of HR management, ensuring a holistic approach to managing all employee data as well as other features you may find useful.
Enhanced Productivity: By automating routine tasks, factoHR frees up HR professionals to focus on strategic initiatives.
Scalability: Whether you're a small workshop or a large dealership, factoHR offers the right amount of customisation. Additionally, if you are looking for HR software that allows you to scale up or down comfortably, factoHR should definitely be one tool on your list.
Saves Time and Effort: Streamlined processes reduce manual work, improving efficiency and reducing errors, allowing you to focus on data-driven reports rather than the grunt work that often includes human errors.
Employee Engagement: Employee self-service and performance appraisal tools allow for independent, flexible access to benefits and documents.
Data Security: You can safely store and manage sensitive employee data for the long term without worrying about any breaches when it comes to privacy and confidentiality.
Real-time Insights: Access data-driven insights for better decision-making and strategic planning.
Pricing
There are four plans that you can avail of depending on your needs – Essential, Advance Velocity, Bolster, and Performer. For pricing of each option can be reviewed and a suitable choice can be made. Multiple add-ons to your chosen plan can be added – including Face Recognition, Self Onboarding, and an efficient Ticketing System.
What People Say About Us


2. Elite HRMS
Elite HRMS software aims to improve HR capabilities. It is highly flexible in terms of adapting to any industry with little customisation and delivering the required results.
The system helps HR to manage all the operations without any unnecessary hassle. It sends alerts and notifies HR for all the important tasks. It comes with powerful employees and managers self-service that are integrated with the system. Apart from all this, you can access the system on your smartphone, which elevates its accessibility.
Features
Asset Management
Attendance Management
Document Management
Employee Self-Service Management
Expense Management
HR & Payroll
Mobile Support
Multiuser Login and role-based access control
Payroll Management
Performance Management
3. Smart HRMS
Smart HRMS is the perfect tool to automate several HR processes to reduce the stress on your personnel and minimise human errors. With Smart HRMS, you get the full freedom to customise it according to your business needs. The best thing about the software is that you don't need any aid from software developers to perform the changes. It is pretty user-friendly in terms of usability and customisation.
The software covers all the aspects of HR management and allows you to create dynamic reports. Also, you will get lifetime support from the tech-support team for all maintenance and general queries.
Features
Real-time attendance tracking with biometric integration.
Hassle-free leave management for both employees and managers.
Flawless payroll process for the company and employees.
Compliant with government's tax laws.
Attractive and infinite dynamic reports with analytics support.
Organisational communications can be sent on time, safely and securely to all the employees.
Other HR tools like helpdesk and dynamic letters to help operations.
4. BambooHR
BambooHR is a tool that is quite highly recommended for companies in automotive sector due to the wide range of features it offers. A few features that BambooHR is known for are employee records management, benefits administration, time tracking, and performance management. Also, its intuitive interface and user-friendly setup are perfect for small to mid-sized organizations.
However, it's noteworthy that BambooHR lacks certain advanced features, which might make it unfit for large companies. The pricing model rests on the features you wish to opt for and the number of employees in your company.
Features
Document Management
Employee Self Service Management
Expense Management
Payroll Management
Performance Management
Recruitment Management
Statutory Compliances
Task Management
Time & Attendance Management
Training Management
Employee Data Base
Mobile App
Leave Management
Applicant Tracking
Recruiting Management
Assessments

5. Gusto
Gusto is one tool in automotive sector that takes the hassle out of payroll processing, benefits administration, and compliance management, providing you with automated HR solutions. Many reviews highlight its user-friendly nature and solid payroll processing capabilities that include automatic tax filing and compliance updates. Not only do all these features help you streamline your HR functions, but they also have no human error.
While Gusto covers key HR functions, some users note its limitations when it comes to talent management. The pricing model is very flexible, and your quote is based on the chosen services and the number of employees in your company.
Features
Attendance Management
Document Management
Employee Self Service Management
Expense Management
HR & Payroll
Multiuser Login & Role-based Access Control
Payroll Management
Taxation Management
Time Tracking
Pay Slip
Data Security
Salary Adjustment
Benefits Administration
Events & Reminders
Salary Information & History
Back Office Assistance
Self-onboarding
Retirement Plan Management
Time Off Requests
Multiple Pay Schedules
6. Humi HR
Humi HR is the perfect combination of quick and efficient access and is also quite accessible for any industry at a very low cost. Humi is a complete, cloud-based HR software solution. Humi's best-in-one people management solution combines HR, payroll, benefits, hiring, time off, time tracking, and more to streamline your people operations needs and save you time so you can get back to focusing on what matters most – your people.
Manage the full employee journey from recruiting and onboarding all the way to offboarding. Pay your employees on time while staying compliant with Humi Payroll, and save money for your company while providing customizable group benefits by switching to Humi.
Features
Attendance Management
Employee Self Service Management
Help Desk
Payroll Management
Performance Management
Time & Attendance Management
Onboarding
Self Service Portal
Workflow Management
Electronic Signature
Feedback Management
Reporting
PF/ESIS Calculation
TDS Calculation
Benefits Management
Digital Offer Letters
Surveys
7. Savvy HRMS
Streamline your in-house HR task with the leading Savvy HRMS and save a lot of time and resources for your company. The system manages the employee details and tracks everything from the on-boarding and off-boarding timeline. Moreover, it is capable of handling all the core HR tasks with payroll, resources, and project management.
Savvy HRMS is available for all levels of companies for different industries. The team behind the system offers 24/7 support on all queries and aims to offer the best solutions in the least possible time.
Features
Attendance Management
Loan & Advances Management
Document Management
Email Integration
Employee Self-Service Management
Exit Management & Separation Management
Expense Management
Help Desk
Payroll Management
Performance Management
Recruitment Management

8. Intelliob
Intelliob Accord e-HR is a revolutionary HRMS system that promises to take the pain out of HR Management. The Accord HRIS solution has been designed with a view to integrating all HR-related functions right from recruitment and creating positions to disbursing pensions.
Intelliob is an excellent payroll management tool for Mumbai as well. You should note that some pros of the software are its SSO (single sign-on) system, automated reports, customisable data fields, and smooth interface. However, the software falls back with occasional system glitches. As for pricing, you can contact Intelliob with your requirements and contact details for an accurate quote or avail of a free trial.
Features
Asset Management
Document Management
Email Integration
Employee Self-Service Management
Payroll Management
Performance Management
Recruitment Management
Time & Attendance Management
Training Management
Workflow Management
Tax Management
Reporting
On-Boarding
Salary Information & History
9. Bright HR
Bright HR provides everything you need to manage your staff all in one place, saving you time and money. Using their software allows you to:
Stay fully staffed with absence management tools
Create conflict-free shifts and rotas with ease
Enjoy peace of mind with secure document storage
Simplify staff time-tracking with our exclusive clocking app
Features
Manage staff holidays in a click
Clock in and out with Blip our easy-to-use mobile app
Log sickness and absences
Store documents securely with unlimited cloud storage
Plan shifts and rotas for ANY working pattern
Manage and calculate your expenses with the PoP app
Export payroll-ready data with ease
Maintain legally compliant HR documents
Track overtime and update your payroll
10. ZerocodeHR
ZerocodeHR leverages the power of the no-code class that simplifies software development and allows companies to enjoy high-class software at affordable prices. Moreover, the software comes with fewer bugs as compared to the traditional code-based system.
The ZerocodeHR offers bespoke solutions to companies that can handle compensation processes and performance management tasks. Moreover, it offers a simple solution to conduct pay equity and come up with proper measures to fill the pay gaps, if there are any.
Features
Compensation
Performance management solutions
Panning, modelling, and calibration tool
Pay equity

11. Possibleworks
Looking to elevate the overall productivity level of your workforce? Stop searching here and there and opt for PossibleWorks. The software aids you in aligning the individual goals of the personnel with the end goals of your company and improves the overall productivity level.
Besides this, the system comes with a transparent feedback portal that aims to build trust between the employees and the top management of the company. Moreover, it promotes social recognition of employees, which makes it a complete performance management software.
Features
Performance Management
360 Degree Feedback
Appraisal History
Feedback Management
Goal Management
Ad Hoc Reports
Key Performance Indicators
Employee Awards
Rewards Program
Social Recognition
Talent Management
12. Decision Plus HRMS
Are you looking for an all-in-one HRMS for your company? Don't worry. Decision Plus HRMS will cater to all your needs. The flexible system comes with all the facilities to manage HR tasks efficiently.
It features several modules like administration, performance management, attendance and leave management, payroll portal, employee management helpdesk, HRIS, recruitment, and budget planning and management. Moreover, the secure system is in compliance with all the labour laws.
Features
Comprehensive solution for managing the workforce.
Strengthened HR processes within the organization.
Better Employee Connect through Self Service Portal.
Powerful querying and reporting features.
Robust but easy-to-use Payroll package.
Labour law compliant.
Conclusion
We covered some of the most popular and efficient HR software for automotive sector above, including their pros and cons. As a small, medium, and large-sized company, you should ideally invest in HR software that offers features such as payroll management, leave management, data analytics, compliance with industry norms, as well as safe employee documentation.
There is no one-size-fits-all software that you should opt for, but take stock of your company's needs, goals, and size before paying for HR software. Automated HR processes save you a ton of time and effort and also ensure better employee productivity and satisfaction in the long run.

Some Common FAQs
What is the best HR software for automotive sector?
A few great options that you can consider are FactoHR, BambooHR, Zoho People, Qandle, and Zenefits. Remember to keep your company's goals and needs in mind while opting for software.
What features should I look out for while choosing HR software?
You should ideally look out for the following option for HR software in automotive sector – payroll processing, compliance with industry norms, leave and attendance management, performance management, and safe employee documentation.
Can small and medium-sized enterprises in automotive sector benefit from HR software?
Yes! All of the software we mentioned above offers customized solutions based on the number of employees in your company, no matter how small or big it is. You can reach out to the HR software team that you wish to opt for to ask for an accurate quote.