Top 11 HR Software in Chennai To Use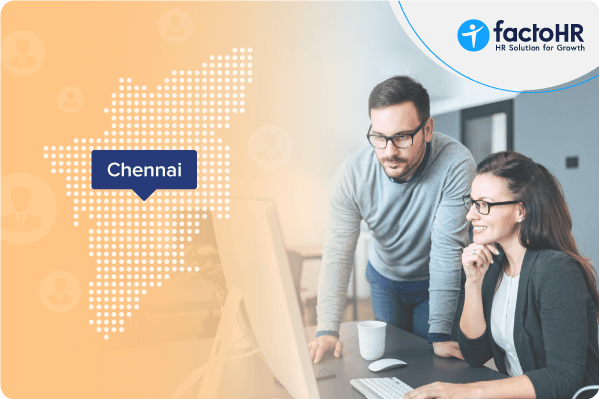 Table of Contents

Employee management has become highly complicated ever since the pandemic hit, and remote working has become the new normal. With the explosion of new HR software systems in Chennai every now and then, it is well worth your time to narrow down your choice and pick the worthy one. Well, don't you worry! We are here with eleven ultimate HR system software choices that are available in Chennai. Investing in any of these solutions is pivotal to attaining excellent team results and enabling companies to stand apart from their competitors. So, let's dive into the details.
How to choose an HR Software system for your organisation?
There are a few key features to look for in an effective HR software system:
1. Employee Information Management
This is an essential module that every HR software holds. It is necessary to know important details about each employee, such as contact information, work history, absence/delays, hours worked, and other personal details.
2. Budget
Choose the HR software that aligns with your budget goals. Invest in specific modules of HR software that you need, if you are a growing organisation.
3. Performance and Benefits Administration
Since employees are the assets of the organisation, it is essential to measure their performance and provide benefits accordingly. It also allows employees to autonomously manage their benefits via the portal.
4. Effective Reporting
Reporting is key to managing different data sets effectively. An HR software system that offers accurate in
11 Best HR Software Systems in Chennai
Given below are some of the best HR software systems in Chennai which promise top-notch features for organisations.
1. factoHR
factoHR is an outstanding on-cloud HR software designed to unlock any organisation's growth. It automates the entire HR operations and simplifies the workforce management processes. Being a reliable mobile-first HCM platform, it handles everything from hiring to retirement and is trusted by top brands.
factoHR also offers a next-gen mobile app which provides some remarkable features such as face recognition, contactless attendance, chatbots, and geo-fencing to improve employee productivity and efficiency. This all-in-one solution has received a multitude of awards and accolades, making it the ultimate HRTech solution for brands.
Opting for a highly intuitive solution such as factoHR helps increase efficiency, retain talent, and deliver a great employee experience. A few of its clients include Cycle Agarbatti, Asics, Blue Dart, and Murugappa on the list – you can see how customisable the software is, considering its use across various niches and industries.
Features
| | |
| --- | --- |
| Make data-driven decisions using Dashboards that provide better analytics. | Centralised employee database management with granular access control acts as a robust powerhouse for your entire HR operations. |
| Automate your onboarding process and create a great experience for new joiners. factoHR onboarding software helps to do just that. | factoHR's business process automation allows you to create multilevel workflows to automate lower-level repetitive tasks. |
| With pre-defined templates, auto-generate different letters and directly share them with employees via email and notify them. | Keep your employees highly engaged. Manage and solve employees' queries using a chatbot, effortlessly share crucial documents via the plug-me feature in the mobile app, and inform employees about events using push notifications. |
| Provides an organisational tree that will help you create a clear reporting structure and define career paths. | Provides an offboarding module to streamline the employee exit process and full and final settlement. |
| With factoHR's payroll software, it manages timely payments and stays 100% compliant with local tax laws. | The acknowledgement module helps you reach out to employees even on their mobiles to get quick responses. |
| The survey module enables the collection of relevant and real-time feedback. | Quickly integrate other factoHR modules like attendance management or timesheet software when you acquire them. |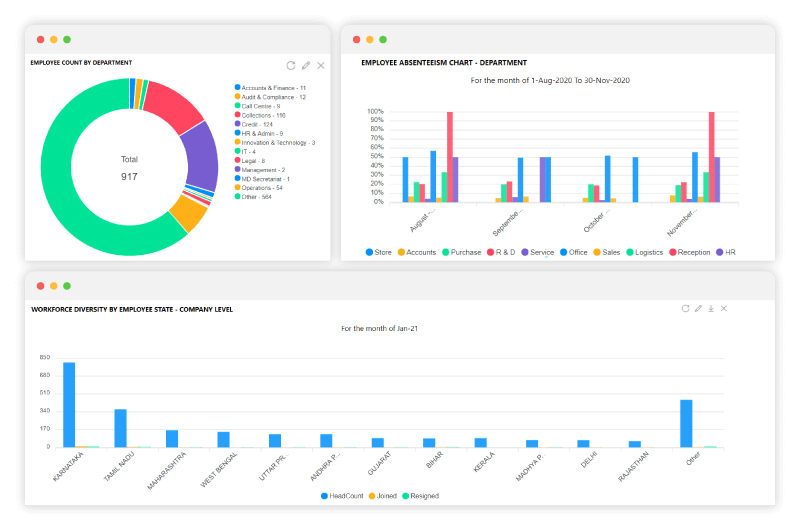 Major advantages of using factoHR's HR system are
Ensures watertight security through encryption at rest and SOC Type 2 certified cloud data centres.
Offers an integrated HR platform that centralises all HR data and processes into a single, cohesive system.
Whether you are a startup, an enterprise or an organisation of any size in Chennai, you can take advantage of the offering as it is scalable to meet your specific needs and requirements.
Provides a clean and intuitive interface that enhances user experience.
As for the pricing, there are four plans that you can check out – Essential, Advance Velocity, Bolster, and Performer. What's more, you can also add multiple add-ons to your plan, including Face Recognition, Self Onboarding, and an efficient Ticketing System.
What People Say About Us


2. Elite HRMS
Elite HRMS software aims to improve HR capabilities. It is highly flexible in terms of adapting to any industry with little customisation and delivering the required results.
The system helps HR to manage all the operations without any unnecessary hassle. It sends alerts and notifies HR for all the important tasks. It comes with powerful employees and managers self-service that are integrated with the system. Apart from all this, you can access the system on your smartphone, which elevates its accessibility.
Features
Asset Management
Attendance management
Document Management
Employee Self-Service Management
Expense Management
HR & Payroll
Mobile Support
Multiuser Login and role-based access control
Payroll Management
Performance Management
3. AddettoHR
AddettoHR provides HRMS solutions on cloud/on-premise. You can automate your entire HR process with the help of AddettoHR. It serves government, manufacturing, hotels, real estate, etc. firms and gives a Flexi team. Whether you're a start-up or a big enterprise, it can perform all HR activities such as Recruiting, Transfers, Benefits, Reviews, Vacation accrual, and Relocation documents. It is extremely easy to deploy, use, flexible, scalable, and most importantly value-centric.
Features
Asset Management
Attendance management
Bonus
Loan and advances Management
Document Management
Email Integration
Employee Self Service Management
Help Desk
HR and payroll
Mobile Support
Multiuser Login & Role-based access control
Performance Management
Project Management
Recruitment Management
Shift Management
Task Management
Task Management
4. TrickyHR
Looking for feature-rich HR software for your brand? Don't worry. TrickyHR is here to cater to your needs. The software comes with device management, time management, and an easy-to-use ESS portal to record the employee attendance of your company and maintain a transparent payment relationship with them. Employees can track attendance, payment, and other metrics through the ESS portal.
On top of all this, the software comes with a payroll system and leave management system to streamline the tasks for the HR department. Besides this, the HR department can manage the income of all the employees smoothly.
Features
Asset Management
Attendance management
Audit Trail
Email Integration
Employee Self-Service Management
Exit Management & Separation Management
Expense Management
Help Desk
HR & Payroll
Mobile Support
Payroll Management

5. Smart HRMS
Smart HRMS is the perfect tool to automate several HR processes to reduce the stress on your personnel and minimise human errors. With Smart HRMS, you get the full freedom to customise it according to your business needs. The best thing about the software is that you don't need any aid from software developers to perform the changes. It is pretty user-friendly in terms of usability and customisation.
The software covers all the aspects of HR management and allows you to create dynamic reports. Also, you will get lifetime support from the tech-support team for all maintenance and general queries.
Features
Real-time attendance tracking with biometric integration
Hassle-free leave management for both employees and managers
Flawless payroll process for the company and employees
Compliant with government's tax laws
Attractive and infinite dynamic reports with analytics support
Organisational communications can be sent on time, safely and securely to all the employees
Other HR tools like helpdesk and dynamic letters to help operations
6. Zercorp
Zercorp HR software gives you the power to manage your HR policies and processes smoothly. The system comes with an interactive dashboard, attendance management, and employee life cycle to record and manage all the metrics of the personnel in your company. You can streamline the whole process from hiring to the retirement of the employees.
It also features leave management which makes it easy for your HR department to oversee and manage the leaves of the employees. Besides this, you can use the software to create customisable payslips and calendars for your department.
Features
Attendance management
Compliance
Dashboards
Performance management
Recruitment management
7. EasyHR
EasyHR is one of the excellent HR software for both SMEs and large companies. The software comes with an interactive helpdesk that allows HR to manage and oversee everything properly. The claim management element of the software tracks all the expenses and allows the HR department to ensure smooth workflows for all the requests.
You can also use the software to analyse the key metrics for performance on a monthly, quarterly, or yearly basis. The software aids in the whole recruitment process and even allows your HR team to manage a travel calendar.
Features
Attendance management
Document Management
Employee Self-Service Management
HR & Payroll
Payroll Management
Performance Management
Recruitment Management
Time & Attendance Management
Training Management
Pay Slip
Leave Management
On-Boarding
Grievance Management
Salary Information & History
Appraisal Management
Talent Management

8. Officenet
Mobile-ready cloud-based HR software will help you to see an employee through the full employee life cycle. Enjoy the core HRMS capabilities like leave management and payroll in addition to Analytics, Training Management, etc.
Officenet HRMS is a completely integrated cloud-based HR solution that will enable you to create dynamic forms with varying levels of approval workflows. Helps manage tasks with an enhanced methodology, allowing you to assign, track, and monitor task closures. Officenet HR management software enables the management of several HR functions through the use of information technology.
Features
Asset Management
Attendance management
Employee Self Service Management
Exit Management & Management
Expense Management
HR & Payroll
Knowledge Management
Multiuser Login & Role-based access control
Payroll Management
Recruitment Management
Shift Management
Taxation Management
Training Management
Pay Slip
Compatibility with Swap Card
9. Humi HR
Humi HR is the perfect combination of quick and efficient access and is also quite accessible for any industry at a very low cost. Humi is a complete, cloud-based HR software solution. Humi's best-in-one people management solution combines HR, payroll, benefits, hiring, time off, time tracking, and more to streamline your people operations needs and save you time so you can get back to focusing on what matters most – your people.
Manage the full employee journey from recruiting and onboarding all the way to offboarding. Pay your employees on time while staying compliant with Humi Payroll, and save money for your company while providing customizable group benefits by switching to Humi.
Features
Attendance management
Employee Self Service Management
Help Desk
Payroll Management
Performance Management
Time & Attendance Management
Onboarding
Self Service Portal
Workflow Management
Electronic Signature
Feedback Management
Reporting
PF/ESIS Calculation
TDS Calculation
Benefits Management
Digital Offer Letters
Surveys
10. AgES
AgES HRMS comes with several modules that will help you ameliorate your HR department by streamlining all the processes. It is essential for the HR department to manage all the details of all the personnel in the company, which can become a daunting task. With this software, the team can manage and save all the details safely and reduce any redundancy.
The software is capable of handling recruitment drives, training sessions, daily attendance of personnel, and several other HR tasks. It comes with a simple yet interactive dashboard where HR can oversee everything properly.
Features
Employee database
Recruitment management
Attendance and timesheet management
Payroll module
Employee appraisal cycle management
Employee training and tracking management
Manage contract employees
Dashboards and reports

11. Mapol
Mapol HR software comes with the best combination of features that reduces the stress on your whole HR department and streamlines all the tasks. Besides having an interactive interface to work with, the software comes with labour management, HR data management, a payroll module, and several other functionalities.
The best thing with the software is that you can export the details of the personnel to the accounting software directly without any hassle. It features a database management facility with proper architecture. You also get an optional choice for the backend with it.
sights and reports to measure crucial business decisions and strategies.
Features
Simple yet powerful and user-friendly application
The application allows you to maintain the human resource data starting from recruitment to relieving and final settlement process
Fully customizable and can be integrated with any other ERP applications
The application includes a contract labour management system
360-degree appraisal format
Fast payroll processing and generates 'n' number of payslips at a fraction of the time
Integration with Attendance Monitoring Systems like biometric systems, access control etc
Capable of flexible salary definition using formulas which include ESI, PF, PT
The payroll module enables you to manage advance payments, arrear payments, OT payments, shift allowance payments, gift payments and increment details
Export option to carry the Salary details to Accounting Software
Database Capability and Client Server Architecture with optional backend, available with Oracle/MS SQL/My SQL/MS Access
All types of government statutory reports can be downloaded
FAQs
1. What is an effective HR software system?
An HR software system refers to a comprehensive system that consists of all the necessary HR operations to simplify your routine HR processes. Be it hiring, onboarding, attendance, payroll, benefits, training, or performance management, all HR managers rely on it to handle employee information properly.
2. What are the different types of HR software systems?
There is a plethora of HR software in the market with a unique set of HR functions. The three main types are shared below:
Human Resource Management System (HRMS) – helpful in managing wide human resource functions such as payroll, benefits, training, recruiting, etc.
Human Resource Information System (HRIS) – useful in storing and collecting needful employee information
Human Capital Management (HCM) – used for hiring the right talent, managing them, and improving productivity
3. Why should companies opt for HRMS?
The main purpose of companies opting for HRMS is to ameliorate the current business practices and improve employee productivity. Thus, companies use it to automate all repetitive HR tasks so that the HR manager can focus on implementing new strategies that transform business efficiency.

Conclusion
Using an HR management system is imperative to your company's growth. An HR software system allows for automating many mundane HR processes and imparts amazing results. Every HR service provider in Chennai invests in any of the reliable HR software shared above. You can also check out the top HR software systems and select the one that meets your budget, business size and needs well.