Table of Contents

An HR (Human Resources) System is one tool you should definitely consider if you are a business owner or HR professional. Contrary to popular belief, an HR system is not time-consuming or overly expensive but the exact opposite! Investing in robust HR software for payroll management, leave and expenses management and onboarding can save you a lot of money, time, and effort in the long run.
Here are a few key benefits, among others, you should keep in mind before opting for an HR System:
Employee Information Management
An HR system will help you streamline employee data and necessary documents without any hassle associated with manual documentation and information management.
Recruitment and Onboarding
A solid HR system will assist you with your recruitment process. Here's how – many HR software offer tools that help you manage job postings and applications, even carry out basic candidate evaluations and assist with onboarding!

How To Choose An HR Software For Your Organisation?
After knowing the importance of HR Software for your company in Mumbai, let's delve into important factors to consider for choosing the best. here's a quick guide you can use to make sure you choose the best possible HRMS for your organisation. You should, while weighing your needs and options, keep these features in mind;
1. Core HR Features
Employee information and documentation management
Attendance tracking and leave management
Payroll and benefits administration, along with compliance management
Performance management and analytics
Recruitment and onboarding assistance
2. User-Friendly Interface
If you are a beginner to using HR system you may want to consider a system that has Intuitive navigation and is designed in a user-friendly manner.
3. Customisation and Scalability
If you wish to customise certain aspects of your HR System, you should look for software that allows you to customise values and features freely. A few tools mentioned in the list above have this feature, while others don't.
4. Employee Self-Service
An ideal HR software should include a portal for an employee to access personal information, leave requests, and other benefits that they can avail of.
5. Mobile Accessibility
You should consider software that is accessible through a mobile app or one that has a responsive design for access on smartphones and tablets.
6. Security and Compliance
You should always opt for an HR System that strictly complies with data security measures to protect sensitive employee information and follows all data protection laws.
7. Cloud-Based vs On-Premises Solutions
If you are a cloud-based or on-premises company, you should look for a solution that aligns better with your organisation's needs and IT infrastructure through different plans.
8. Feedback from Current Users
Before opting for any software or tool, you should seek feedback from organisations like yours that have already implemented the HR system or look at online reviews or testimonials.

Top 12 HR Software In Mumbai You Should Check Out
1. factoHR
factoHR is a cloud-based HR software that could help organisations of any size streamline their HR processes. factoHR HR software is also a mobile-first, all-in-one solution that enables organisations to automate operational HR tasks. The software's adaptability and flexibility to any business sector of any size with minimal customisations will ensure faster deployment and adoption.
With features that facilitate all the "hire to retire" modules, it provides solutions that can help increase efficiency, retain talent, and deliver a great employee experience. factoHR has received excellent reviews for its functionality, quick automation, and cloud-based accessibility. factoHR is a highly recommended tool for all organisations looking for efficient HR management software.
Features
| | |
| --- | --- |
| Make data-driven decisions using Dashboards that provide better analytics. | Centralised employee database management with access control helps your entire HR operations. |
| Automate your onboarding process and create a great experience for new joiners using factoHR's onboarding software. | Save HR bandwidth using business process automation that allows you to create multilevel workflows to automate repetitive tasks. |
| With pre-defined templates, auto-generate different letters and directly share them with employees via email and notify them. | Manage and solve employees' queries using a chatbot. |
| Provides an organizational tree that helps you create a clear reporting structure and define career paths. | The offboarding module helps streamline the employee exit process along with the full and final settlement. |
| With payroll software customise salary components and simplify salary revisions while staying tax compliant. | The acknowledgement module helps you reach out to employees and get instant confirmations. |
| The survey module enables the collection of relevant and real-time feedback. | Quickly integrate other factoHR modules like attendance management or timesheet software when you acquire them. |
| Effortlessly share crucial documents via the plug-me feature in the mobile app. | Inform employees about events using push notifications. |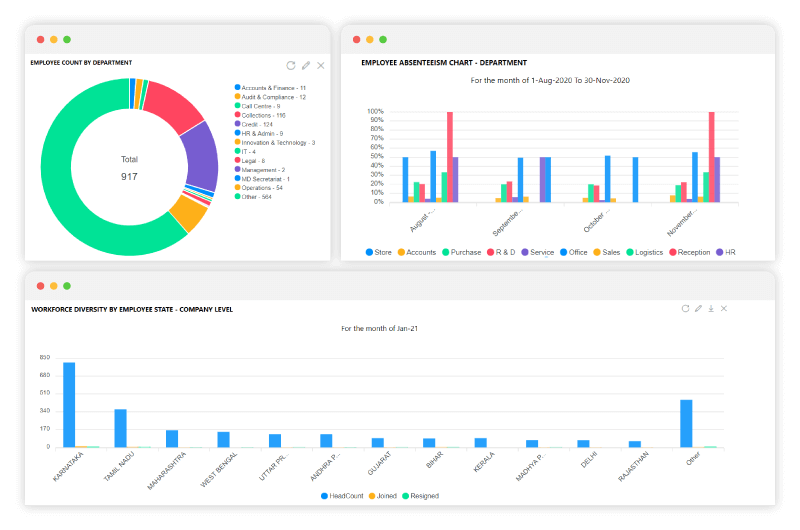 Benefits
Effective permission and audit trail at a granular level to keep data safe and protected.
Wizard-driven and do-it-yourself configuration of the system enables you to go live in a few weeks rather than months.
Flexible in terms of selecting only the modules of HR functions that you need. Scalable to accommodate the size of your organisation.
Easy and automated integration with internal and/or external functional modules makes a highly connected system without any human intervention.
For pricing, there are four plans that you can avail of depending on your needs – Essential, Advance Velocity, Bolster, and Performer. What's more, you can also add multiple add-ons to your plan, including Face Recognition, Self Onboarding, and an efficient Ticketing System.
What People Say About Us


2. EasyHR
A popular HRMS software for Mumbai, EasyHR is a comprehensive and premium HR software. It is a popular choice amongst organisations and business owners due to its user-friendly interface. If you are a complete beginner to using HRMS software, you should look for products that are beginner-friendly and have a user-friendly interface.
EasyHR is a great software and offers features such as asset management, document management, onboarding features, automated payroll process, attendance management, and ESS features. Reviews show that the software has an easy-to-understand interface and solid payroll automation. A few cons of the software – it has limited customisation options.
Features
Attendance Management
Employee Self-Service Management
Payroll Management
Performance Management
Recruitment Management
Time & Attendance Management
Training Management
Leave Management
On-Boarding
Salary Information & History
Appraisal Management
Talent Management
3. Intelliob
Intelliob Accord e-HR is a revolutionary HRMS system that promises to take the pain out of HR Management. The Accord HRIS solution has been designed with a view to integrating all HR-related functions right from recruitment and creating positions to disbursing pensions.
Intelliob is an excellent payroll management tool for Mumbai as well. You should note that some pros of the software are its SSO (single sign-on) system, automated reports, customisable data fields, and smooth interface. However, the software falls back with occasional system glitches. As for pricing, you can contact Intelliob with your requirements and contact details for an accurate quote or avail of a free trial.
Features
Asset Management
Document Management
Email Integration
Employee Self-Service Management
Payroll Management
Performance Management
Recruitment Management
Time & Attendance Management
Training Management
Workflow Management
Tax Management
Reporting
On-Boarding
Salary Information & History
4. HRM Thread
If you're looking for an HRMS software for Mumbai that offers a smooth onboarding process and has many features, HRM Thread might be an excellent option for your business. HRM Thread is a widely used payroll software in Mumbai and other cities and offers features such as recruitment management, performance tracking and appraisal, multiple employee onboarding tools, and a mobile app for easy tracking and quick access.
Users of HRM Thread have given great reviews for its payroll processing features and Employee Self-Service (ESS) features. The recruitment tools offered by the software are also quite robust. However, some parts of its UI need improvement. Yet, if you want to purchase HRM Thread, you can opt for their SaaS or On-Premise pricing models.
Features
General Information
Personal Information
Address/ Contact details
Employee Qualification
Family Members/ Emergency contacts/ PF Nominee/ LIC Nominee/ Gratuity Nominee
Work Experience
Passport/Visa details
LIC details
Hobbies
Achievements
Vehicle/ Driving Licence details
Employee Training
Employee Appraisals/ Questions/ Question Groups/ Questionnaire Designer
Employees Documents/ Photos / Attachments
Employee Targets/ Commitments
Employee Skills
Complete Tracking of Employee Movement between Branches Departments/ Grades/ Designations
Various Reminders

5. Employee Vibes
Another great option for you if you're looking for HR software in Mumbai, is Employee Vibes. As the name suggests, the software offers a host of payroll services that you can make the most out of. Its features are payroll management, compliance, reimbursement tracking, and overall expense management. Quickchex is a highly automated tool used by popular organisations such as Acko and Epigamia. The software also has many other features that can be highly useful for managing leaves, onboarding new employees, performance management, and TDS assistance and calculation.
The biggest pro of using Employee Vibes is its speedy and efficient customer support and quick resolution of issues you may face while using the software. Additionally, the payroll processing feature is also praised by its users. However, a few cons of using Employee Vibes is that it offers limited customisation options. As for pricing, you can pay 6,000 rupees/month for the self-service plan and 8,000 rupees/month for the full-service plan.
Features
Attendance Management
Inventory Management
Mobile Support
Payroll Management
Performance Management
Recruitment Management
Statutory Compliances
Survey Management
Workflow Administration
Onboarding
Offboarding and Alumni
Workforce Management
Geofencing Time And Attendance
Employee Hourly Wages
6. 247 HRM
As an HRMS software in Mumbai, 247 HRM provides various tools that can serve your organisation efficiently. The software's interface only adds to its utility and is quite easy and smooth to use, even for beginners.
Additionally, the software is praised by its customers, particularly for its leave management and document storage systems, which are quite secure and smooth to use. As for drawbacks, some customers have reported a few temporary lags in the system.
Features
HR Automation
Employee Self-service Portal
Income Tax Management
Leave and Attendance Management
Payroll
Performance Management
Expense Management
Talent Management
7. Gizmosys Solutions
Gizmosys Solutions is an HR company in Mumbai that offers features such as attendance tracking, performance evaluation, and employee data analytics. Employee analytics is one aspect you should consider, as data-driven decisions have been shown to boost employee performance and overall organisational productivity, especially when this data is used to draft people management strategies. If you are a beginner to using HR software such as this, there are 15+ modules provided along with your membership that can help you navigate the tool more easily.
A great advantage of using Gizmosys is that it offers many free features across payroll outsourcing and HRMS. The tool is excellent for attendance tracking and detailed analytics, but it lacks in terms of a modern interface. You can avail a lot of their features for free, but to access the complete software, you can connect with the team for a quote.
Features
Asset Management
Bonus
Employee Self-Service Management
Exit Management & Separation Management
Help Desk
Knowledge Management
Online Tests & Psychometric Tests
Payroll Management
Performance Management
Statutory Compliances
Time & Attendance Management
Training Management
Contact Management

8. OpportuneHR
A feature that sets Opportune HR apart from the other items on the list is its recruitment automation feature. Not only does this feature help companies looking for HRMS software for Mumbai streamline their recruitment process, but it also tracks HR analytics across various fields. OpportuneHR also provides features such as employee performance tracking and deeply automated systems.
This software is helpful for companies across diverse industries, such as hospitality, manpower services, manufacturing, and IT. Its pros include efficient recruitment tools, and insightful analytics, while it does not offer ESS features and some recruitment management tools that one may require. As for pricing, you can contact the team for a quote.
Features
Employee Self-Service Management
Exit Management & Separation Management
Knowledge Management
Payroll Management
Performance Management
Recruitment Management
Time & Attendance Management
Mobile App
Onboarding
Attendance Reporting
9. PeopleHR
Another robust payroll software in Mumbai, PeopleHR offers cloud-based HR services that you can make the best of. A few features it offers are applicant tracking for job posts on public platforms, performance management, payroll and leave management, and employee scheduling.
A few pros of PeopleHR software are its smooth and streamlined applicant tracking feature and easy-to-use interface. However, it hasn't received the best reviews regarding its customer support response time. If you have doubts about the software's pricing, you can contact them for a quote.
Features
Employee Database
Document Management
Leave and Attendance Management
Employee Engagement
Payroll Management
Expense Claim & Reimbursement
Performance & Appraisal Management
Recruitment & Applicant Management
Customised & Automated Workflows
Task Management
Flexible Organisation Chart
Infographic Reports & Dynamic Queries
10. Personio
Personio is a fully featured HR Software designed to serve Startups. It provides end-to-end solutions designed for Web App. This online HR system offers a self-service portal, HR Metrics Library, Recruitment Management, Task Management, and Onboarding in one place.
They claim to provide many benefits including –
All-in-one From recruiting to offboarding.
Rapid ROI Fast implementation, faster benefits.
High-Impact Automate admin, increase focus.
Future-ready Integrate with 100+ apps.
Features
Document Management
Payroll Management
Performance Management
Recruitment Management
Time & Attendance Management
Onboarding
Self Service Portal
Compensation Management
Dashboard

11. Bright HR
Bright HR provides everything you need to manage your staff all in one place, saving you time and money. Using their software allows you to:
Stay fully staffed with absence management tools
Create conflict-free shifts and rotas with ease
Enjoy peace of mind with secure document storage
Simplify staff time-tracking with our exclusive clocking app
Features
Manage staff holidays in a click
Clock in and out with Blip our easy-to-use mobile app
Log sickness and absences
Store documents securely with unlimited cloud storage
Plan shifts and rotas for ANY working pattern
Manage and calculate your expenses with the PoP app
Export payroll-ready data with ease
Maintain legally compliant HR documents
Track overtime and update your payroll
12. CVVIZ
This is not a full HRMS suit, however, it finds a mention here due to its unique offering on recruitment management. This software is used specifically for AI-powered recruiting. CVVIZ provides multiple features that can help you post job vacancies for your company, track applicant status, quickly review resumes, and evaluate candidates! One custom reports closing almost 95% of all vacancies at their organisation using CVVIZ. The software is known for its efficient applicant tracking tool, as well as its interview scheduling feature. As for cons, specific integrations may need some work/development, but a solid tool otherwise. For pricing, you can contact the team for a quote.
Features
Email Templates
Applicant Tracking
Applicant Workflow
Applications Management
Recruiting Management
Resume Database
Resume Search
Social Media Integration
Social Recruiting
Talent Acquisition
Candidate Management
Collaboration Tools
Job Requisition & Posting
Jobs Board Integration
Recruiting Firms

Conclusion
Choosing the right HR software system in Mumbai can seem daunting, but it is seamless once you conduct thorough research and evaluate your company's needs and goals. Once you have all this information laid out, all you have to do is send over these details for a quote!
In this blog, we have mentioned 11 of the best software you can opt for, including factoHR. Finally, it is essential to look at certain factors before opting for software, including cost, integrations, mobile accessibility, and feedback from current users.
Some Common FAQs
What should I consider when choosing an HR software system?
You should consider the features it offers, the payment/pricing plans, feedback from current/past users, and whether they comply with digital privacy norms!
Can I customise HR software systems to suit my organisation's needs?
Yes! Many HR software systems allow for customizability, but the extent of the same may vary from software to software.
How much do HR software systems cost?
The price for HR software systems varies from vendor to vendor, as well as your organisation's requirements and overall employee count. You should ideally submit a quote to the vendor to get an estimate of your overall cost.