Job Sharing for Employees: How it Works and What are its Advantages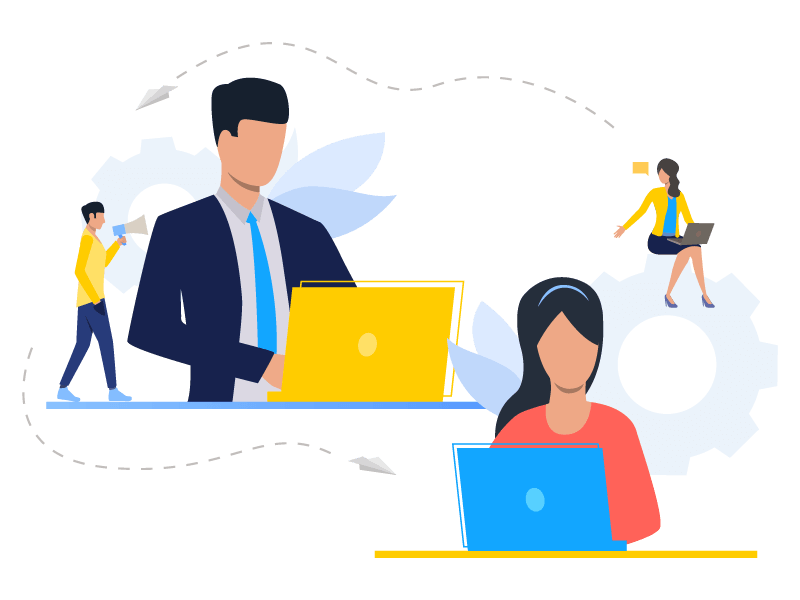 Many employers believe that there is a considerable difference between part-time and full-time employment. The primary belief is that working part-time does not produce the expected output from the employees. While on the contrary, employees believe that job-sharing gives a flexible working environment to complete the work.
Many adults suffer from giving time to their dear ones and end up circling around their job and business. While it disturbs the balance of personal life, it also stresses the employees, and eventually, the productivity is degraded.
Studies from Forbes have shown that approximately 85 % of the employees consider that the negative effect on private life is due to mental health problems at work.
Thus it is evident that proper work-life harmony leads to a satisfying job role.

What Is Job Sharing?
As the name suggests, job sharing is defined as sharing a job between two or more individual employees to complete the task together. Such individuals work part-time in various shifts to get their part of the job done.
For example, one individual is working on Monday, another on Tuesday, working on two days at a time, etc.
In other words, one can say that job sharing consists of work done by two or more employees, which is actually the work of one individual.
What is the Need for Job Sharing?
Job sharing has been in the market for many years and has been a way of figuring out how to do a particular job work more flexibly. As job sharing is designated as the work done by a different employee during different shifts, the importance of allowing it in the workplace is increased due to many reasons.
Many students want to compensate for their living and basic needs on their own, for which they utilize their extra time from the day in working as a part-time employee. Some individuals who wanted to maintain work-life balance also use the sharing of a job with another person. It will help them in providing an equal amount of time to employment and family.
Moreover, in a full-time job, you have to provide full attention to the work. In contrast, people can save much time doing job sharing with prorated payroll management and maintaining other personal life priorities.

What are the Necessary Steps for It to Work?
Working for a job partly is not easy to go through.
What if the individual with whom you are sharing your job is not worthy enough to trust? What if you don't receive any credits even after you have worked hard?
After all, you have to coordinate and share every little detail of the job with your partner. Small mismanagement can cause big trouble; thus, a proper plan to execute the job is necessary. Here is an approach that maximizes employee performance management and their output when it is effectively used.

1. Choose a Worthy Partner
If you are sharing a job with a person, make sure you know their nature and strategies of the opposite person to work things out. If the ideologies and targets don't match, there will be a disturbance in work going on.
It is easy to work with whom you can communicate, agree, and disagree on matters and discuss thoroughly without any misconception. Also, make sure not to become a partner with the same thoughts; else, you both cannot decide and seek things out.
2. Decide the Plan to Perform Work
Whichever work you start, the execution plan is a must to have. The proper flow of how things are to be done and how to proceed in difficult situations will help you find out a better way to reach the targets.
For example, either you both can decide and divide tasks based on workload and number of days to complete the tasks or just take responsibility for a particular task split. This division is highly based on the job preference and skill you both have.
3. Regular Communication
Communication is essential to get the job done. It is possible that you are stuck in some other work or didn't know how to execute specific tasks. Ensure that your partner knows your hindrance and assists you with the same. Communication break will make things even worse.
Ideal job sharing needs conveyance of the information from both ends. If the employees work in different shifts, communication can be made through emails, calls, and apps like skype. Communicate about the priorities, needs, and expectations to get an idea about how the opposite person reacts and takes action.
4. Keep Your Manager Aware
If you propose this option to work, ensure that your manager supports the ideas unless it's not going to do.
Involve your boss in every communication you have and ask for feedback. It is always better to communicate and report the progress to the managers and superiors. Even if you are working from home, share every little detail with them. For example, your superior can use remote monitoring to stay connected with you throughout the time. It also reflects as evidence that you have worked well along with the partner.
5. Maintain the Targets and Expectations
It is evident that if you divide the amount of work, you have to inform it not only to the manager but to the clients, co-workers, and other such people. They should be informed about how to communicate and share things with you.
It may happen that due to miscommunication between the partners, the clients have to face delays and improper information. It does not reflect the helping nature of the company.
Though two persons handle the work, it must look like a single unit and express unity in information sharing and understanding.
6. Give Proper Time
It's definitely not the beginning that you will be able to settle all the expectations and understanding. Any new method used needs time for people to get used to it. It is not only you who needs to adjust to the environment but other co-workers as well who help in some or other way.
Ask everyone for the feedback and act accordingly. Try not to be harsh on others and forcefully make them adapt to the change. It increases the communication gap and can be a reason behind their turnout.

What are the Advantages of Job Sharing for Employees?
Though job sharing takes much time to establish an understanding with another person, it is easier to regularize the personal and professional life separately afterward. There are many advantages of sharing a single job, apart from the above mentioned, and are enlisted as you move ahead.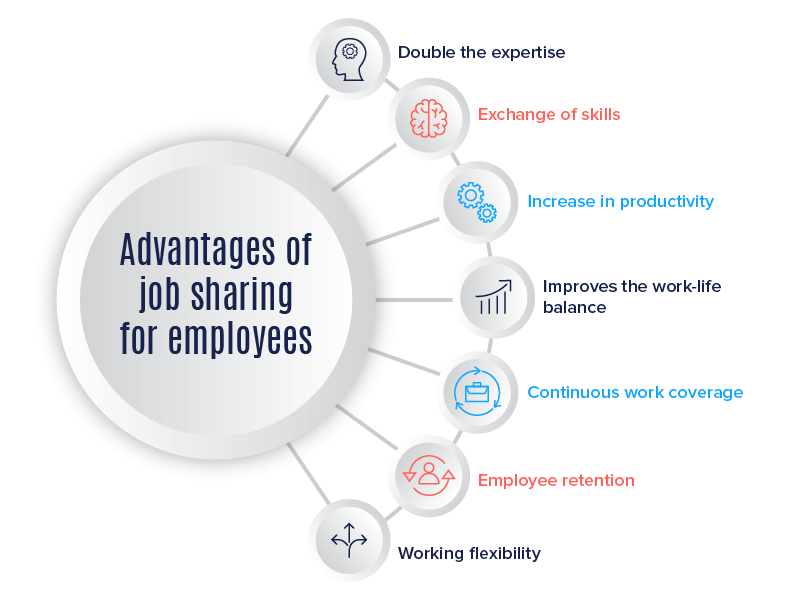 1. Double the Expertise
It is sure that if more persons with different expertise and skills to complete the tasks unite to make a single unit share the job work, they can submit the work with some extraordinary performance. With both of them highly trained in the job, they can help each other out during the problems and maintain equal balance.
2. Exchange of Skills
Indeed, if both of the employees have a different skill set level, they can help the other learn and develop the skills to a more significant amount. It will enhance the level of knowledge and help the employees reach the target within a specified time because better collaboration with strong skills can generate the required output.
3. Increase in Productivity
As two people share the job, they can input a more generous amount of time and energy into the tasks making them more productive and loyal towards their work. An increased amount of productivity leads to fulfilling the expectations and targets of both personal and professional life.
4. Improves the Work-Life Balance
As employees can provide balanced time to their dear ones and their office staff, they experience improved morale and power to manage even the most challenging things in work.
5. Continuous Work Coverage
The managers now don't have to worry about assigning the task when a particular employee is sick or on leave due to various reasons. The remaining task can be handed over to the other shareholder who would know how to do it well. Job sharing greatly supports leave management as it offers more chances to cover the leaves and fewer hurdles in assigning the pending tasks to other employees.
6. Employee Retention
With improved productivity and employee motivation, he becomes more comfortable working with the same organization for a longer time, thus ensuring high workforce retention. And studies from gallup have shown that highly engaged companies are 59% less likely to experience employee turnover.
7. Working Flexibility
As the tasks, workload, and time are divided between two employees, it is easier for them to distribute their time according to their flexibility to give more importance to the tasks.

Ending Notes
Apart from full-time employment, employers are also giving importance to part-time employment. It is helpful for the employee in bifurcating an equal amount of time to the employee, but it also helps the employer retain the high-performing employees. They expect flexible working conditions to cover personal problems.
This type of working environment helps in establishing a culture where the workforce is happy and excited to be a part of the business.