Table of Contents

Agribusiness in India plays a significant role in the country's socio-economic framework, being a primary source of livelihood and employment. This sector includes a broad spectrum of activities from farming and cultivation to the processing and distribution of crops and livestock products.
Given the vast and often seasonal workforce, the management of human resources within this industry can be exceptionally challenging. However, managing salary processes in agribusiness with a substantial workforce is a complex process. The implementation of payroll software offers an efficient solution to navigate these complexities.
Moreover, there are various options available in the market today. The features and functionality provided by this software are also diverse. This blog will assist you in choosing the most suitable payroll software for Agriculture business.

List of Best 5 Payroll Software for Agriculture
There are many choices available as more agribusinesses need automated salary management. Each of these options comes with its unique features. Choosing the right software that matches the agriculture company's needs is essential. We've explored different softwares and checked if they're trustworthy. After that, we've made a list of India's best payroll software for agriculture.
1. factoHR
factoHR's all-in-one cloud-based automated solution serves agribusinesses of all sizes. This powerful technology transforms your payroll processes and enhances the effectiveness and output of your whole staff of employees. Complex processes like salary computations, payments, statutory compliance with rules, income tax processing, ESIC calculation, PF, and loan calculations are easily simplified with factoHR.
factoHR not only simplifies the salary processes and expense management of agriculture but also provides an intuitive mobile app. Moreover, employees can check their earning receipts, clock in and out, and request leave. factoHR now includes the latest features such as an AI-powered chatbot, attendance monitoring based on selfies etc.
Features
View salary and get a summary of gross earnings on the ESS portal.
Download last month's or year's payslip in PDF format.
Create unlimited earning components with formula-driven rule engine.
Wizard-driven salary process for guidance at every step.
Credit employees' salaries directly to their bank accounts.
View income tax and compare it with actual deductions.
Administering salaries with multiple payroll groups according to employees' payroll cycle.
Produce different kinds of income tax reports and forms.
Compensate according to employees' performance.
Manage advance and loan management through policy.
Configure unlimited salary components.
The off-cycle payroll process allows making all additional payments like bonuses.
Retro changes and arrear calculations can be claimed or rectified.
Provides compliance requirements with automatic calculation and ready to file form, report and challan.
Schedule reports or mail according to your requirements.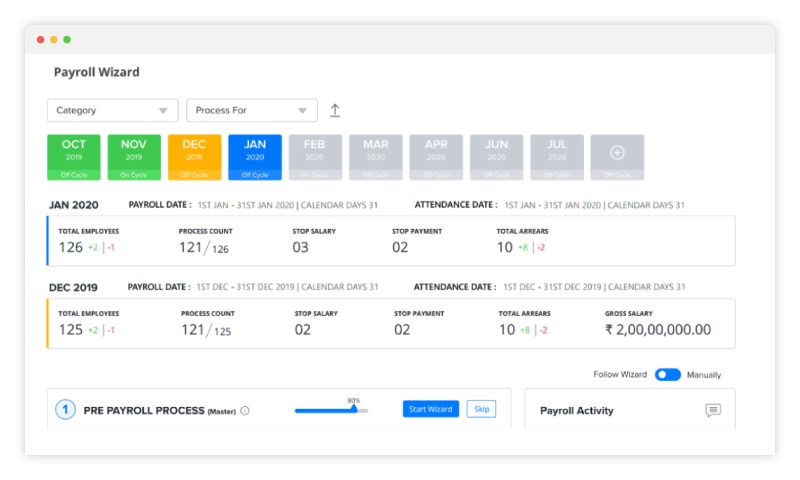 Benefits
Employee data is protected with high-level security measures like audit trails, encryption at rest, and precise access control.
Plug-and-play integration ensures minimal human intervention and the highest data output accuracy through the validation engine.
It provides flexibility according to your needs with formula-based calculation, customisation process and unlimited component creation.
Users can feel a smooth experience as payroll is integrated with all internal modules like core HR, attendance, leave, or expense management and external systems like ERPs and accounting apps.
What People Say About Us

Pricing
factoHR offers 4 exceptional pricing plans to choose: Performer, Bolster, Advance Velocity, and Essential. Some add-ons may boost your chosen plan by including different optional features, like face recognition, self-onboarding, and a ticketing system.

2. Infogrid HR
Infogrid provides a comprehensive solution for seamless salary and compliance management. Its user-friendly software ensures a painless salary process that is not only faster but also incredibly accurate. It eliminates hassles from compensation mana. Teams can be empowered for effective salary processes, and the insightful reports go beyond mere numbers and budgets with role-based visibility. Infogrid offers a centralized and highly secure database to safeguard sensitive data. Businesses can trust Infogrid for a comprehensive solution that makes compensation management faster, more accurate, and completely hassle-free.
Features
Employee Expense Management
IT Declarations & TDS
Customized Report
3. BambooHR
BambooHR offers a seamless solution for HR needs and transforms tedious tasks by consolidating time tracking, time-off recording, benefits management, and payroll processing into a user-friendly platform. This system eliminates data double-entry and manual approval hassles. Users enjoy a stress-free payroll experience because of its single-source data repository, exceptional customer support, and full-service tax filing with BambooHR. Discover the convenience of streamlined payroll in a brief, informative webinar, where BambooHR's capabilities for all-in-one payroll, time tracking, and benefits management are showcased. Experience effortless and precise payroll processing with BambooHR.
Features
Paid Time Off
Time Tracking
Tax Filing Reports
Employee Self-Service

4. PulseHRM
PulseHRM provides a comprehensive solution for agribusinesses to streamline salary and Tax-related administration tasks. Its team manages all salary processes and simplifies complex tasks. It facilitates a smooth transition from older biometric systems to modern hardware devices. Its intuitive interface enables employees without experience to access their details easily. Overall, It automates payroll transactions with lower costs.
Features
Payroll Compliance
Review Payslips
Provident Fund Services
Compliance Updates
5. Pion HR
PionHR automates salary, expense and simplifies the intricacy of salary and tax-related processes. It integrates with attendance and leaves and processes salary through software. It also provides records and reports to assist HR in better budgets and managing expenses. It automates all processes securely.
Features
Reporting
Provident Fund
Employee State Insurance
Other Compliance
Income Tax

Conclusion
Implementing cloud-based payroll software in agriculture automates all compensation processes, improves accuracy and enhances overall efficiency for agricultural businesses. A Specialized payroll solution reduces the burden of HR and provides a comprehensive solution for farmers. It allows them to manage their workforce and automates salary processes. Agricultural businesses can minimize errors, reduce compliance risks, and save valuable time by automating tasks. Ultimately, payroll software can enhance operational efficiency, saves cost and enhances workforce management. So executing an automated payroll software is worth making decisions for agriculture.