Table of Contents

Bangalore is well known as the silicon valley of India. In busy landscape, managing and processing employee payroll correctly is critical for any company. Payroll is an essential process for any company to ensure accurate and timely salary payments to employees and fulfill statutory compliance. In this whole process payroll software helps you streamline your manual process to an automated one. Top payroll solutions available in Bangalore are fundamental resources enabling local businesses to emerge and expand rapidly by providing quick and easy payroll solutions. This article will assist you in selecting the right payroll solution in Bangalore that fits best with your requirements.

How to Choose the Best Payroll Software For Your Organization
Efficient and accurate payroll management is inevitable for businesses of every size. The following factors will help you in choosing the best payroll solutions.
1. Identify Your Needs
Before choosing a payroll solution for your business you need to list down what all requirements and expectations you have as per your current practice, business type, workforce strength and size of your company.
2. User-friendly Interface
Ease of use is also one of the most important factors when choosing payroll systems as it can dramatically increase efficiency and smoothen the adoption. To compare if an application has an intuitive interface or not you can compare it with modern smartphone applications where users can easily navigate all the functionality and learn operating it by themself.
3. Scalability
Choose software that can flexibly accommodate your business's growth, especially if you anticipate expanding your workforce in the future.
4. Integration Capabilities
Incorporating other systems such as accounting or HR tools is crucial for guaranteeing flawless collaboration with the payroll management system. Integration is necessary to ensure seamless operations and protect against data entry errors.
5. Future Updates and Support
Ensure that the software provider consistently releases updates to keep the system in compliance with ever-changing tax laws and regulations.
6. Customisation
Evaluate whether the software offers the flexibility to be tailored to your unique payroll processes and reporting requirements.
Advantages of Online Software
An Effective online system should offer numerous advantages to businesses, optimizing their payroll operations while assuring precision and adherence to regulatory standards. Given below are key benefits that should be included.
1. Payroll Automation
The Payroll system automates and simplifies salary, deduction, and tax calculations, enhancing accuracy and efficiency. Its user-friendly interface reduces errors, and offers customization options for various business needs.
2. Direct Deposit
Streamline your payroll process by implementing online fund transfers for employee salaries. This eliminates the necessity for physical paper checks, resulting in cost savings on administrative tasks.
3. Data Security
Keep your payroll information safe by using safeguards like encryption, precise access controls, and regular data backups. That is how you can be sure your sensitive data is safe and protected.
4. Employee Self-Service
Empowering employees with access to their payroll details, including earnings statements and tax documentation, fosters transparency and diminishes the need for frequent HR inquiries. The payroll system should seamlessly facilitate self-service portals for employees.

List of Best 10 Payroll Software Companies in Bangalore
Many payroll solutions are available in the market so it is crucial to carefully select software that aligns with your organization's specific requirements.
1. factoHR
factoHR is a user-friendly cloud-based payroll solution that seamlessly fulfills the requirements of businesses of all sizes, whether you're a well-established corporation or an up-and-coming company in Bangalore. It simplifies and streamlines payroll processes effortlessly with a wizard-driven approach and a single data source. factoHR empowers employees to mark their attendance, download payslips, and request leave through employee self-service or mobile apps. With factoHR, you can experience outstanding scalability and boost the efficiency of your core HR department. It simplifies the management of complex tasks like salary calculations, payment processing, statutory compliance, IT deductions, ESIC, PF, and loan, making them effortless to handle. It provides a reliable and straightforward solution for these critical functions.
Features
| | |
| --- | --- |
| View salary and get a summary of gross earnings. | Download last month's or year's payslip in PDF format. |
| Choose a payslip format according to your organisation's needs. | Wizard-driven salary process for guidance at every step. |
| Deposit employees' salary directly to employees' bank accounts. | View projected income tax and compare it with actual deductions. |
| Process salary with multiple payroll groups according to employees' payroll cycle. | Generate all kinds of income tax reports and forms. |
| Pay incentives according to employees' performance. | Manage advance and loan management through policy. |
| Configure unlimited salary components. | The off-cycle payroll process enables making all additional payments like bonuses. |
| Simplify retro changes and arrear calculations. | Fulfills compliance requirements with automatic calculation and ready to file form, report and challan. |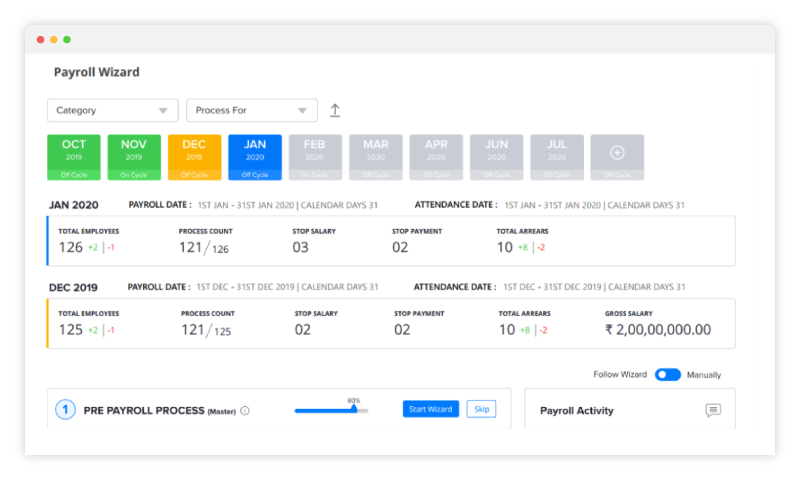 Advantages
Its high-level security safeguards important employee information using encryption at rest, audit trail, and fine access.
A plug-and-play integration and validation engine guarantees minimal human intervention and achieves the highest accuracy in data output.
Users can achieve unparalleled flexibility in the present and future by harnessing formula-based calculations, customisation processes, and the limitless capacity to create components.
Integrating payroll into our system creates a seamless and user-friendly experience, ensuring smooth interactions between all internal modules and external systems.
What Others Say About Us


2. Fingercheck
Fingercheck offers a straightforward and budget-friendly payroll solution designed with small and new businesses in mind. It detects errors, monitors overtime patterns, and conveniently tracks all payroll expenses in a single location. Additionally, It provides a clear visualization of salary details, taxes, and benefits, making it easy for businesses to grasp these crucial financial aspects. It also provides analytics for valuable insights while ensuring employee and company data will be protected.
Features
Automate payroll
Error-free compliance
Tax calculations
24/7 support
3. Personio
Personio is a comprehensive payroll solution that simplifies and automates the intricate payroll procedures within businesses. Its various features encompass precise salary calculations, tax compliance, and a convenient direct deposit system, all of which collectively ensure the effortless management of payroll. With its user interface and powerful reporting tools, Personio simplifies payroll responsibilities, and empowers organizations to oversee their payroll operations effortlessly. This software is indispensable for enhancing efficiency and precision in intricate payroll management.
Features
Easy payroll process
Customised payroll process
Integration with accounting
Data backup and recovery
4. Gizmosys Solutions
Gizmosys is a payroll solution designed to accomplish the needs of both small and large businesses, offering a user-friendly experience. Gizmosys effectively manages all aspects of employee management with its simplicity and flexibility. It not only handles payroll calculations but also enables employees by allowing them to access and review their payroll details and even take necessary actions within the system.
Features
Payslips
Loan / Advance / Arrears calculation
Employee self-service to download payslips
Salary approval
TDS / PF / PT calculation
Audit trail reports

5. Paychex
Paychex automates the payroll process of small and mid-sized businesses. Its small business payroll system provides flexible online processing for various types of workers with mobile access and phone support. It handles payroll tax, offers reporting, 24/7 customer service, and new hiring. Employee self-service, payment options, HR analytics, labour law compliance, and garnishment management are also provided. Its mid-sized payroll system offers a comprehensive payroll solution that streamlines online processing, automates tax administration, and provides HR and benefits support. With a user-friendly mobile app, reporting, and financial wellness programs, it enhances employee engagement and its operational efficiency. It also offers tools like employee retention tax credit and professional development resources, making it a valuable choice for businesses seeking payroll excellence and growth.
Features
Online payroll process
Direct deposit
Employee self-service
Reporting and analytics
Employment and income tax verification service
6. EmployeeVibes
EmployeeVibes enables payroll solution that can be customized to meet the unique needs of businesses, especially in India, where managing payroll can be complex due to compliance requirements. This software simplifies and speeds up payroll processing, ensuring employees' salaries are distributed quickly and accurately. With EmployeeVibes' customizable payroll solution, businesses can experience improved efficiency and precision, allowing them to concentrate on their core operations.
Features
Unlimited CTC structures
Filter salary process
Statutory compliance
Payslip on mobile app
Loan and EMI management
Clearance during FFS
7. AddettoHR
Addetto payroll system is a reliable personal assistant for effortless employee payroll management. It presents a user-friendly solution streamlining the intricate task of ensuring accurate and timely employee payments. With AddettoHR, users can effortlessly input and calculate salaries, deductions, and tax obligations, simplifying payroll processing. Additionally, it aids in generating payslips and facilitates the management of direct deposits. Furthermore, the software monitors hours worked and leaves taken, ensuring compliance with labour regulations.
Features
Biometric integration
In-built compliance
Leave management
Powerful integrations
Employee lifecycle
Salary payment
Payslips and reports

8. PionHR
PionHR makes complex payroll processes easy and saves time by automating the payroll system. It is suitable for small to large enterprises. It removes obstacles while paying employees and makes payroll efficient and error-free. This user-friendly software allows users to navigate features easily. It provides security and compliance with regulatory standards. It offers direct deposit, electronic tax filing, and comprehensive reporting to ensure a smooth payroll experience. This software integrates with other HR tools and provides a unified approach to human resource management. It automates routine tasks and offers real-time access to payroll data. This software releases the administrative burden on HR departments, allowing them to focus more on strategic activities.
Features
End-to-end payroll
Integration with other internal modules
Compliance management
Employee/Staffing Outsource
Other compliance
Fully customisable payroll
9. HR Pearls
HR Pearls payroll management system transcends in seamlessly executing a range of critical functions. It effortlessly calculates salaries with a user-friendly flowchart that assures precision and transparency. This system handles formula-driven, fixed, and flexible components, guaranteeing accurate results. Moreover, it streamlines various payroll-related tasks, optimizing efficiency and reducing errors. With HRpearls, users can trust in a comprehensive and easy-to-use solution that simplifies payroll management, freeing HR professionals to focus on strategic initiatives while maintaining employee satisfaction through timely and precise compensation processing.
Features
Salary calculation
Reimbursement management
Loan and advance management
Overtime management
Bonus calculation
Full and final settlement
Tax declaration
Gratuity calculation
Salary register and various reports
10. Decision Plus HRMS
Decision Plus HRMS payroll system provides a comprehensive and flexible payroll solution that streamlines and administrative tasks for management, allowing them to focus on their core business functions. Developed with extensive expertise, guarantees precise and compliant salary and tax calculations, adhering closely to legislative guidelines. Decision Plus HRMS simplifies the payroll processing workflow with functionalities such as automated deductions, tax form generation, and seamless integration. Moreover, the user-friendly interface enhances accessibility, making payroll management effortless for users. Decision Plus HRMS is a trusted solution for optimizing payroll processes, enabling efficient resource allocation, and ensuring compliance with tax regulations.
Features
Salary calculation
Integration with other internal modules
Payslips generation
Professional tax reports
Income tax declaration
Monthly variable deduction update
Employee individual tax return

Conclusion
In the fast-changing and dynamic environment of Bangalore today, the need for an efficient payroll software is the most important. Considering the complexity and time in manual payment, most companies prefer a payroll management system. The software solution not only automates but also simplifies the complexities associated with payroll management. Implementing a payroll management system is a strategic choice that offers benefits. It not only streamlines the entire payroll process but also enhances its efficiency. Thus keeping in mind the complexity of payroll ,its essential to utilise payroll solution in your organisation as it simplifies the payroll process and reduces the HR department's workload.