Table of Contents

Per statistics, almost 61% of employers and HRs have outsourced all or some part of their payroll operations at some point. Wondering why? Well, that's because payroll management is not easy!
Managing all the critical financial aspects of each and every employee in an organisation – right from when they receive their paychecks to how much salary, tax deductions, and benefits they are eligible for – is a long and arduous process.
But luckily, this is where payroll software comes to the rescue. They streamline the entire process and make it a cakewalk. So, if you're also an HR person struggling with managing a long list of payroll, read this article where we unfold 10 of the most efficient payroll software in Noida. Let's start!

Best 10 Payroll Software In Noida That Are Worth Every Penny
Here is a list of the ten best payroll software that you can avail of if you are an organisation based in Noida and surrounding regions;
1. factoHR
A one-stop solution for all diverse HR needs, factoHR is a simplistic HCM platform that offers efficient payroll management. With a list of features that provide ease, security, and accuracy, this software makes managing payroll a breeze.
It's fully integrated, flexible, and scalable – making it an excellent choice for both small and big organisations. In fact, apart from helping with payroll, this software also seamlessly facilitates recruitment, attendance, leave management, retirement benefits, and other critical employee-centric functions.
Features
| | |
| --- | --- |
| Unique employee self-service portal that gives all payroll-related information to employees on their mobile. | Formula driven rule engine offers the flexibility to create multiple payroll groups at once. |
| ISO accreditation and SOC Type 2 certified cloud data centres assure the highest level of data security. | A Wizard driven salary process enables you to stay on top of every payroll activity. |
| Auto arrear calculations make tracking and managing all retro changes a breeze. | Simplified tax compliance features ensure you do not miss out on tax calculations. |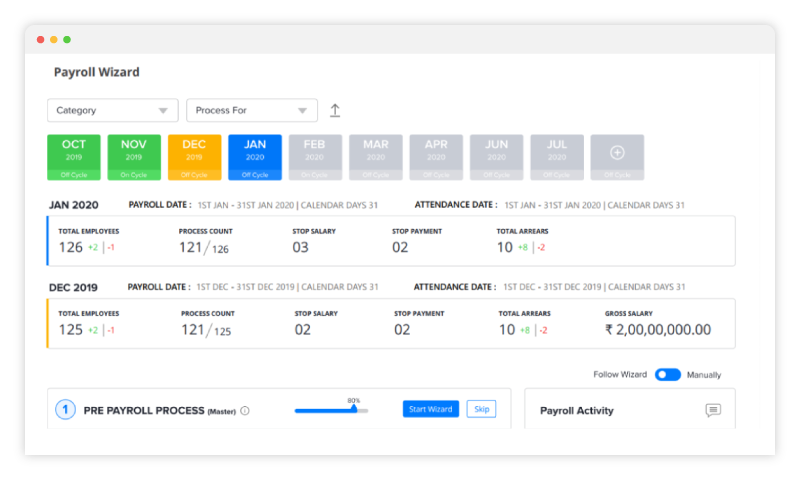 Advantages of Using factoHR
The user interface is clean and intuitive, with no attached learning curve or need for technical expertise.
With features like a self-service portal and easy payroll process configuration, factoHR provides unparalleled ease of use.
Top-notch ISO-certified security ensures data is safe and integrity prevails within the organisation.
A one-point solution for all HR needs makes it a must-have software in every HR toolkit.
Regarding the pricing, factoHR offers four comprehensive pricing plans – Performer, Bolster, Advance Velocity, and Essential. The best part? All of these plans can be tailor-made per your organisation's unique needs.
What People Say About Us


2. Fingercheck
Renowned for its user-friendly interface and versatile capabilities, Fingercheck is a trusted solution for organizations seeking efficiency, accuracy, and compliance in their payroll and HR operations. It excels in automating payroll calculations, ensuring strict adherence to statutory regulations, and simplifying leave and attendance tracking.
Its intuitive employee self-service portal offers transparency and empowers employees to access their payroll and HR data effortlessly. Moreover, Fingercheck offers seamless integration capabilities, taxation management, document handling, audit trails, and other smart features.
Features
Automated payroll calculations
Statutory compliance management
Leave and attendance tracking
Customizable payroll configurations
Tax compliance and reporting
3. 2GrowHR Software
2GrowHR Software is another trusted companion for organisations seeking payroll accuracy, seamless HR operations, and workforce management. This software simplifies employee onboarding and management with customisable payroll configurations and tax compliance management. With a dedicated focus on employee experience, it offers features such as mobile access, real-time reporting, and benefits administration.
Additionally, 2GrowHR caters to expense management needs, making financial control a breeze. This software is committed to enhancing the efficiency of Noida businesses, providing the necessary tools to stay on top of payroll processing and HR management tasks.
Features
Employee onboarding
Customisable payroll configurations
Tax compliance and reporting
Expense management
Employee database management
4. Savvy HRMS
Savvy HRMS is a comprehensive human resource management and payroll management solution designed to empower businesses in Noida with efficient HR operations. It stands out with its precise payroll processing, robust compliance management, and seamless leave and attendance tracking. Its employee self-service portal fosters transparency and empowers employees to access their payroll and HR-related information effortlessly.
This software also provides a rich array of reports and analytics, aiding in data-driven decision-making. Furthermore, Savvy HRMS boasts integration capabilities, facilitating seamless communication with other HR and financial systems.
Features
Compliance management
Leave and attendance tracking
Employee self-service portal
Advanced reporting and analytics
Comprehensive benefits administration

5. Farsight HCM Engine
Farsight HCM Engine is another efficient HR and payroll management software that offers a comprehensive suite of tools to streamline HR and payroll processes. Its standout feature is its multi-country payroll support, ideal for businesses with international operations. It excels in time and attendance tracking, workflow automation, and benefits administration. The software also offers robust employee training management, ensuring staff development and compliance.
With its focus on data security and encryption, Farsight HCM Engine provides peace of mind to Noida businesses when handling sensitive payroll and HR data. Its seamless integration with other systems further enhances its utility.
Features
Multi-country payroll support
Time and attendance tracking
Employee training management
Data security and encryption
Integration with other systems
6. SAN HRMS
With its user-friendly interface and robust features, SAN HRMS is a comprehensive payroll management software in Noida. It excels in basic salary calculation and disbursement, employee self-service, tax calculation and compliance, attendance and leave management, document management, and audit trails. Its biometric integration enhances security and accuracy in tracking employee attendance.
Additionally, SAN HRMS offers task scheduling, employee appraisal system, multi-lingual support, and comprehensive analytics and insights. Seamless integration capabilities ensure smooth communication between HR and other systems.
Features
Salary calculation and disbursement
Employee self-service portal
Tax calculation and compliance
Attendance and leave management
Comprehensive analytics and insights
7. Clove HRMS
Clove HRMS offers seamless payroll processing, streamlined employee database management, efficient leave and attendance tracking, and compliance management. Its mobile app lets employees access their payroll and HR information on the go. Real-time reporting ensures up-to-date information. The software's customisable workflows allow businesses to adapt it to their specific needs.
Additionally, it provides robust security measures and integration capabilities. Its intuitive interface and extensive feature set cater to various HR and payroll needs, making it an invaluable asset for organisations of all sizes.
Features
Employee database management
Leave and attendance tracking
Statutory compliance management
Mobile app for employees
Real-time reporting

8. Samplex24
Samplex24 is an innovative payroll solution with a user-friendly interface and the ability to handle complex payroll tasks precisely and easily. It offers a range of features, including accurate payroll processing, a self-service portal for employees, tax calculation and reporting, employee performance management, and expense reimbursement.
The software also provides API integration options, enabling seamless communication with other systems. Its focus on data security and encryption ensures the confidentiality of sensitive payroll information.
Features
Employee self-service portal
Tax calculation and reporting
Employee performance management
Expense reimbursement
Data security and encryption
9. Officenet
Officenet offers seamless payroll processing, efficient employee benefits administration, precise leave and attendance tracking, and a mobile app for remote access. Its focus on statutory compliance management ensures that businesses adhere to relevant regulations.
The software provides detailed reporting, role-based access control, and integration options with other systems. With features like self-onboarding, retirement plan management, time off requests, and support for multiple pay schedules, Officenet caters to the evolving needs of Noida-based companies.
Features
Seamless payroll processing
Employee benefits administration
Statutory compliance management
Role-based access control
Retirement plan management
10. Paycheck Flex
Paycheck Flex is a flexible and user-friendly payroll solution, ideal for businesses of all sizes in Noida. It stands out with its customisable payroll configurations, precise employee data management, tax compliance and reporting, and efficient leave management. The employee self-service portal provides easy access to payroll and HR information.
Cloud-based accessibility ensures that businesses can manage payroll and HR tasks from anywhere. Integration options with HR and accounting systems enhance its utility. Additionally, Paycheck Flex offers features such as salary adjustment, benefits administration, events and reminders, salary information and history tracking, and support for retirement plans.
Features
Customisable payroll configurations
Employee data management
Tax compliance and reporting
Employee self-service portal
Integration options with HR and accounting systems

Conclusion
Payroll management is tough – agreed. But it's also crucial for an organisation as it directly affects employee satisfaction and morale.
In this article, we listed the top 10 payroll software for Noida-based businesses. So, don't wait anymore – ease your payroll management activities by choosing the most suitable one from the list for your organisation.