10 Best Payroll Software for SMEs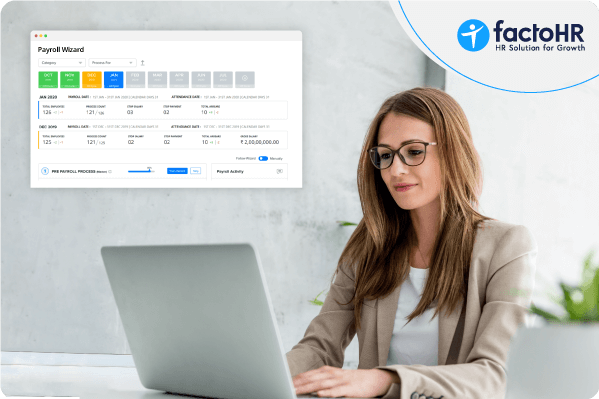 Table of Contents

Managing payroll is an important process for any business, especially for SMEs. As the backbone of your organization, your employees deserve timely and accurate compensation. However, SMEs often find themselves grappling with the complexities of manually calculating salaries, taxes, deductions, and benefits. Fortunately, payroll software offers a streamlined solution to these challenges, enabling businesses to focus more on growth and less on administrative tasks. But, even after knowing this valuable information, one thing that everyone wants to know is which is the best payroll software for your business. We have written this blog which will decode and provide you answer to this question and help you with the selection.

Choosing the Right Payroll Software for Your Organization
Here are a few steps to help you make an informed choice regarding choosing the right software for your organization:
1. Assess Your Needs
Begin by identifying your organization's specific payroll needs. Consider factors like the size of your workforce, your industry's compliance requirements, and any unique payroll processes you have in place.
2. Features and Functionality
Make a list of features you require in payroll software. Common features include automated tax calculations, employee self-service portals, customizable pay structures, and integration with accounting or HR systems.
3. Scalability
Ensure the software can grow with your organization. Choose software that can adjust according to the future need of an increasing number of employees.
4. Easy to Use
The software should be intuitive and user-friendly. Complex interfaces can lead to errors and decreased productivity. Look for a system that simplifies payroll processes.
5. Security
Payroll data contains sensitive information. Ensure the software provides strong security measures such as data encryption, multi-factor authentication, and regular security updates.
6. Support and Training
Check what kind of customer support the software provider offers. Also, assess the availability of training resources and user guides to help your team effectively use the software.
7. Customization
Consider whether the software allows you to fine tune payslip formats, reports, and other features to match your organization's branding, function and non functional requirements.

Best 10 Payroll Software for SMEs To Use in 2023
In the following list, we have mentioned the best payroll software with various strengths that are best suited for SMEs in India.
1. factoHR
factoHR is an all-in-one HR and payroll software designed for SMEs. It provides payroll processing, payslip generation, statutory compliance, income tax reports, loan management and even offers an employee self-service portal. What is unique about factoHR, relative to other payroll softwares, is that it offers an integration with internal modules like attendance, leave, employee performance, etc, as well as with other well known ERP and accounting systems, this makes payroll processing seamless than ever. Apart from that, it is also known for its mobile app, security and scalability which make it the most suitable solution for growing SMEs. Talking of its features, let's look at a few of its most useful features for a SME.
Features
| | |
| --- | --- |
| Payroll wizard guides you through different payroll steps to ensure that you don't miss anything. | Keeps track of all retro changes done in attendance and auto-calculates statutory and other payments for the organization. |
| Download statutory forms and allow employees to know IT deductions from the mobile app. | Reports can be scheduled and mailed directly by scheduling it. |
| Performance-linked payroll solution can be used to link employees' compensation with their goals and KPIs. | ISO accredited and SOC Type 2 certified cloud data centre. |
| Off-cycle Payroll process can make all necessary payments that aren't included in the regular payroll cycle. | Various payroll reports can be built using the custom report builder option by selecting the relevant data source. |
| Provides you with an option to manage employees' loans and advances, including its policy configuration, calculations and reports. | Mobile App to allow your employees to download their payslips via their smartphone. |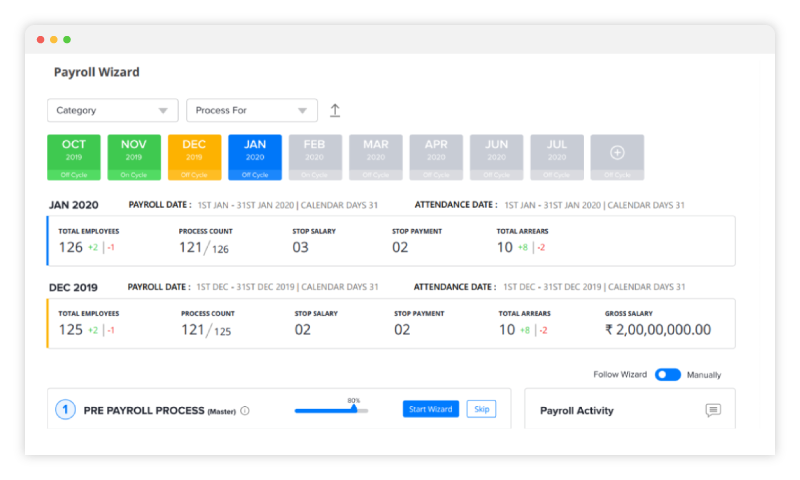 Benefits
Takes care of all your compliance requirements, be it PF, ESIC, Professional Tax, TDS, EDLI, etc.
Reduces the manual effort required to process payroll, allowing HR and finance teams to focus on more strategic activities.
Provides flexibility as per the company's needs with formula-based calculation, process customization and unlimited component creation.
Allows employees to access their payslips, tax forms, and other relevant information independently, reducing the need for HR to handle routine inquiries.
What People Say About Us


2. Fingercheck Payroll
Fingercheck Payroll is an automated payroll service for small and medium-sized businesses in India. It has been designed to take care of the whole payroll process, right from inputting employees' compensation details to processing their payroll as well as their return filings. The software eliminates manual intervention in executing payroll. Additionally, it automates salary distribution, reimbursements, leave management, and monthly filings for compliance payments, including Gratuity, TDS, PF, ESI, and PT.
Features
Automated Tax Calculations
Compliance Reporting
Employee Self-Service Portal
Customizable Payslips
Expense Management
Full and Final Settlement
Payroll Reports
3. EmployeeVibes
EmployeeVibes is an easy-to-use yet highly configurable payroll software designed to fulfil Indian payroll needs. EmployeeVibes's user-friendly interface and range of features make it a valuable choice for SMEs seeking an integrated solution. It also simplifies tax calculations and generates accurate reports to help SMEs remain compliant with tax regulations. Furthermore, EmployeeVibes's reporting and analytics capabilities provide insights into your payroll data, helping you make informed decisions about compensation, benefits, and workforce management. EmployeeVibes is a dependable option for SMEs wishing to streamline their payroll procedures thanks to features designed to increase efficiency and accuracy.
Features
Custom Salary Templates
7-Step Payroll Process
Loans and Advances Management
Custom, Auto-Generated Payslips
Investment Declarations and Proof Submission
4. Gizmosys Solutions
Gizmosys Solutions is a smart HR solution that simplifies the complexities of payroll operations. With its advanced payroll processing automation, HRs can significantly reduce manual tasks and the potential for errors. Gizmosys Solution's user interface is designed with simplicity in mind, making it easy for SMEs to navigate and utilize the software without extensive training. This user-friendly approach ensures that SMEs can quickly adopt the software and start benefiting from its features.
Features
Automated check-ins
Automated reminders
Claims and advances
Payment and compliance advisory
Expense management

5. Asanify
Asanify is a comprehensive human resource management and payroll software solution tailored for SMEs. It allows organizations to effectively manage their employees while ensuring accurate and timely payroll processing. Asanify also offers top-level security features to keep the sensitive data of the company safe. It is an easy-to-use popular payroll software and offers multi-layered access to each employee. With Asanify, all important features can be tracked, including employee loans, leaves, compliance, attendance, and more.
Features
Payroll processing
Statutory reports
Arrears calculations
Loans & advance management
Income tax management
Full & final settlement
6. Paychex
Paychex is a robust payroll management software designed for SMEs. Apart from payroll, it also offers other HR solutions such as leave, attendance and performance management. The software's cloud-based nature allows for easy access, and management of payroll and HR information from anywhere, enhancing flexibility and efficiency. Paychex's comprehensive reporting capabilities provide valuable insights into workforce data, helping SMEs make data-driven decisions related to payroll, performance, and resource allocation.
Features
Employee records
Employee history
Salary administration
Statutory Compliance
Loan management
7. TrickyHR
TrickyHR is a versatile solution that offers integrated payroll management, comprehensive HR tools, talent management capabilities, and employee self-service features. It's ideal for growing SMEs, providing an all-in-one platform to streamline payroll, automate HR processes, manage employee development, ensure compliance, and offer a user-friendly experience. With its scalability, intuitive interface, and holistic approach, TrickyHR empowers SMEs to efficiently handle their evolving HR needs as they continue to expand.
Features
Online Payroll Transaction
Loan and Advance Management
Reimbursement Management & Bank Transfer Details
Arrears Calculation and Other Payment
PF/ ESIS /PT/ Income Tax Management Reports

8. HR Pearls
HR Pearls stands out by integrating payroll features alongside its HR management tools, making it a prime choice for SMEs seeking an all-in-one solution to efficiently oversee both HR and payroll tasks. This integration streamlines processes, enabling accurate payroll management within the same platform used for other HR functions. Additionally, employee self-service options empower staff while customizable workflows accommodate unique business requirements, enhancing flexibility and effectiveness.
Features
Salary Calculations
Full & Final Settlement
Tax Declarations or Investment Proofs
Payslips and Reimbursement Slips
Bank Transfer Sheet
Salary Register & Various Reports
9. Gusto
Gusto has garnered recognition for its user-friendly approach and straightforward navigation. Renowned for its simplicity and ease of use, this platform extends its capabilities beyond mere payroll management. With features encompassing benefits administration and compliance assistance, Gusto presents an integrated solution to handle multifaceted HR tasks seamlessly. What sets Gusto apart is its intuitive design, specifically tailored to cater to small and medium-sized enterprises (SMEs) that might lack dedicated HR teams. This intuitive interface streamlines processes, making complex HR functions accessible even to businesses with limited HR expertise.
Features
Integrated Pre-tax Benefits
Paperless Paychecks
Easy Cancellations
Contractor Payments
Hourly and Salaried Employees
10. Rippling
Rippling emerges as a dynamic solution that brings together the realms of payroll, benefits administration, and IT management within a single, integrated platform. This thorough approach connects well with small and medium-sized businesses (SMEs) looking to improve their HR operations. Importantly, Rippling's standout feature is its strong automation capabilities, which help reduce the burden of manual tasks. By automating repetitive processes, from onboarding to employee data updates and beyond, Rippling significantly contributes to enhancing the efficiency of SMEs. This streamlined approach allows businesses to redirect their focus towards strategic initiatives, ultimately driving growth and proficiency across the organization.
Features
Payment in Local Currency
Automated Tax Filling
Expense Management
Dedicated Mobile App
Payroll Analytics

Conclusion
For SMEs, choosing the appropriate payroll software is a strategic decision that will streamline payroll administration and increase general business effectiveness. These software solutions allow SMEs to devote more time towards achieving growth target and core operations by automating computations, guaranteeing compliance, and providing user-friendly interfaces. Remember that each software solution has its own unique features, so carefully evaluate your SME's needs and choose the one that aligns best with your goals.