What is Performance Appraisal? Its Objectives, Advantages & Methods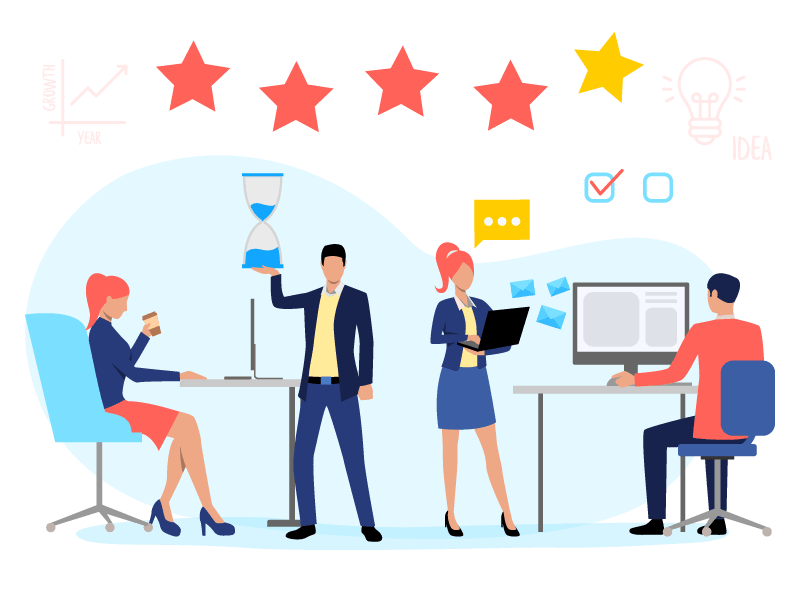 Annual review, performance review, evaluation, employee appraisal, etc., are all different names for performance appraisals which are important in every organization. This regular employee performance evaluation is necessary for two main reasons; to keep the employees updated about the organization's appreciation for their excellent work and to ensure that they are financially able to cope with the constantly changing market demands. Performance appraisal can be conducted manually or by using performance management software on a monthly, quarterly, or annual basis that helps you to measure employee productivity and improve the quality of the workforce in the company.
The happiest workers are the most productive performers, and the most compelling performers are the most comfortable workers. Appraisals boost employees' confidence and self-esteem, and the process also provides them with better opportunities. Appraisals won't only motivate and satisfy your employees, but they will also increase employees' loyalty to your organization.
What is Performance Appraisal?
A regular periodic review and evaluation of employees' job performance and contribution to the company is called performance appraisal. The motive of this function is to get an overview of the company's overall productivity and efficiency, based on which decisions on promotion, appraisals, bonuses, hikes, or terminations are made. Generally, many organizations conduct performance appraisals annually, while it is also conducted semi-annually, quarterly or monthly by some.
Performance appraisal is important for both the organization and the employee. For the organization, it's important because they can use performance appraisal as a tool to know about all of their employee's performance, and it provides them an opportunity to show appreciation to their employees, which ultimately leads to increasing their motivation as well as their productivity. For the employees, it's important because it provides them financial assistance to cope with the inflation, and it acts as a recognition from the organization for the work they have done.

Objectives of Performance Appraisal
To motivate the employees by evaluating and rewarding their work for the organization.
To act as a tool to decide an employee's future and role in the company.
To increase communication and coordination among the employees.
To offer shy employees a platform to shine and prove their potential.
To determine the need for training or development in any area for any employee.
To increase the trust & loyalty of the employees by giving importance to them.
Advantages of Performance Appraisal
Performance appraisal should be an integral process for all organizations, it's very helpful and has many numbers of advantages, but we have picked some of the best advantages that an organization can achieve when they conduct the performance appraisal process:
Improvement in Employees' Performance
Performance appraisal creates a communication channel between employees and superiors, through which an employee's evaluation is done, and they get to know how they performed, what are the things they did right, and where there is room for improvement that would lead towards improving their performance.
Increases Employees Engagement
As we mentioned above, performance appraisal increases communication and helps employees to open up about themselves. They get a chance to express their desires about their work and organization, which creates a friendly environment among the employees and boosts their confidence to increase their engagement in the organization.
Demonstrates Clear Expectations
During the performance appraisal process, the employer can demonstrate exactly what is expected from the employees. They can plan and work according to meet expectations and enhance their performance.
Works as a Motivational Tool
Performance Appraisal includes appreciating and rewarding an employee's work through which employee is motivated to better, and even if they are not rewarded for their poor performance, then also they will be motivated to do better.

Performance Appraisal Methods
There are many methods to evaluate employees' performance and give them appraisals accordingly, but we have compiled a list of 5 widely accepted and easy-to-implement appraisal methods.
360-Degree Feedback
The 360-degree approach, as the name suggests, provides collective feedback from all possible raters, such as supervisors, peers, subordinates, customers, etc. In addition to that, it allows the employees themself to give feedback. The feedback is often collected via online questionnaires that allow absolute transparency. By reviewing the collective report, the employee can know where is room for improvement in their performance.
Management by Objective (MBO)
In management by objective method, the managers and employees work together to identify, plan, organize, and communicate to define their objective. It helps to determine productivity and focus only on main goals, leaving behind other unnecessary things. It gives responsibility to an employee in terms of the exact results that are expected from them. With every meeting, the manager and employee discuss the progress made and use the outcome as a guide for measuring the employee's contribution level.
A Result-Oriented Approach
There are no planned steps in a result-oriented approach. It follows a simple meeting of an employee and manager to discuss a set goal which could also be used for determining promotion, salary increment, etc. This method is often linked to direct motivation as one knows what the prize is at the end of the race. Goal-setting can be applied to any component, such as a sales number, amount of time spent on the field, the number of returned goods, etc.
Behaviorally Anchored Rating Scales (BARS)
BARS is used to do performance appraisal on the basis of results from a predetermined behavioral rating scale that shows performance from poor to excellent. Employer compares employee performance with specific behavioral examples anchored to numerical ratings. BARS has a higher rate of success in providing clear standards, improving feedback, and providing accurate performance analysis and consistent evaluation as it considers other aspects of an employee, such as interpersonal skills.
The Critical Method
This is one of the most manually demanding processes but equally valid for employees' individual growth. The manager keeps a detailed log of the job behavior of each employee as to whether the displayed work is sufficient or insufficient. In the evaluation meeting, this log is then translated into a checklist to evaluate the employee, suggest required training, praise the better deeds, etc. It simplifies the process of identifying an employee's future career trajectory.

Possible Drawbacks that can Ruin the Appraisal Process
The performance appraisals are expected to be fair, accurate, and objective. However, no system involving human and emotional parameters can be pure. Read the following points to learn about common errors that can potentially ruin the performance Appraisal process.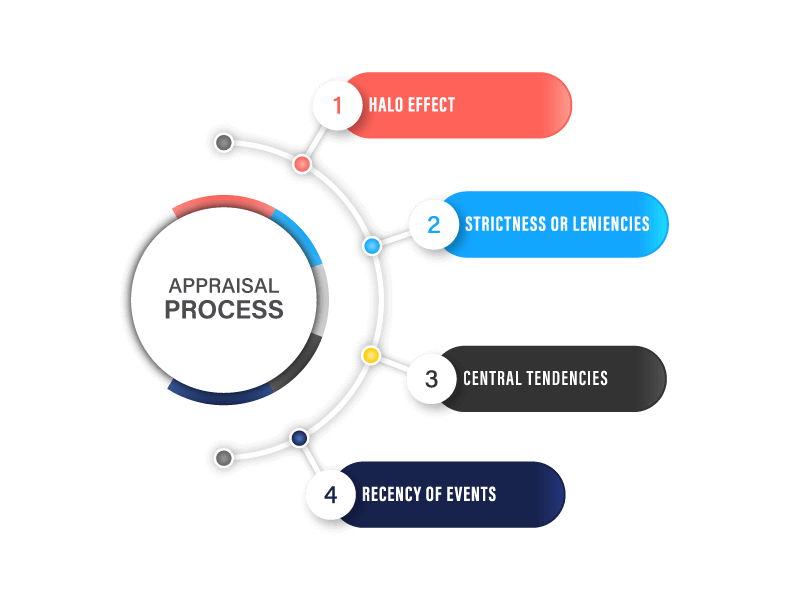 Halo Effect
The Halo effect is another term for favoritism. This is caused when evaluators tend to be influenced by the previous judgments of the performance or personality of an employee. For example, employee A has better interpersonal skills than employee B. It would be unethical if the judging parameter is a skill and employee A scores better than B despite being equally good with their talent.
Strictness or Leniencies
HRM can be extremely strict or extremely lenient with their evaluation. This results in overconfidence upon undeserving evaluation or insecurities among better deserving employees.
Central Tendencies
Unlike extreme measures of strictness or leniency, here, our authority is unwilling to demotivate their employees by giving low points and disagrees with giving an exceptional or good rating to a select one or two. Hence, the final result will be a group getting average ratings overall.
Recency of Events
This occurs when a recent event overshadows the entire evaluation period, which is obviously longer than that recent event. It results in improper and unfair ratings as an employee's complete work cannot be condensed down to one good or bad incident.

Conclusion
The performance appraisal process is one of the most important functions of a performance management system, and Now that you know which methods to use for the performance appraisal process and which things to avoid that could possibly your appraisal process, you should be able to enhance your organization's performance appraisal process.