Management By Objective
What is Management By Objective?
Management by objective (MBO) is a strategic management model that strives to improve an organization's performance by clearly defining its objectives, for which the management and employees agree. The theory encourages the employee's participation in setting goals, planning out actions, and aligning the objectives across the organization.
An example for better understanding:
The marketing team of a company had its monthly meeting
The agenda of the meeting was to set the objective for the coming month
They set 3 goals to be achieved
One of them was to gain five hundred followers on social media
As per the objectives set, the team formulated the action plan
What is the process of MBO?
The steps in the process of MBO are: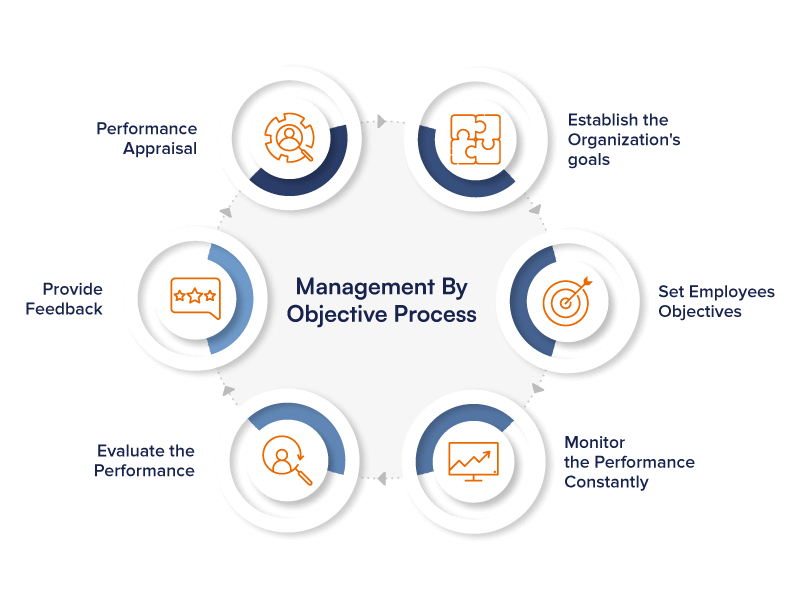 Establish the organization's goals
First and foremost, the organization must set long-term objectives and goals to be achieved.
Set employees' objectives
As per the goals set, managers need to delegate the work and set objectives for individual employees to work on.
Monitor the performance constantly
Monitoring the performance is necessary as it will give a clear picture of whether the work is going on as per the set objective.
Evaluate the performance
Each activity performed should be evaluated. Management needs to take steps against inaccurate actions.
Provide feedback
Feedback should be given to employees on their performance so they can work on its betterment if required.
Performance appraisal
Appraisals are given to employees performing well and achieving the organization's goals.
Frequently Asked Questions
What is the need for management by objective?
The management by objective is crucial for the organization as it brings different benefits; they are:
Goal establishment
Clear objectives set for employees
Actionable plans
Organizations aligned toward a single goal
Effective management, feedback, and appraisals
What are the types of MBO?
The types of MBO can be categorized into three:
Team development objective
The objectives set are for the overall development of the teams and departments.
Individual development objective
The objectives are set individually for employees' development.
Strategic development objective
The objectives are generic for the organization's overall development.