E-recruitment
What is E-recruitment?
E-recruitment is a term used when hiring, recruiting,and its management is done on an electronic basis. The software used for e-recruiting helps in optimizing the hiring process, right from identifying the talent to providing offer letters and onboarding the employee.
For example,
The HR manager of a company posted about a job vacancy with its description on a job portal.
After posting, the manager received applications from multiple candidates.
He then scheduled the interviews with the suitable ones from the application received.
What are the methods of online recruitment?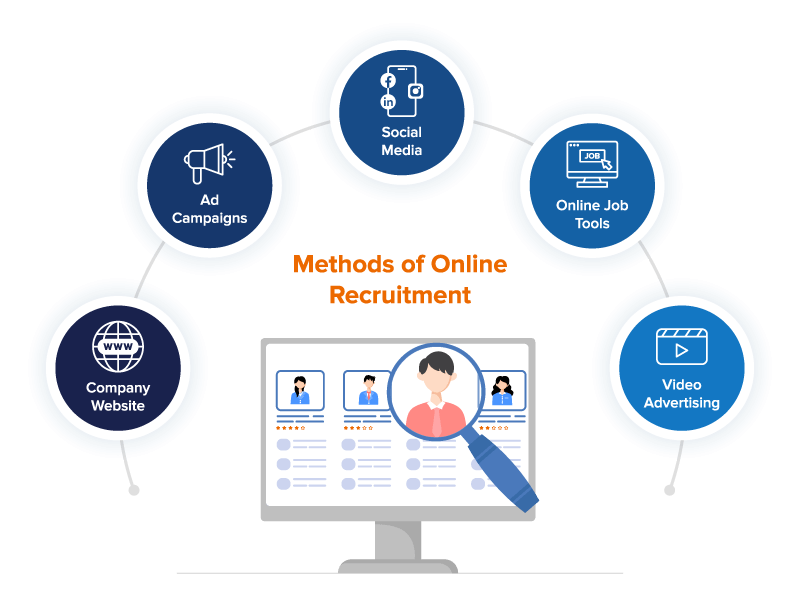 Company Website
A company website is one of the crucial aspects of improving the company's brand awareness and showcasing the work culture. Many candidates prefer to look into the company's website and the work culture.
Ad campaigns
Ad campaigns are the most common and effective way to generate a talent pool for the organization. The Ads are directly targeted towards the candidates who might be suitable for your organization.
Social media
Social media sites have the most crucial role in engaging passive job seekers. The employers can post about the job vacancies, and the candidates respond to them. It also improves the organization's brand awareness.
Online job tools
Numerous job portals identify and help in recruiting candidates. This site provides access to thousands of candidates, which might simplify and accelerate the recruitment process.
Video Advertising
Video advertising makes the advertising more human and interactive. Also, the candidates are more likely to read long descriptions of the job roles. For example, you can include the manager describing the job role or the team members telling their experience at the workplace.

Frequently Asked Questions
What is the importance of Online recruitment?
Online recruitment is becoming increasingly useful nowadays, as, after the wrath of the pandemic, remote work has become a priority, and the workforce is active from different locations rather than the office. Online recruitment helps save time and cost, makes the recruitment streamlined, and increases the efficiency of HR.
How is Online recruitment beneficial?
There are numerous advantages of online recruitment.
Time-saving
Less-expensive
Diverse employees can be selected
The software can be customizable
Employees can send resumes from anywhere anytime
Improves HR efficiency
How can Online recruitment be performed?
Following are the methods through which Online recruitment can be performed.
Develop job boards for online advertisements.
Share vacancies on career pages of websites.
Source skilled applicants via other applications or social media.
Use a video conferencing system for scheduling interviews.
Conduct written and verbal assessments.
Is Online recruitment considered formal recruitment?
Except for the fact that it is performed online, Online recruitment allows HR to conduct exact similar recruitment procedures, so it is entirely formal.
What is the difference between Online recruitment and traditional recruitment?
Compared to offline, online hiring enables organizations to make their talent acquisition efficient and productive as it uses software applications. Additionally, it saves time and cost.