Diversity Recruitment Strategy: Fostering Inclusion and Equity in the Hiring Process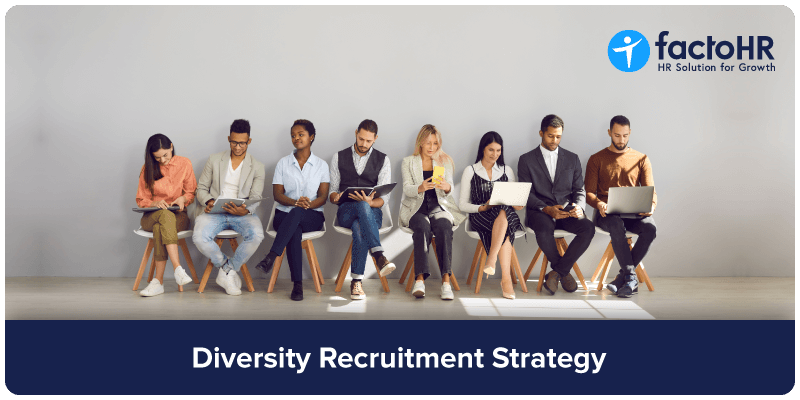 Table of Contents

The society is made up of people speaking different languages, following different cultural practices, originating from varied ethnicities, etc. But, their representation is not equal in all respects of life. This is the reason we see a growing emphasis on their inclusion.
As a part of society, you must initiate inclusion in your organization too. A diversity recruitment strategy is the best way to include varied talents in your organization and make it a place bustling with innovation and creativity. Going forward, we will guide you on why you should opt for diversity recruitment and how you should go ahead with it.
Read on to implement a diversity recruitment strategy in your workplace too.

What is a Diversity Recruitment Strategy?
Diversity recruitment is a policy adopted by organizations to hire candidates from diverse backgrounds. It promotes equality on the basis of gender, race, culture, socioeconomic status, etc. This makes the workplace bias-free and more inclusive.
Following a diversity recruitment strategy is a win-win for both the candidates and the organization. While the employees get equal opportunities, businesses benefit from their diverse capabilities and talents.
Why is a Diversity Recruitment Strategy Important?
Did you know that implementing diversity recruitment can bring a lot of benefits to your business? Here, we list some of them to understand their importance:
1. Bigger Talent Pool
Inclusion in the workplace, right from recruitment, makes you known as one of the best places to work. This attracts talented people to your organization. Statistics indicate that 67% of job seekers look for a diverse work environment while searching for jobs.
When you have an inclusive team, your talent pool is bigger. Your organization will have people with different degrees of experience, creativity, problem-solving abilities, etc. With a bigger talent pool, you can see improvements in productivity, which ultimately accelerates revenue.
2. Builds Brand Image
In a competitive business environment, it is imperative to stand out from the crowd. This can be achieved with a good brand image.
As an inclusive employer, you will earn the goodwill of people, and this boosts your brand image. This enables you to establish better client relationships and improves your business.
3. Improves Productivity
When organizations promote an inclusive workplace, it paves the foundation for a happy workforce. Employees who are happy and satisfied with their work environment are considered to be more productive.
They are happy to contribute more toward the goal of the organization. This accelerates the productivity of the business. It also helps improve long-term growth.
4. Reduces Employee Turnover
One of the serious problems faced by organizations across the world is attrition. More often this happens due to an unfavorable work environment. Adopting an inclusive strategy for recruitment can help solve this issue.
Employees feel accepted in such organziations and stay longer, contributing happily to the growth and success of the business.
5. Improvements in Profitability
It is observed that companies recruiting a diverse workforce are 35% more profitable than those that do not. Isn't this the biggest advantage to a company?
The business gets more recognition and attracts the attention of more clients. This way, business income increases, and, thereby, profitability.

How to Get Started on Creating Your Diversity Recruitment Strategy?
If you are just beginning to create your diversity recruitment strategy, you must understand that it isn't a random task and should follow a systematic approach. Here are some steps to do it:
1. Review Your Existing Diversity Position
How well have you adopted inclusivity presently is the question to ask first. If you have not been an inclusive employer at all, you need to start afresh, else should consider specific areas where you feel a change is needed.
Getting this data ready will be the first step to start your diversity recruitment program. This will help you prepare a plan for your hiring process as you know what should be included in it.
2. Analyze Your Competitors
An analysis of your competitor's work environment will let you know how diverse it is. It will also bring to light the trends in the business and how far you are on par with them.
Based on your competitor's strategy, you can structure/restructure your organization's recruitment policy. This will bring you on par with others in the business. So, along with promoting an equity principle, you also reap the advantage of staying competitive.
3. Define the Areas where Diversity is More Needed
Your present position will help you understand areas where diversity is needed in your organization. Define them and prepare a report so that the management can take steps to correct those areas.
For example, if your organization had not considered women for certain key roles or had no participation from people with disabilities, you can identify these as the areas for change. During the next recruitment cycle, preference should be given to hiring those sections that were identified as left out. This identification process is essential, as the absence of certain sections of society may go unnoticed otherwise.
4. Assess Compatibility with Your Goals
Your business objectives take priority over everything else. When devising a diversity recruitment program, you should assess whether it is complementary to the achievement of your business goals.
You should also consider ways to align the strategy with the overall goals so that you can accomplish both successfully.
5. Create a Diverse Recruiting Team
To create an inclusive strategy in recruitment, you must first have a diverse recruiting team. Check if you have one, and if you do not, create it with a mix of people from varied backgrounds.
The team should be equipped to hire a diverse category of candidates. They should be able to carry out the recruitment process without any bias.
6. Check Job Descriptions for Inclusivity
Job descriptions are one of the ways through which candidates understand how you embrace diversity. Check whether your job descriptions communicate your stand on diversity.
Portray your diverse culture in your job descriptions so that a broad pool of candidates is attracted. This step can be a game changer since candidates believe when the company communicates that, they promote diversity.
7. Get Leadership Support
To create a diversity recruitment strategy, your leader's support is very important. Most companies lose here because of a lack of flexibility from the leadership to adopt inclusivity.
Once your plan, recruitment team, etc., are ready, you must get the leadership support to practise diversity in reality. The undisputed support for following diversity in your organization will help in its smooth operations.
8. Measure Progress
To know the success of your diversity recruiting program, you should measure the progress achieved. This can be seen through employee satisfaction, improvement in productivity, attrition rates, etc.
Tracking the progress is also essential to identify the barriers to the implementation of diversity recruitment.

7 Ways to Incorporate Diversity Recruitment Strategy
Here are seven ways to incorporate diversity into your recruitment strategy:
1. Attract Diverse Applicants
Your present level of diversity in the organization is an indication of what type of candidates to attract. There are many sets of underrepresented candidates who need a shout-out from companies that follow diversity. The best way to attract diverse applicants is through your job descriptions.
Do not depict any form of bias in your description. It should echo inclusivity by the terms you use, while being specific on the skills required for the job.
You should try and reach out to specific candidates like military veterans, BIPOC candidates, diverse ethnicities, etc. Several job platforms where applicants have posted their profiles are the best place to look for such candidates.
2. Utilize Diverse Recruiting Platforms
To be regarded as an equal opportunity employer, you should choose candidates from a variety of recruiting platforms. Platforms like LinkedIn, Diversity.com, Workforce 50, Recruit Disability, PowerToFly, etc., are job portals where you can source candidates from diverse backgrounds.
You should shift your focus from the regular job boards restricted to any specific demographics, as you cannot foster inclusivity in your organization this way.
3. Establish Yourself as an Inclusive Employer
Do you know that employees look for reviews from past employees before applying for a job? Plenty of sites provide a platform for employees to post their reviews about their employers.
When job seekers who are looking for organizations appreciating diversity find your brand as an inclusive one, they will be glad to connect with you.
4. Bring in the Blind Hiring Process
Any form of unintentional bias can also be reduced through blind resumes and interviews. A blind resume is where the candidate's personal details are kept out of focus, and regard is given to experience, skills, achievements, etc.
In a blind interview, applicants do not face the interviewer, thereby reducing the chances of prejudice. They answer through text, and once selected, they meet the employer. The blind hiring process can have a significant impact on your business as all chances of bias are eliminated and people with appropriate skills are only recruited.
5. Create an Accessible Website
Inclusivity must be showcased both in language and in action. Your website is the place to include diversity in language. Make your website accessible and popularize your diversity strategy through this.
You could include videos, audio, and articles that pronounce diversity on your website. The website represents your brand, and people from any backgrounds, disabilities, etc., should be able to access it. For the linguistically diverse set of people, you could use subtitles for your video files. Captions in audio would be of great help to those with impaired hearing.
6. Incorporate Training and Other Activities
To become an inclusive company, you should include diversity training that changes the mindset of recruiting managers and other staff involved in the hiring process. You could also include fun activities and celebrate diversity in the workplace so that the concept gets well with the people of the organization.
You could hire external organizations who conduct workshops to inculcate the essence of diversity and inclusion. This process helps create an objective recruitment policy with improved inclusivity in the workplace.
7. Track Diversity Recruitment
Periodic scanning of your recruitment strategy helps analyze the progress you have made. What is the composition of diverse employees currently in your organization? Does your recruitment strategy need any revision? These are some questions to ask to progress further.
It is not enough to just formulate a plan and not follow up. You should track to find out how far your inclusive recruitment is in action. This is especially due to the presence of higher leaders who are reluctant to follow this in practice.
Once you track it, you can initiate corrective actions. It is also essential to train and guide people in the organization to be more aware of diversity in practice. This helps them become more accepting, which will bring about a change in the workplace.

Wrapping Up
Recruitment is a crucial exercise a business is involved in, as this ushers in fresh talent. This is the right stage the organization should step in to promote inclusivity. There are many groups of underrepresented people with extensive skill sets, waiting to explore opportunities and contribute to the success of businesses.
Your diverse hiring process can help unlock these unexplored potentials and highlight you as an equal opportunity employer. With this, you also benefit from a multi-talented bunch of employees. In this journey of fostering inclusion, make use of workforce management tools like factoHR to build a strong team of talented candidates.