What is Offer Management? Strategies and Process to Know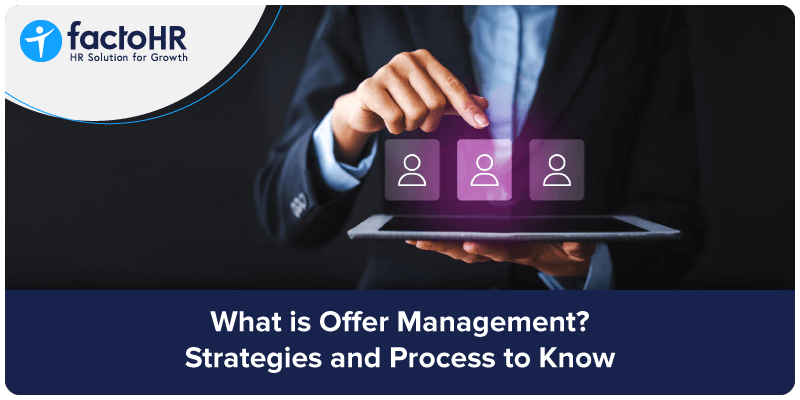 Candidate offer management is an important part of the hiring process that involves offering a job to a qualified candidate. It is a crucial step that requires careful attention and consideration to each detail to ensure that the candidate accepts the job and starts their new job on the right note. In this blog, we will discuss candidate offer management, including its definition, importance and steps involved in offer management.
What is Offer Management?
Presenting a job offer to a candidate who has been chosen for a position is known as offer management. It includes formulating a job proposal, negotiating the proposal with the applicant, and completing the proposal. Effective offer management is essential during the hiring process since it affects both the candidate's decision to accept the job offer and their overall impression of the organization. Poor offer management can lead to a candidate declining the offer, which results in a waste of companies time and resources.

Offer Management Process
The offer management process involves many activities, but the combination or sequence of those activities varies from company to company. Here is a common process used by the majority of organizations:
The HR manager or recruiter creates an offer after the candidate clears all the preceding hiring steps. The offer can be quickly created by selecting a premade template as a starting point. Details such as the salary on the requisition or the candidate's previous salary can be included.
Then the offer is sent to the concerned authority for approval or can be self-approved if the user has the required permissions.
Then offer is sent to the candidate via email or letter. Verbal offers can also be considered at this time.
If the offer sent to the candidate is accepted, then the recruiter can move on to other recruitment steps like confirming the starting date.
If a candidate declines the offer, then the recruiter can either cancel the offer and move forward to another candidate or negotiate a new offer with the same candidate.

Offer Management Strategies for Recruiting Top Talent
Effective offer management is a critical part for recruiting top talent. Here are some suggestions to assist you in that:
1. Qualify and Rank Candidates
By qualifying and ranking candidates, you can find the best fit for the job and make sure that you are making an offer to the person who meets the highest qualifications. You can use a scoring system to rank candidates by taking into account elements like qualifications, talents, and experience. You can review resumes, conduct pre-screening interviews and use assessments to evaluate the above-mentioned factors.
2. Collect Continuous Feedback
By collecting feedback from candidates at various points in the offer process, you can gain important insights into what candidates are looking for in terms of benefits, compensation, and career development opportunities. You can use these valuable insights while making an offer to the candidate or during negotiating the same offer with the candidate.
3. Digitize the Offer Management
Another strategy that can help you in talent acquisition is to digitize the offer management process. Digitizing offer management involves using tools and platforms to track and manage offers, automate tasks, and provide candidates with a smoother experience. For instance, you can handle the end to end recruitment process and offer management using an online recruitment platform. You can use this platform to send offers to candidates and allow them to accept or decline it digitally. With such a platform you can reduce the possibility of errors and make sure all the information is accurate and readily available. Furthermore, it can also assist you in decision making by providing various analytics like offer acceptance rate and time to offer, which can be utilized to pinpoint areas that require improvement.
4. Generate Offer Letter Template
Creating an offer letter template can be an important way to improve efficiency in candidate offer management. An offer letter template serves as a pre-designed document that outlines the terms and conditions of an employment offer, including job titles, compensation, benefits, and starting date. By having an offer letter template, you can ensure that all the offers made to candidates are consistent while conveying all the necessary information. This practice not only reduces errors and saves time, but also portrays a professional image of the company to candidates.
5. Develop Relationships Beyond the Process
Developing relationships with candidates can be helpful in creating a positive candidate experience, even for those who didn't get selected by the company. By developing relationships, you can create a network of candidates for future job openings and maintain positive relationships with candidates. It can also help you improve your employers' brand and attract top talent.

Conclusion
In conclusion, effective offer management is a necessary component of talent acquisition, as it helps to attract and retain top talent. By implementing the above-mentioned strategies, organizations can improve their offer management and attract the most qualified candidates for their teams. This can lead to an increase in retention rate, improve employee morale & productivity, and creates an employer brand for the organization.