6 Employee Retention Strategies for your Organization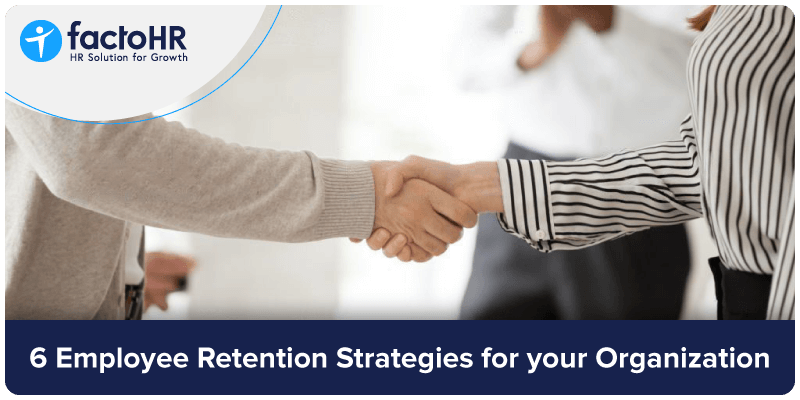 The efforts made by the HR manager behind hiring suitable candidates are always high. It involves a rigorous search on multiple platforms, filtering out resumes and conducting several rounds of interviews. After that, it's reasonable that the company will expect the same candidate to stay with the organization for a longer duration. But the reality is contrasting. Nearly 33% of the employees are looking for a new job just within the first six months of their joining. After filling a position, no company wants that to be vacant again in a short duration.
There could be endless reasons for employees to leave the organization in a short period of time, such as work environment, lack of motivation, or better growth opportunities. It is crucial for organizations to analyze the reasons behind employees frequently leaving as it will directly affect growth. But, some organizations are still not focusing on the employee retention strategies for organizational growth. It's high time if you are still not paying attention to employee retention. Read the reasons below to understand the necessity of retaining employees with strategies that work in today's scenarios.

Why does Employee Retention Matter?
Employees drive the company's day-to-day operations, which is why they are considered the organization's most valuable asset. So, it can be said that employees are the critical factor for organizational growth. Therefore, factors that affect organizational development can not be ignored.
Below are some reasons why employee retention is a thing
Expenses
Increased expenses are one of the biggest factors that negatively impact the organization. Organizational employee turnover costs are estimated to range higher than the cost of employees' salaries. As a result, frequently replacing employees involves a lot more cost to the organization.
Blocking Productivity
Not only the expenses but productivity levels are also highly affected. When the position is vacant for a longer period, hours of productivity are wasted, and even the new employee joined will take a few months to match the productivity level of the existing employee. Therefore, productivity will be blocked, and organizational growth will be affected.
Unsatisfactory Customer Experiences
If the organization's customer-facing employees keep changing, customers' trust declines, and they might take time to rebuild the same level of trust with the newly joined employee. When the customer experiences are not satisfactory, they will discontinue working with the organization, resulting in lowered sales.
6 Employee Retention Strategies that Works well
As the significance of employee retention is known, let's move on to the employee retention strategies. Here are some of the ways in which organizations can retain their top talents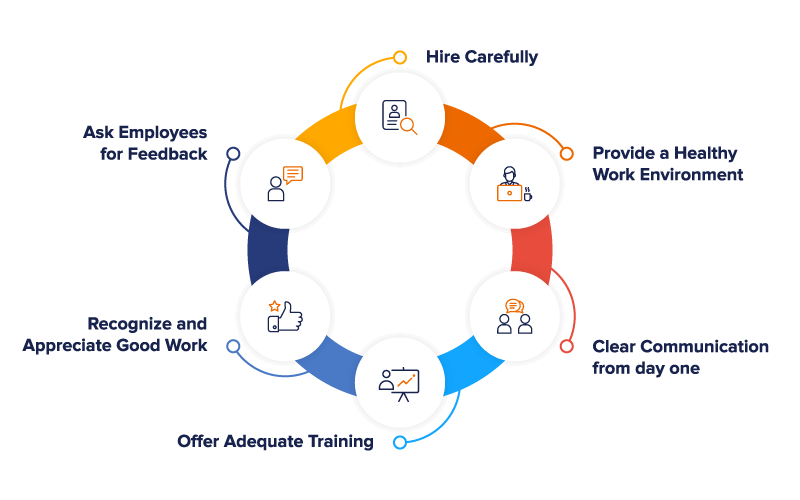 Hire Carefully
In order to retain the employee, it is necessary to hire the right and suitable candidate at the first step. Set eligibility criteria, interview standards, IQ tests, and all the other required steps as per your organization and the role. The candidate's journey with an organization starts when they apply for a particular vacancy. So, right from when the candidate comes for the interview, the correct process should be followed.
It is obvious that the organization wants to retain employees only that are the right fit and are adding value. But, when the hiring is done precisely, only then the right candidate will be selected and can be further retained. Careful hiring can be called the prerequisite for executing retention strategies.
Provide a Healthy Work Environment
One of the biggest reasons that come out for employees' resignations is an inconvenient and discouraging work environment. Employees spend almost eight to nine hours a day at the workplace, and if the environment there is not suitable, the employee will decide to leave the organization.
Although each employee's case can be different in the same organization. It's crucial for an organization to maintain a work environment and culture that is suitable for all. Offer a healthy work environment considering employees' well-being and work-life balance as per industry standards. When the workforce feels they work in an environment that does not hinder their well-being, the chances of resigning due to the environment become almost null.

Clear Communication from day one
Communication gaps can be misleading for employees. They might not complete their duties as they were supposed to, and that leads to low morale and frustration. Direct, clear, and transparent communication will prevent all misunderstandings, and employees will have clarity about their responsibilities. Keeping straightforward communication and informing them about each and every process on their onboarding will give the employee clarity on the very first day.
It's not only about clearly defining and conveying the role and responsibility; rather, the employee should know how things work in the organization. In addition, involving and communicating with employees will give them a sense of belongingness, and the possibility of employees leaving the organization due to various factors caused by poor communication will lessen.
Offer Adequate Training
Training should be emphasized as it is extremely beneficial in retaining the workforce and especially the new hires. Providing adequate training becomes a must in the case of hiring freshers or people from varied fields. Because candidates are new to the industry, lack domain knowledge, and are incompetent for the new roles. Without training, new hires will not gain the confidence to perform their duties and think about finding a new job more suitable for them.
Another essential aspect here is providing training even to the existing employees to upskill them for new challenges and new roles. Giving employees opportunities to grow professionally and gain new abilities will make them satisfied with the organization. And when growth opportunities are given to employees, they will choose to work with the same organization.

Recognize and Appreciate Good Work
Employees' contributions to the organization's growth should be recognized as it makes them feel valued. Appreciating work in different ways will make a lot of difference in how employees pursue their responsibilities. Boosting employee morale and trust in the organization can simply happen by acknowledging their work. A motivated and satisfied employee will work efficiently and would like to continue working for the same organization.
Again, performance management should be strategically designed with common standards set so that each and every employee's performance is evaluated fairly. As rewarding and appreciating employees will only be possible when their performances are measured correctly. Also, employees should not feel partial while others receive appreciation. No matter whether the reward is onetary or non-monetary, good performers should be rewarded to retain them with the organization.
Ask Employees for Feedback
Addressing employees' opinions and taking their feedback can prove to be advantageous for the company. Ultimately, the employees are those who have to follow the policies and procedures, and asking their opinions will add suggestions that can make the process better. Collecting employees' feedback can be done in various ways, such as by conducting surveys, keeping the suggestion box, etc.

Boost Employee Retention
Employee retention affects the organization in numerous ways and should be given due importance. Retention is one of the factors for organizational growth, and ignoring it can cost a lot. Not only does it affect productivity and the work environment, but the company's reputation and brand value also get affected. It is high time you have still not implemented retention strategies in your organization. If you are looking for effective ways, this article gives six employee retention strategies that work in present-day work scenarios.