How Employee Attendance can be Recorded Accurately?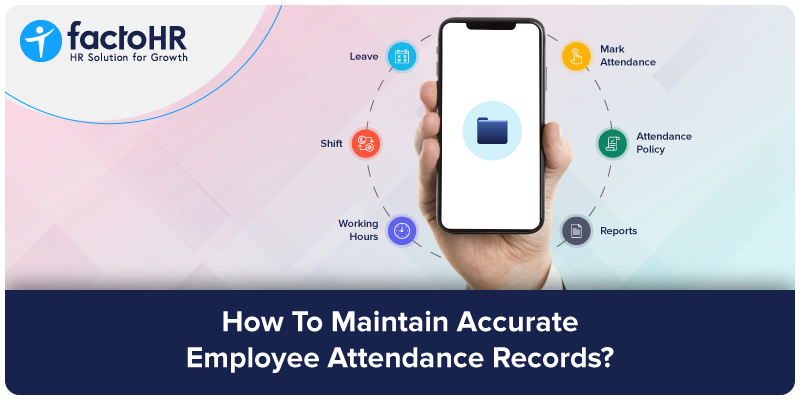 Employee attendance records are utilized to keep track of and monitor employee time and attendance. Firstly, let's start with knowing what employee attendance means. Employee attendance is the state of being present at the workplace as per the policies of the organization. Attendance can be tracked for individual employees, different teams, and the organization as a whole. This involves tracking issues such as absenteeism, shift adherence, timesheets, and so on.
Why are Employee Attendance Records Important?
​Attendance records provide accurate information on employees' attendance, which includes the total working hours and total leaves. This information is vital for calculating payroll accurately and determining the employee's entitlement to various benefits, such as sick leave and all other types of leaves.
​Furthermore, these records can help employers identify the patterns of employee attendance and absences, which allows for addressing the issues before they become big problems. Some of them are excessive lateness and absences, which could affect productivity and overall business performance. Another reason for maintaining attendance records is to comply with legal laws and regulations such as labor laws. After all, employee attendance records are crucial for managing employee performance, productivity and compliance.

Challenges Faced while Recording Attendance
​Maintaining employee attendance records clearly and concisely can be sometimes burdensome, here are some of the common challenges faced, along with tips to handle them:
Not Having a Plan
​Not having a plan for recording employee attendance can bring on various challenges for employers. Without a clear plan, confusion regarding how to record attendance will occur. Inaccuracies in the attendance records will create problems while calculating the payroll. To avoid this challenge, organisations must first create a plan on how the attendance will be recorded and then clearly convey it to all employees.
Not Having a Policy
​Many small organisations do not have an attendance policy, and even if they have, it's outdated. In the absence of an attendance policy, mostly ad-hoc decisions are taken, which leads to inconsistency. Even the policy needs to be in accordance with legal rules based on the type of organization. So, employers must develop and design the policy as per organizational objectives and legalities. Also, the policy should be reviewed regularly for ensuring that it is updated as per the needs of the organization.
Poor Administration and Tracking
​A lot of supervisors are not aware of their responsibilities and trained enough to track the attendance of employees. They must know how to register attendance and which rules to apply in different situations. Some might not have the required tools to perform these tasks. Therefore the organization must create a proper framework and provide support tools that help the supervisors to record attendance properly.
Lack of Action
Some supervisors tend to let things go even if they know that employees are not following the rules. This might be because they are untrained, unwilling or being just too nice to employees. The organization must take action on employees' increasing absences. Demand proper reasons from employees and enforce the rules of attendance management policy.​
Do's and Don'ts while Creating Attendance Records
​Having an attendance management system can constructively track and measure employee time and attendance. Below are the dos and don'ts which should be followed while creating attendance records:
Dos
Establish clear attendance policies and communicate them well with all employees, ensuring that they have understood what is expected from them.
Implement a reliable and accurate attendance tracking system as per the needs of your business.
Handle attendance-related issues fairly to promote a positive workplace culture.
Do provide training to all the supervisors responsible for tracking and maintaining attendance records.
Don'ts
Don't discriminate amongst other employees while recording attendance.
Don't maintain unnecessary and irrelevant attendance records.
Don't give access to attendance records to unauthorized people.
Don't manipulate attendance records in favour of any one employee.

How to Maintain Employee Attendance Records
​Here we are providing a step-by-step guide to creating and maintaining employee attendance records:
Reliable Attendance Tracking System
​Several methods are available for tracking employee attendance, choose the one that is the right fit as per your organization's needs and budget.
Attendance Policy
​Design an attendance policy that includes how the absences will be reported, and they will be treated. Communicate the policy with all the employees and keep it available for their reference.
Monitoring Attendance
​Monitor the attendance records regularly to identify trends and employees with high absenteeism. Enforce the attendance policy consistently and address their concerns if any.
Documenting
​Document all the attendance-related instances in a centralized record-keeping system. Mention the dates, time, reasons for absence and disciplinary actions taken upon them.
Employee Privacy
​Assure that the attendance records are secured and kept confidential. Provide access to only authorized people and comply with privacy laws.
Audit Regularly
​Conduct audits of attendance records regularly to ensure accuracy and identify any differences.

Things to Remember while Creating Attendance Records
​Here are a few things to consider while creating attendance records:
Using a reliable tracking system
Creating clear attendance policies
Ensuring accuracy
Informing and training employees
Keeping records secure and confidential
Complying with legal requirements
​Keeping these things in mind while creating attendance records can ensure that your attendance tracking is reliable, and accurate, and promotes fairness and transparency in the workforce.
Final Thoughts
​For running the company smoothly and effectively, recording employee attendance accurately is essential. There are many challenges faced while recording attendance; therefore, choosing a system that fits the organization's needs is essential. We have mentioned some of the dos and don'ts which should be followed when creating attendance records. The right approach to attendance recording and tracking will help companies to optimize their operations and overall make a healthy work environment for employees.