Functional Job Analysis
What is Functional Job Analysis?
Functional Job Analysis (FJA) is a strategy used by the HR department to assess the job roles in an organization. It identifies the responsibilities and functions that are to be carried on in a job. Companies use this method to create job descriptions accurately and to evaluate the applicants based on that.
Let's take an example for a better understanding.
Suppose the HR manager did a functional job analysis of an 'Admin Manager.'
They identified the 5 to 7 duties that the admin needs to perform.
Also, understood the requirements of the tools needed and the qualifications to handle that.
Identified what efficiency level the admin should have and what are the training needs.
FJA classifies the job roles into 7 areas: data, reasoning, things, people, work instructions, language, and math. Analysis of an employees' tasks considering these roles is a vital part of the job analysis process.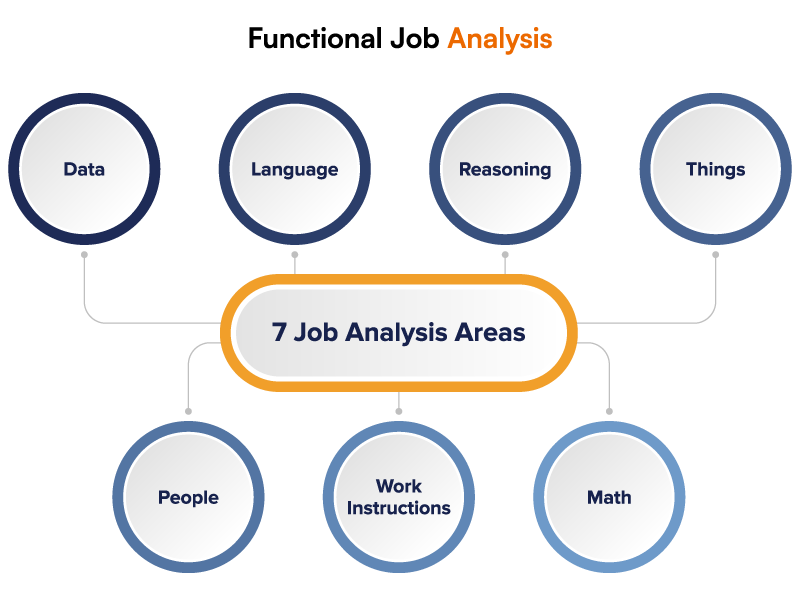 Frequently Asked Questions
What is the importance of functional job analysis?
FJA allows organizations to pay more attention to the employees who will enhance the company's overall value. In addition to evaluating how well an employee can perform the job, this type of job analysis also describes how the employee's performance affects his or her teammates. Apart from companies, FJA helps employees understand essential tasks to be accomplished and qualifications to be achieved.
What is a functional job description?
A functional job description is a document wherein all the requirements and responsibilities of a particular job position are mentioned. In addition, it also includes which tasks to be performed and how various requirements will be assessed.
Which are the types of job analysis methods?
Following are the different types of job analysis methods.
Observation Method
Interview Method
Technical Conference Method
Functional Job Analysis
Questionnaire or Survey Method
Job Psychographic Method
Job Analysis by Test
Record Method
How is a functional job analysis carried out?
FJA is conducted in the following steps.
Identify the aim of job analysis
Select the method for analysis
Gather all information required for analysis
Evaluate and modify the existing job descriptions
Understand the impact of analysis
What are the data collected during functional job analysis?
The information to be gathered in an FJA are:
Tasks and responsibilities
Workplace surrounding
Assets and equipment
Communication/Relation with internal and external people
Knowledge, Skills and Abilities