Table of Contents

Managing payroll is one of the vital processes of any organization carried out by the HR department. It involves various calculations related to employees compensation like salary, bonuses, deductions, statutory compliance, etc. When these payroll activities are calculated manually via spreadsheets, it not only becomes a time consuming and complex process but also leads to human errors. Hence to eliminate such challenges, implementing a robust software makes payroll management fully automated and streamlined. Moreover, it enhances accuracy, ensures compliance, reduces the complexities involved in processing payroll manually, preventing your business from human errors and compliance issues.
Choosing the appropriate payroll software is an important decision for any businesses to ease their HR tasks. Selecting a software solution that is both complex and inefficient can lead to the wastage of time and monetary funds. Therefore, we have created a compiled list of top Payroll Software in Ahmedabad.

Benefits Offered by an Optimal Solution
Here are the 5 benefits offered by a Optimal solution which are as follows:
Effortlessly Calculates Payroll
An optimal software calculates all payroll elements like tax, payscale, statutory deductions seamlessly. Moreover, it also detects any discrepancies in the calculation, and alerts you promptly. This way the software provides accuracy and efficiency.
Enhance Efficiency
Managing payroll might not be the exciting task HR must be looking for nor would be eager to perform monthly payroll reconciliations. A solution is utilizing online payroll software that notably reduces the burden and the time spent on it. Simultaneously, it allows HR to focus more on additional tasks, hence optimizing payroll calculation and reducing overall expenses. A centralized data system stores all the information at one place, minimizing the repetitive HR tasks.
Minimize Payroll Mistakes
The software, particularly those that integrate with other systems like attendance, leave and HR lessens redundant data entry and helps in reducing human errors. Certain systems provide employees with the ability to enter their bank, tax, and pension details directly through an ESS portal, which eliminates the need to transfer information between HR and payroll teams.
Enhance Data Protection
Managing payroll data is sensitive as it contains personal details such as birth dates and contact information. Implementing a robust system provides security and privacy to employee's critical information and company's financial data from unauthorized access, which may not be guaranteed if payroll is outsourced from payroll experts. Hence, maintaining everything internally within a secure online platform is evident for any organization. Additionally, it's equally important to ensure your policies concerning data-sharing, privacy, access, and training are watertight and robust.
Provides Employee Satisfaction
Making sure your employees are paid might sound easy, though paying an entire workforce timely and accurately becomes a notably complex task. HRMS guarantees timely payments to employees as well as it allows them to view payslips, request a leave, track attendance and change their personal details anytime with a self-service portal, thus providing real time information. All these factors deliver to employee satisfaction.

List of top 6 Payroll Software in Ahmedabad
Couldn't find an efficient Payroll Software in Ahmedabad? Don't worry, here's a list of the best software that will help you in streamlining your employees payscale.
1. factoHR
factoHR is a comprehensive, cloud-based platform that effectively streamlines payroll processes and optimizes the productivity of your HR department. With factoHR, complex activities like salary calculations, tax computations, ESIC, PF, and loan advancement can be easily calculated and managed. In addition to this, factoHR introduces an intuitive mobile app that allows employees to perform tasks such as punch in and punch out, payslip viewing, leave applications, approve leave requests and so on. This HRMS further provides a few advanced features including an AI-driven chatbot, selfie-based attendance tracking, and geofencing to simplify HR tasks.
Features
| | |
| --- | --- |
| Provide easy and quick payroll processing with its wizard driven approach. | Custom Payroll reports can be generated as per your needs. |
| Flexibility in calculating any number of salary components with a formula based engine. | Manages the entire loan cycle to automated EMI deductions. |
| Handling of all statutory compliance like PF, ESIC, TDS, etc becomes easy. | Auto arrear calculation for various scenarios like missed attendance, unapproved leave, holidays, unclaimed overtime, and salary revision. |
| It is ISO accredited and SOC Type 2 certified cloud data center to protect critical information of employees. | Its ESS portal allows employees to view their compensation related information from mobile and desktop. |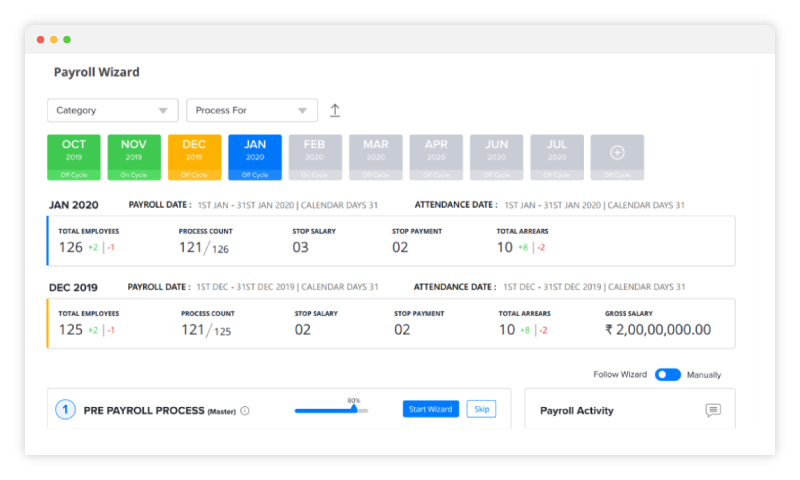 Pricing
Check out their pricing and book a demo. factoHR'S HRMS offers 4 amazing plans – Essential, Advance Velocity, Bolster and Performer with several additional features like geofencing, contactless attendance, ticketing, selfie punch and many more.
What People Say About Us


2. JSM Software
JSM Software is an online Payroll solution for Ahmedabad that is cost-effective for streamlining entire salary processing and simplifies HR management. It has a user friendly access, intuitive dashboard and comprehensive solution that ensures a smoother and more efficient payroll management experience, provides complete accuracy and data protection. It manages various aspects of payroll like reimbursement, arrears, FFS, statutory deductions and many more.
Features
Payroll Processing
Salary Reports
Bank Transfer
Arrears Calculations
PF Calculations and Reports
ESIS Calculations and Reports
3. PeopleHR
PeopleHR emerges as a convenient payroll platform, designed to provide automation in calculating employee's compensation for organizations based in Ahmedabad. PeopleHR being a simple and efficient platform supports seamless operation, especially suitable for a small scale business to enhance their payroll efficiency. Calculating individual salaries to generate detailed payslips, the software ensures accuracy and reliability in each transaction. Adopting PeopleHR surely optimizes HR functions with ease and precision.
Features
Salary Structure Management
TDS Declaration
Salary, Loan and Recovery
Automatic TDS Calculation and Form 16
Payroll Generation
Payroll MIS
Compliance Documents
4. EasyHR
EasyHR simplifies complex payroll processing activities by offering a seamless integration with other modules, such as leave and attendance management system. Its user-friendly design provides complete automation for all payroll-related tasks, thus allowing HR to work on businesses' strategic decisions. EasyHR caters to organizations of all types – be it any size and provides transparency to employees through its ESS module, ensuring all payroll needs are addressed efficiently and effectively.
Features
Payroll Components
Loans / Overtime / Arrear Management
Tax Declaration
Salary Disbursement
Reports
Full and Final Settlement

5. BambooHR
BambooHR offers an all-in-one solution in streamlining various HR functions. It allows tracking of work hours, recording leaves, managing employee's benefits, and calculating payroll all within a single, consolidated platform. This integration minimizes administrative challenges and eliminates the burden of repetitive data entry and manual approval mechanisms. Consequently, both employers and workers enjoy its accurate and stress-free payroll management which leads to a smoother and efficient HRM. BambooHR makes all these critical tasks simpler, thereby providing a fruitful result.
Features
Benefits Administration
Time Tracking
Time Off
Tax Filing
Reports
ESS Portal
6. TrickyHR
TrickyHR effectively handles all payroll-related activities for the HR department with ease. It ensures that all financial earnings of workers and statutory deductions are streamlined and simplified. TrickyHR delivers both payroll software and payroll outsourcing services that effectively helps Ahmedabad based companies to manage complex payroll processing. Moreover, the system is designed to handle the burdens faced by HR departments, transforming those challenging tasks into manageable operations, and ensuring that each step in the payroll process is executed smoothly.
Features
Online Payroll Transaction
Loan & Advance Management
Earnings & Deductions
Reimbursement Management and Bank Transfer Details
Arrears Calculation and Other Payments
PF/ ESIS /PT/ Income Tax Management Reports

Summing Up
To increase your company's productivity and efficiency, utilizing an appropriate Payroll software in Ahmedabad is a necessity. As mentioned above, it benefits HR personnels in many ways, allowing them to create an organized optimal workforce and fosters a transparent, positive business environment.